When JAX Chamber President and CEO and Republican mayoral candidate Daniel Davis took the stage at his Election Night headquarters May 16 to address supporters, his speech took a different tone than his campaign used throughout the eight-month contest. 
Davis, 50, told the crowd gathered at The Glass Factory in Jacksonville's Rail Yard District he had called his Democratic opponent Donna Deegan and congratulated her on her victory. 
"I've said many times in public occasions that Donna loves Jacksonville and there's no doubt in my mind that she does," Davis said.
"And I just want to let you know that I'm going to do everything I can to make sure Mayor-elect Deegan is successful in making Jacksonville the best Jacksonville it can be."
Standing with his wife, Rebekah, and their children, Davis asked everyone in the room to support Deegan as mayor.
"I love my city. I will never stop loving my city."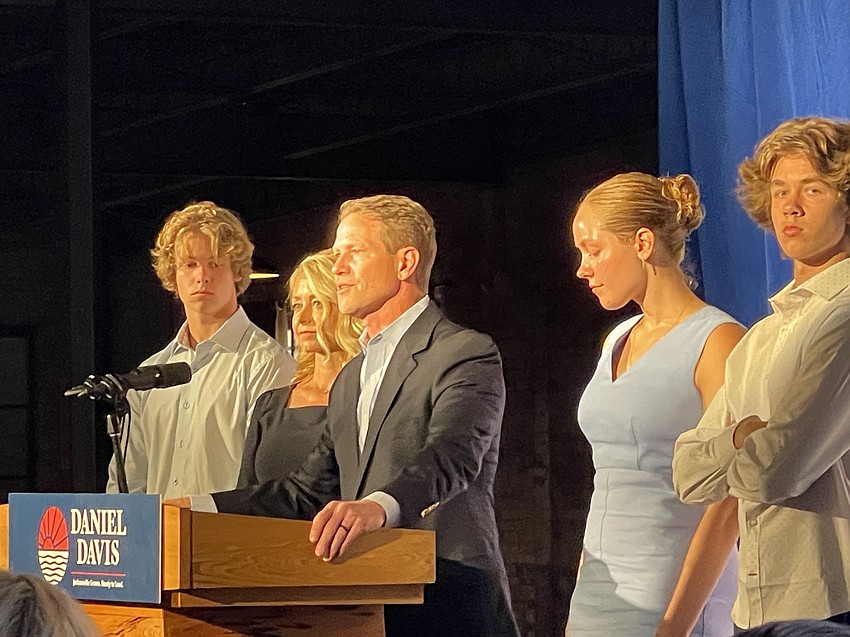 Deegan topped Davis in the 2023 mayoral runoff election 52.08% to 47.92%, according to unofficial results of the Duval County Supervisor of Elections Office.
The candidates were the top two in the seven-candidate March primary contest.
Deegan, a former First Coast News journalist and The Donna Foundation cancer nonprofit founder, is the first woman elected as Jacksonville's mayor. She flipped the mayor's office for the Democrats. She will replace term-limited Republican Mayor Lenny Curry.
Davis said he and his campaign volunteers knocked on more than 120,000 doors during the campaign and he repeated a line he often uses that he's "tired of the doubters" about Jacksonville's potential as a city.
"Maybe that was the purpose of this endeavor in this campaign, to be able to talk to voters on their doorsteps and to understand the struggle in many ways that they're facing. And I'm going to do everything I can in Jacksonville to make sure their struggle is easier and make sure that they're safer," Davis said. 
Davis' campaign and his Building a Better Economy political committee raised more than $8 million during the race. 
His committee released ads trying to link Deegan to Black Lives Matter protests and claiming she would defund the Jacksonville Sheriff's Office if elected. 
That's despite Deegan stating publicly at forums, debates and interviews she was willing to work with Sheriff T.K. Waters to budget for and hire more police officers. 
Waters said at the Davis event that he planned to call Deegan on May 17 and hopes to work together on public safety.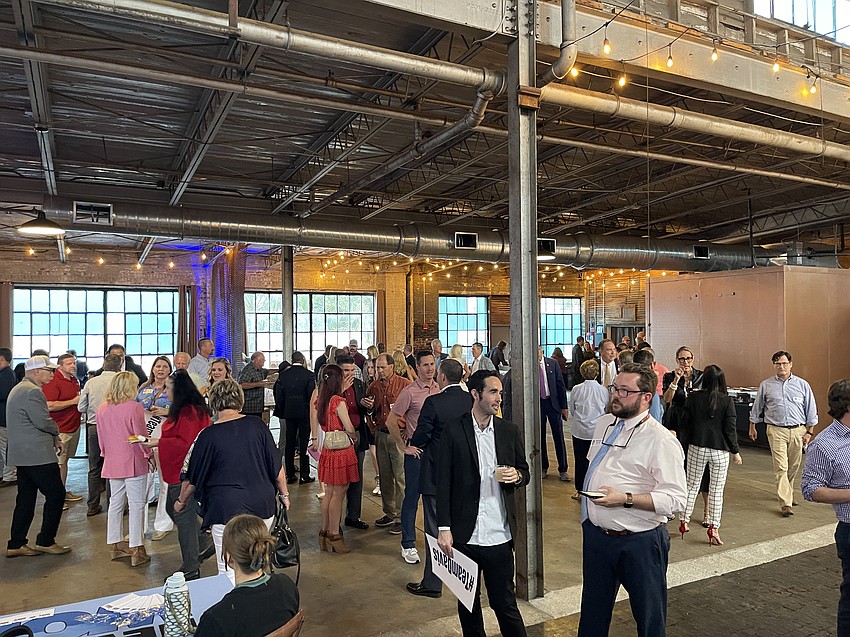 Davis told the Daily Record on May 3 he planned to make relocating and building a new jail/Pre-Trial Detention Facility a first-term priority.
Deegan, who ran on the city's infrastructure needs, said the jail is understaffed and an "antiquated place and not large enough" but she said it would not be a first-year priority.
Waters said the jail's future would be part of his discussion with Deegan. 
"It's old, it's run-down, it's a big issue and it should be moved," Waters said. 
"So we should work on trying to get that moved."
City Council Vice President Ron Salem, a Republican, said at The Glass Factory after the results that he thinks the tone affected the final vote. 
"I think the results demonstrate that. It caught up with this candidate, for sure. But the public has spoken and we just need to move forward," Salem said.
Deegan's election means the GOP majority Council will have to work with a Democrat in the mayor's office starting July 1 on city budget negotiations and policy priorities.
Salem, who will likely be Council president for the 2023-24 year, said he's willing to work with the mayor-elect and sees common ground on health care outcomes, a campaign priority for Deegan. 
Salem has worked on opioid overdose prevention while on Council.