Triforce Development intends to buy property along Southside Boulevard to develop Tinseltown Plaza, a retail center for up to six tenants that will include the area's first Soupa Saiyan Asian Noodle Bar restaurant and the seventh Kazu Sushi Burrito.
The site is in front of the 20-screen Cinemark Tinseltown.
Triforce, led by brothers Paul and Louis Sleiman, also signed tenant Noire The Nail Bar, a boutique salon that will open its first Jacksonville store in Tinseltown Plaza.
A Noire salon already operates in Nocatee.
Soupa Saiyan is themed around the "Dragon Ball Z" Japanese anime action-adventure television series and will offer noodle bowl/Vietnamese pho.
The Sleimans said the concept is owned and operated by the Bento Group of Orlando. The group operates two Bento Asian Kitchen + Sushi locations in Jacksonville and plans a third in Jacksonville Beach.
Triforce is reviewing proposals from several more tenants to take the remaining space in the plaza at 4549 Southside Blvd.
Two 7,000-square-foot retail buildings will comprise the plaza on a site currently used for parking. Ideal Hospitality Investments Inc. of Pooler, Georgia, owns the property and is under contract to sell to Triforce.
"Businesses anchored by the Tinseltown movie theater drive some of the highest sales volumes in Jacksonville" Louis Sleiman said in an email.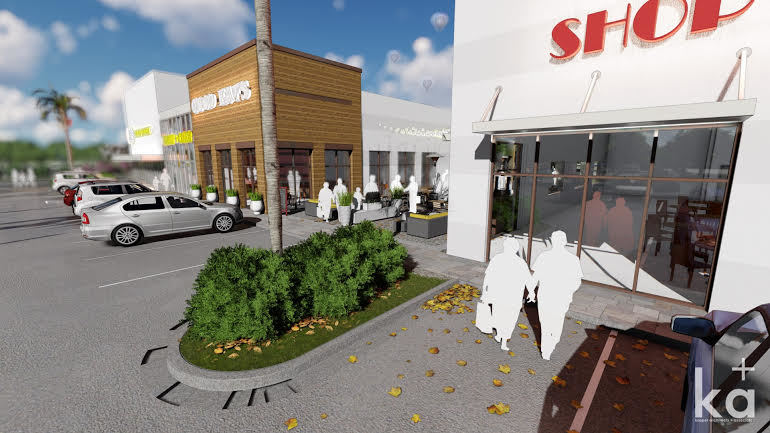 "Our tenants are expected to drive even higher sales volumes on the heels of strong trade area demand, walkable proximity to the theatre and a modern, upscale building design that caters to a young and vibrant Southside demographic," he said.
Triforce filed site plans with the city for the 1.86-acre site for the 14,000 square feet of space.
Triforce said it is under contract to buy the land and start construction during the fourth quarter and complete construction in the first quarter. It declined to provide an investment estimate.
"We are purchasing the only prime parcel of land remaining in the Tinseltown DRI, which insulates our center from the threat of new supply and other competitive pressures that are beginning to plague many retailers taking space at the St. Johns Town Center," said the email, referring to the Development of Regional Impact approved for the area.
Triforce applied for a zoning exception for restaurant tenants to serve alcohol inside and also for the sale and service of alcohol and food in outdoor patio space.
Triforce said it is reviewing proposals from restaurants, boutique fitness centers, dessert shops and other food, entertainment and service-oriented users.
Triforce hired Franklin Street to handle leasing for the plaza. Carrie Smith and Ricky Ostrofsky with Franklin Street will represent it.
The Sleiman brothers developed the 9,000-square-foot Galleria Marketplace at 6025 Butler Point Road in 2016 and sold it at the end of 2017 for $4.8 million.
Kazu Sushi Burrito opened its first location in Galleria Marketplace in 2016.
Triforce also developed the 7,600-square-foot Baymeadows Corner center at 8355 Baymeadows Road. Tenants include T-Mobile and Firehouse Subs, which opened its first Jacksonville drive-thru location there. The grand opening was this week.
Triforce said Cinemark Tinseltown is one of the top performing movie theaters in Northeast Florida and the Tinseltown retail area is one of Jacksonville's highest performing retail areas.
Triforce said more than 114,000 vehicles pass by daily. There also are 580 hotel rooms among five nearby hotels, more than 2,000 apartments within a mile, and more than 3 million square feet of nearby offices that include Merrill Lynch, Florida Blue and Fidelity Investments.