Southeastern Grocers hopes that the Chapter 11 bankruptcy reorganization petitions it files by the end of next week in Delaware will herald a fresh start for its remaining 582 supermarkets.
The Jacksonville-based company said in its Thursday news release that it intends to create "stunning, remodeled stores" in a significant portion of its remaining stores as part of its three-year plan.
Spokesman Joe Caldwell said Monday the company expects to complete 75 remodels this year throughout its store network.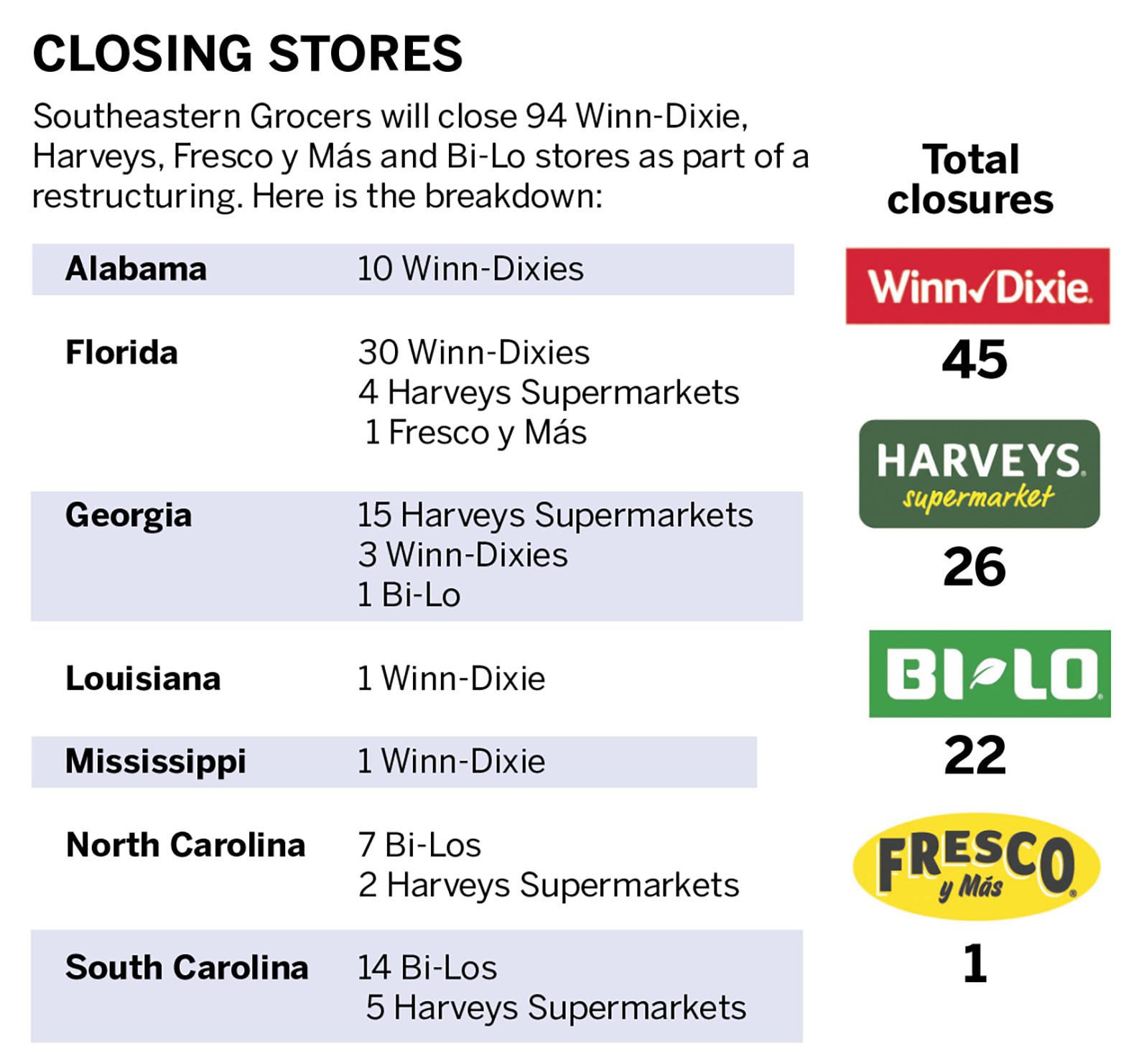 Southeastern Grocers said it expects to start a U.S. Bankruptcy Court-supervised restructuring plan by the end of March and complete it within 90 days.
That means the company intends to regroup starting July 1.
As part of prepackaged Chapter 11 reorganization cases, Southeastern Grocers will close 94 stores, including four in Northeast Florida, and restructure debt.
The Northeast Florida locations to close comprise Harveys Supermarkets at 1012 Edgewood Ave. N. and 3000 Dunn Ave. in Jacksonville, and Winn-Dixie stores at 9866 Baymeadows Road and at 248 Blanding Blvd. in Orange Park.
In South Georgia, two Winn-Dixies in Valdosta and a Harveys in Waycross will close.
The three-year plan to include the remodeling is part of the transformational process.
"This revitalization will also provide our customers with fresh, new concepts and products to cater to the local tastes and needs of the neighborhoods we serve," the company said in the statement as it announced the bankruptcy reorganization.
The company intends to close the stores by April 30 among the seven states in which it operates, with the largest number – 35 – in Florida.
Southeastern Grocers owns the Winn-Dixie, Harveys Supermarkets, Bi-Lo and Fresco y Más banners.
It will close 19 stores each in Georgia and South Carolina, 10 in Alabama, nine in North Carolina, and one each in Louisiana and Mississippi.
By banner, Southeastern Grocers will close 45 Winn-Dixie stores in Alabama, Florida, Georgia, Louisiana and Mississippi.
The 26 Harveys to close are in Florida, Georgia, North Carolina and South Carolina. 
The 22 Bi-Lo stores to be closed are in North and South Carolina and the only Fresco y Mas affected is in Florida.
Southeastern Grocers did not announce how many jobs would be cut.
"This course of action enables us to continue writing the story for our company and our iconic, heritage banners in the Southeast," said Southeastern Grocers President and CEO Anthony Hucker in the news release.
By share, Southeastern Grocers is No. 3 in the North Florida/South Georgia market with 22.8 percent of the market with 136 stores, according to The Shelby Report of the Southeast trade publication.
It trails No. 1 Walmart at 31.9 percent and Publix Super Markets Inc. with 28.6 percent.
In other states in which it operates, Southeastern Grocers ranks No. 3 in market share in three areas covering Louisiana, Mississippi, Alabama, Georgia and South Carolina, as well as in west Florida, with shares ranging from 10.8 to 17.2 
In South Florida, it also stands at No. 3 with 11.3 percent of the market, trailing No. 1 Publix at 47.1 percent and No. 2 Walmart at 18.1 percent.
Southeastern Grocers said it entered into a proposed restructuring support agreement with creditors. It intends to file its Chapter 11 petitions with the U.S. Bankruptcy Court of the District of Delaware.
Southeastern did not say how much debt is involved, although in November ratings agency Moody's Investors Service said the company had $900 million in debt coming due in the next two years. Southeastern said the restructuring will reduce overall debt by more than $500 million.
 "With a deleveraged balance sheet and an optimal store base, the Company will be able to focus its resources on stores with the greatest potential for growth and improve the financial health of the overall business," said the company's news release.
Southeastern Grocers was formed after Winn-Dixie Stores Inc. merged with Bi-Lo LLC in 2012, with the headquarters put in Winn-Dixie's Jacksonville offices. Both Winn-Dixie and Bi-Lo went through Chapter 11 restructurings before their merger.