Make that five area locations for Tru by Hilton.
The brand opened its first area hotel, will start development on a second and plans for two more in Jacksonville and one in St. Augustine.
A Tru by Hilton representative said the 98-room, four-story Tru by Hilton Jacksonville St. Johns Town Center at 4640 Tropea Way in Town Center Promenade has opened. 
It is owned and managed by Kana Hotel Group. Its general manager is April Erstad.
The representative said an 82-room hotel along Merrill Road near Interstate 295 is targeting a 2021 opening. That four-story Tru by Hilton is planned at 2700 Jane St., east of I-295 in the Arlington area.
Near Jacksonville International Airport, the city is reviewing site plans and JEA issued a service availability letter for a 105-room Tru by Hilton hotel at northeast Ranch and Airport roads. 
Property records show the vacant 2 acres are owned by USA Express Inc. of Miami.
The hotel would be built behind the former Wendy's outparcel and across Ranch Road from the Quality Inn Airport. 
Site plans show a five-story, 50,000-square-foot building. The civil engineering firm is Taylor & White Inc.
The proposed developer said he was not ready to announce the deal, calling it preliminary.
The Tru by Hilton representative said hotels also are planned in the Mandarin area of South Jacksonville and in St. Augustine, but she had no details about those.
Tru by Hilton says the brand was developed using consumer and owner feedback and focuses on a cross-generational appeal focusing on a "new, affordable hotel experience."
The brand says it's "vibrant, affordable and young-at-heart." It offers free breakfast and Wi-Fi; coffee service; a fitness center; and a 24/7 "Eat. & Sip." market. 
The lobby includes a table and board-game center and workspaces along with the ability to "print from anywhere in the hotel with free wireless printing." 
Guests will stay in "smaller, more efficiently designed rooms with space for everything you need and nothing you don't." The rooms include "comfortable beds," 55-inch TVs, a mobile desk, large bathrooms and more.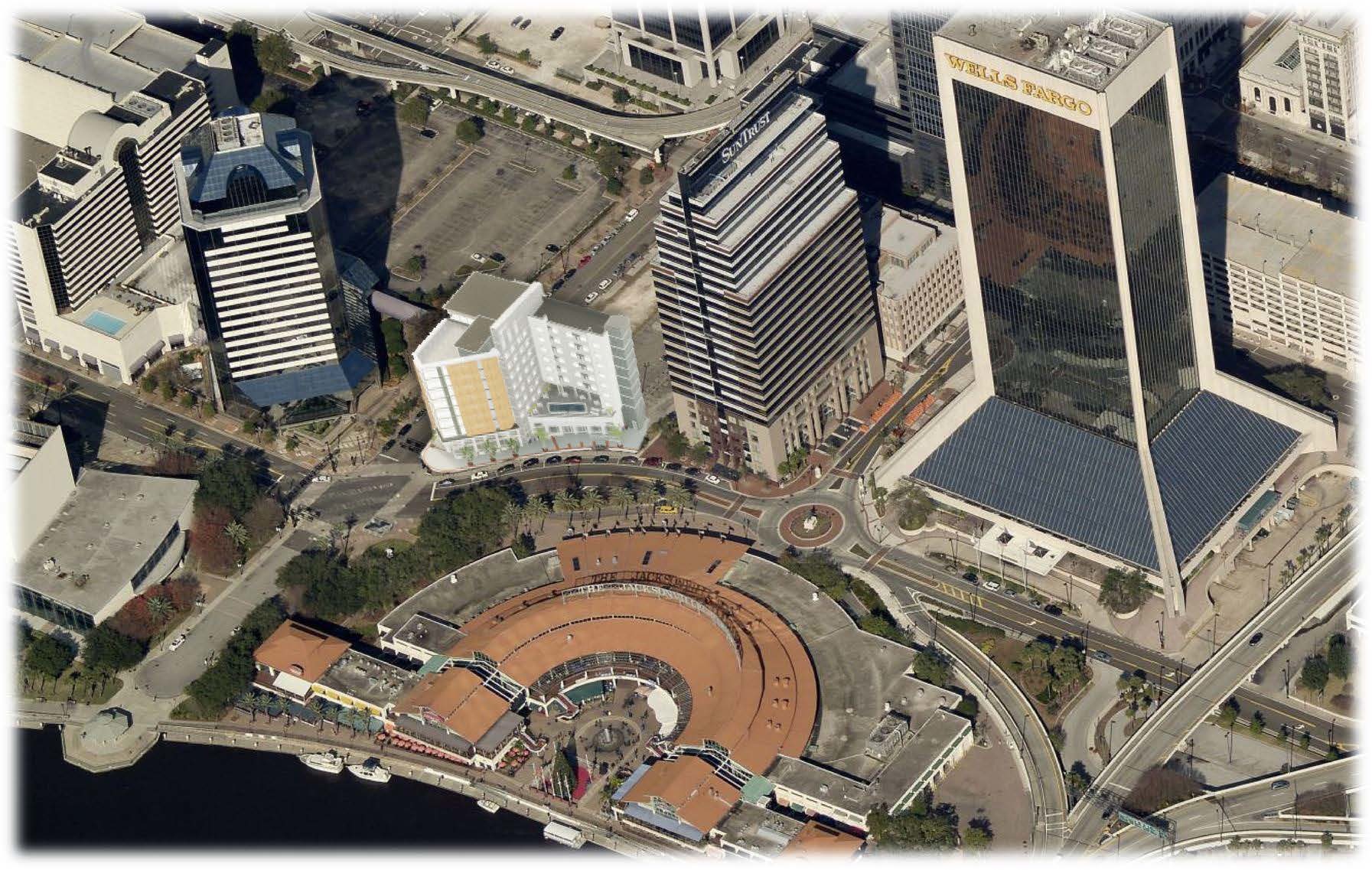 Downtown Hyatt Place plans advance
Plans are in motion for development of Hyatt Place - Jacksonville along Water and Hogan streets Downtown. 
The nine-story, 128-room hotel with rooftop event space and a patio are in review for a city development number. The Downtown Development Review Board approved the final development plans in October. 
The project is planned west of the SunTrust Tower, to be renamed VyStar Tower. 
Mainstreet Capital Partners, through Mainstreet CV 76 S Laura St. LLC, is developing the limited-service hotel. It will include a pool area, fitness center and other amenities. 
Paul Kilgallon with Mainstreet Capital Partners said in October the group expected to begin permitting in the first quarter of 2019.