Cantina Louie President Benjamin Porter expects to open his Monument Road restaurant late next summer.
The 170-seat Cantina Louie will anchor the estimated $3 million Shoppes at Monument retail center Porter is developing at Monument Road and Interstate 295 in the Regency area of Arlington.
Cantina Louie Mexican Street Food describes itself as a "fun, affordable Mexican Cantina serving authentic Mexican street food," such as tacos, sope, tostadas and tortas. It will serve lunch and dinner.
Porter said the location made sense because of its proximity and visibility to I-295. He said customers can reach it quickly from North Jacksonville, the Town Center area and the Fort Caroline area of East Arlington.
"The Fort Caroline area is severely lacking in restaurant options," he said.
The city issued a permit Tuesday for ShayCore Enterprises Inc. to build the 10,652-square-foot retail center shell building at a cost of $1.6 million. It also will have 1,195 square feet of unenclosed space, indicating patio seating.
Porter said Cantina Louie will occupy 5,100 square feet of space at the building. He estimates it will need 40 employees.
Porter said there are no additional tenants signed. He said there would be four available spaces of about 1,400 square feet each, although he thinks there will be two tenants taking all of it.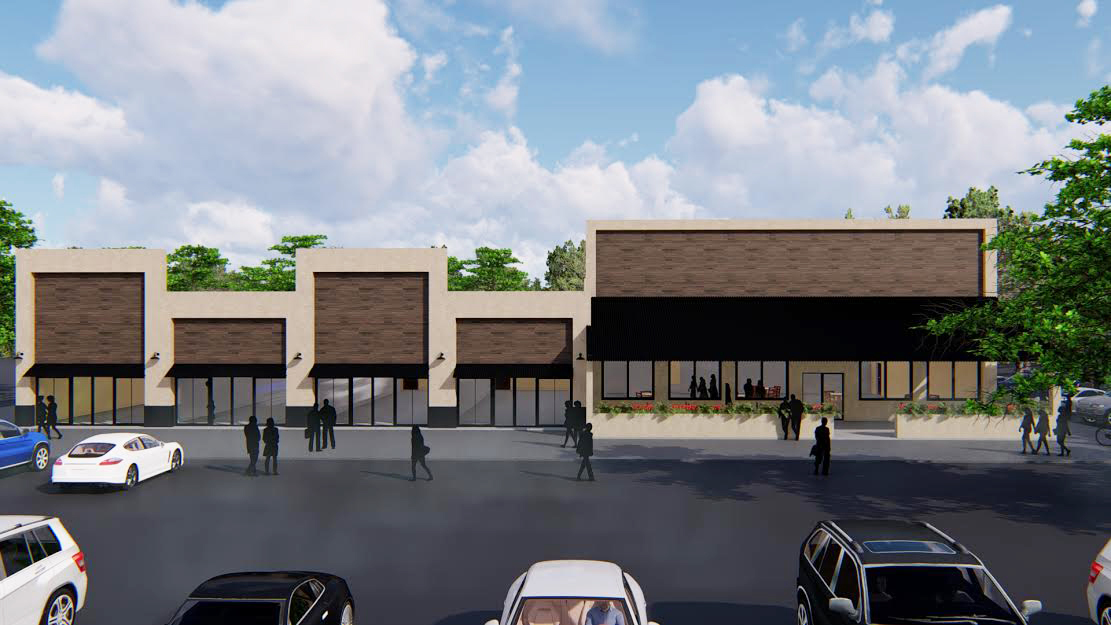 "We are looking at all offers at the moment," he said. Tenant types include cellphone stores and insurance offices – but no other full-service restaurants.
Rich Trendel with Petra Management is the leasing agent, Porter said.
The property is under development. The city approved site clearing in August for the 1.89-acre site at a cost of $100,000 and issued the foundation permit Oct. 4 at a cost of $50,000.
ShayCore is building the shell building at 1040 Hospitality Lane, next to a Ruby Tuesday restaurant and Gate gas station and convenience store and in front of the Hampton Inn.
Porter and Luis Cuevas lead ZT Holdings #06 LLC, which bought the property from Gate Petroleum Co. in January 2018 for $1.1 million. The LLC is based in Jacksonville Beach.
So far, ZT Holdings has invested at least $2.85 million in property and construction costs. Build-out will be separate.
The typical investment in building-out a Cantina Louie is about $700,000, Porter said.
The Jacksonville-based partnership opened the first Cantina Louie in 2014 in St. Augustine. It has locations in Atlantic Beach, Fernandina Beach, Tinseltown, Ponte Vedra Beach and South Asheville, North Carolina.
Its website says it is coming soon to Monument Road, Palm Coast and Daytona Beach. Porter expects to open in March in Palm Coast and May in Daytona Beach.
The Cantina Louie menu includes appetizers, nachos, salads, quesadillas, enchiladas, tacos, burritos, fajitas, desserts, a children's menu, wine, beer and specialty drinks.
For more information, visit cantinalouie.com.
Porter said Cantina Louie will start looking in the third quarter for a Central Florida location in the Orlando and Tampa area.
The Regency area restaurant had been expected to open earlier. Porter said he first was committed to the North Carolina pilot franchise opening since "that was all completely new for us."
Porter said Cantina Louie wants to make sure that each location is a success.
"Our success since launching the brand just five years ago has been tremendous," he said. 
"We have a management structure that was built from the ground up with the mindset that this brand is going to continue to grow at a rapid pace," he said.
In a previous interview, he described the corporate view.
"We consider ourselves a nice little neighborhood Mexican restaurant."