Oscar Munoz was a longtime Jacksonville resident before becoming CEO of United Airlines Inc. in 2015, so he understands the frustrations of travelers who can't get direct flights to the West Coast.
The last Jacksonville-to-Los Angeles flights were discontinued by Delta Air Lines Inc. in 2007 and during a talk Wednesday to the World Affairs Council of Jacksonville, Munoz did not offer any optimism for local flyers.
"There's a reason they don't have it any more," Munoz said.
"We need 180 people both ways every single day" to make it economically feasible, he said.
Munoz said Jacksonville is not alone in asking for direct flights to Western cities. "There are so many Jacksonvilles around the East Coast," he said.
United is trying to serve Jacksonville residents by offering direct flights to Denver, where they can get easy connections to numerous California cities, he said.
During his luncheon talk at The River Club Downtown, Munoz said he tries to be responsive to customer concerns. 
It's a lesson he learned during a 12-year career at Jacksonville-based CSX Corp., where he became president of the company in early 2015 before leaving several months later to take over the top spot at Chicago-based United.
"You learn so much in the railroad business," he said.
However, he acknowledged transporting people is different from transporting freight by railroad.
"Our coal freight business didn't talk back," he said.
In addition to customers, Munoz said he also tries to be responsive to United's 100,000 employees around the world.
"The most important thing you do in a business is you take care of people," he said.
Munoz said CSX union representatives talked to United union officials when he changed jobs and assured the airline workers that he wasn't "a real jerk," which he thought was "really high praise."
"Listening is an easy thing to say. It's an infinitely harder thing to do," he said.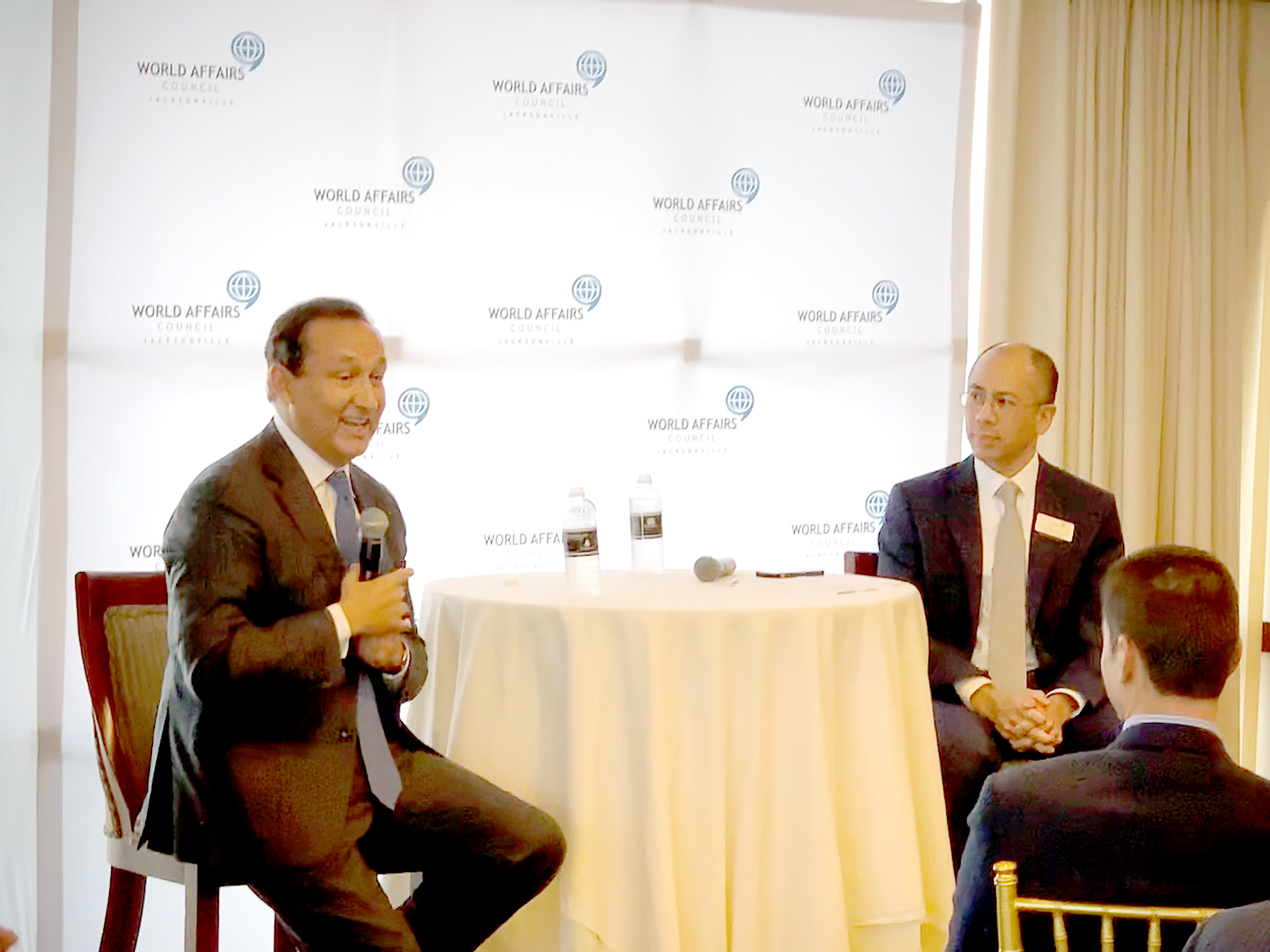 Munoz has had to face public criticism as head of the airline, particularly in 2017 when a viral video showed a United passenger dragged off a plane after refusing to give up his seat on an overbooked flight.
"It was a horrible moment," Munoz said. Even though it wasn't United personnel who dragged the passenger away, he felt a need to take responsibility.
"I had to take the brunt of it (the criticism)," he said.
Munoz took the incident as an opportunity to improve United's procedures.
"We used it as an accelerator to change the culture more rapidly," he said.
"When we break it, we fix it. I learned that at CSX," he said.
Munoz said he is offering the same advice to Boeing CEO Dennis Muilenburg, who is under fire for malfunctions of the company's 737 Max jet. Two crashes of the jet in the past year killed 346 people.
"There is no spin. There is no vehicle of communication that will make that less," Munoz said.
But he is confident Muilenburg will take responsibility and that the 737 Max will be safe when it returns to service in United's fleet.
"I'll be on our first plane," Munoz said.
He also said customers who book flights will be informed that the plane is the 737 Max, and will be given the option of finding another flight if they don't feel safe.
"We'll be incredibly transparent," he said.
Before Munoz left CSX, he was considered to be next in line to succeed then CEO Michael Ward at the railroad company. As it turned out, Ward left the company in March 2017 as part of a sweeping overhaul at CSX that also saw the departures of most of the executive team who worked with Munoz.
After the meeting, Munoz said he didn't feel comfortable talking about the changes at CSX, but he did say he thinks of his time there fondly.
"I have deep personal connections with so many people in that company," he said.