The city is reviewing plans for almost $36 million in two Downtown Jacksonville residential and retail projects.
At 233 W. Duval St., the city is reviewing permit applications for the adaptive reuse of the Independent Life Building at a cost of $19 million.
At 650 N. Newnan St., a permit is in review for the $16.5 million Ashley Square apartments.
 St. Augustine-based Augustine Development Group intends to redevelop the 19-story Independent Life Building to include 140 market-rate apartments with a grocery store on the ground floor and basement and a rooftop terrace with a pool, lounge and restaurant.
The restaurant and grocery store will be leased to a private operator.
Dasher Hurst Architects is the architect of the reuse project. The contractor is to be determined.
Bryan Greiner, president of Augustine Group, said Oct. 10 that his group plans to invest about $28 million into the 165,000-square-foot building.
Greiner and investment partners DLP Capital LLC paid $3.7 million for the property through PEP10 LLC on Sept. 30.
The former Independent Life and Accident Insurance Co. home office building was built in 1955 and is designated historic.
The city is reviewing permit applications for a $1 million interior demolition and $18 million conversion.
A Downtown Investment Authority term sheet calls for construction to start within six months of City Council approval of a $3 million Historic Preservation Trust Fund grant.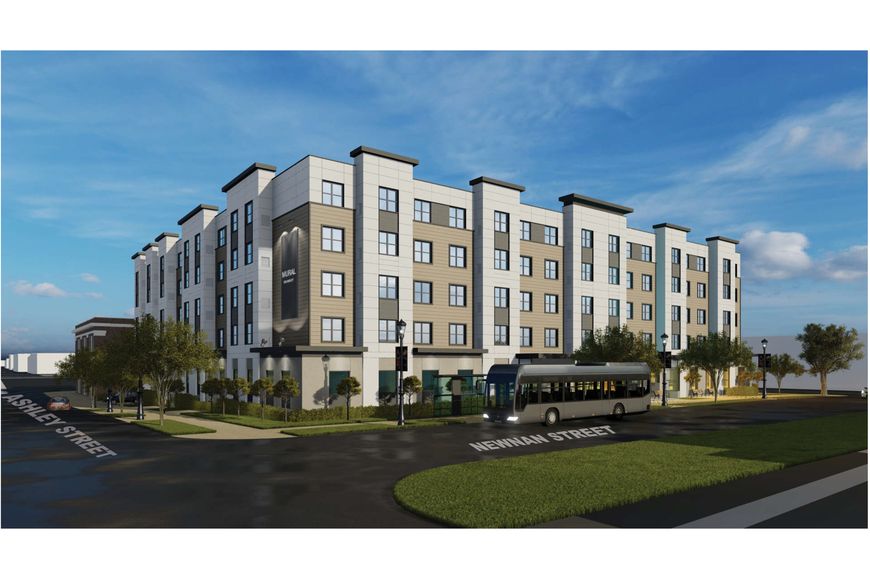 At Ashley Square, the city is reviewing a permit application for Blue Sky Communities of Tampa to develop a $16.5 million, six-story project at 650 N. Newnan St. in the Cathedral District.
NEI General Contracting Inc. of Ocoee is the contractor and PQH Group Design Inc. of Jacksonville is the architect for the 168,260-square-foot project for older adults.
The development is an independent living community for people age 62 and older and people with disabilities.
Plans show two levels of parking topped by a four-story apartment building. 
The permit application shows 120 units comprising 96 one-bedroom and 24 two-bedroom apartments.
Cathedral Foundation of Jacksonville Inc. is the property owner.
The Downtown Development Review Board gave final design approval in November.
According to the board application, 90% of the units are for those who qualify for affordable housing, with 10% set aside for low-income residents. 
Ashley Square includes other residential services and activities.
The lot is bordered by Beaver, Ashley and Newnan streets, west of the Stevens Duval Apartments.
Blue Sky Communities and nonprofit Aging True Community Senior Services said previously they will invest $15 million to convert the 1.03-acre parking lot into 650-square-foot one-bedroom units and 900-square-foot two-bedroom units.
A site plan also calls for a 160-space, ground-level parking garage with the apartments built above it.
According to agingtrue.org, since 1962, Aging True — operating as Cathedral Foundation of Jacksonville Inc. and subsequently in partnership with Urban Jacksonville Inc. — has designed and administered programs to help seniors in Northeast Florida.
Cathedral Foundation of Jacksonville was established by a group of St. John's Cathedral parishioners concerned about the health and welfare of the elderly in Jacksonville. 
The initiative expanded in 1974 to include Urban Jacksonville as a focused community service division dedicated to the needs of seniors.