Stein Mart Inc.'s six Jacksonville area stores might not stay empty for long after the bankrupt fashion chain liquidates its merchandise and closes in a few months.
"Big picturewise, it's great real estate," said Carrie Smith, managing director of the Franklin Street real estate company.
Stein Mart leases from 30,000 to 46,000 square feet of anchor box space at six properties.
"They are all well-positioned," Smith said.
"We feel bad for Stein Mart, but we've had tenants who have expressed interest in taking those boxes if we get them back," she said.
Smith said potential tenants include gyms, supermarkets, furniture stores and soft good uses. 
"Burlington, TJX Companies and Hobby Lobby are all out looking for deals," she said. TJX stores include TJ Maxx, HomeGoods and Marshalls.
"Smaller junior anchors might be able to take advantage too, like Ulta, Five Below, and Dollar Tree, if the box can be carved up with two or three users."
Smith represents Mandarin's Riverplace Shopping Center, one of the Northeast Florida neighborhood and community retail properties where Stein Mart leases space.
She said she has had multiple conversations with the prospective tenants. "We feel pretty confident we can backfill the boxes."
Stein Mart's strategy was to lease space in centers anchored by grocery stores or other high-traffic retailers that draw in its target shopper: College-educated women who work at least part-time in professional positions and have above-average household income.
Women's apparel accounted for 49% of Stein Mart's sales in 2019. The rest comprised men's clothing, home goods, accessories, shoes and other items, according to its Aug. 12 Chapter 11 bankruptcy filing.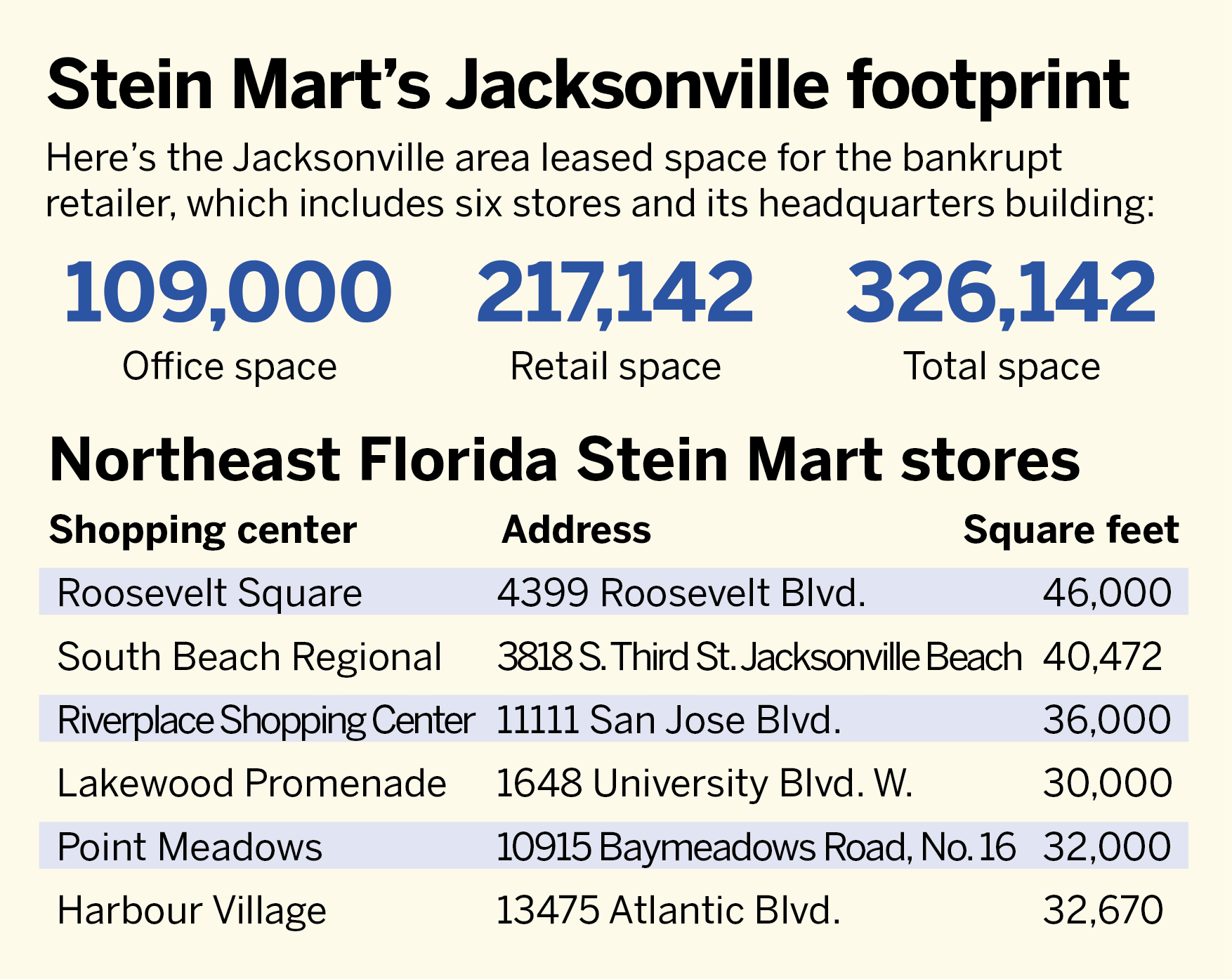 Closures an opportunity
Smith said the retail industry has been expecting the store closures for some time before the pandemic.
Stein Mart's sales have been dropping. Net sales fell to $134 million in the 13 weeks before May 2, which was the brunt of the pandemic shutdown, from $314 million the year before.
A global pandemic isn't the best timing for the real estate, though.
"Today you just don't know and that would be the case for the next six- to 12 months," Smith said.
Stein Mart operates 281 stores in 30 states. 
It leases in at least two Florida shopping centers owned by Jacksonville-based Regency Centers Corp., including the South Beach Regional shopping center at 3818 S. Third St. in Jacksonville Beach.
Eric Davidson, Regency Centers senior manager of communications, said Aug. 13 his team is talking with some retailers interested in the space.
"It's a great location and we are confident that we'll get the right fit in there soon," Davidson said. The center is at northwest Third Street and Butler Boulevard.
Butler Boulevard is the major route in Duval County from Interstate 95 to the Beaches.
Stein Mart leases about 40,000 square feet of space in the center, whose anchors include The Home Depot, Ross Dress for Less, Bed Bath & Beyond and Trader Joe's.
Sleiman Enterprises owns two of the centers where Stein Mart leases at Winn-Dixie-anchored centers – Lakewood Promenade and Point Meadows. Chief Operating Officer Michael McNaughton said Aug. 14 he had no comment. 
Representatives of Harbour Village in East Arlington and Roosevelt Square in West Jacksonville did not respond to questions.
Christian Harden, a managing partner for the NAI Hallmark commercial real estate firm, said this isn't the first time a big-box store has given back space.
"While they might take several months to backfill, usually these spaces are demised for smaller users," he said, referring to splitting the store for multiple users.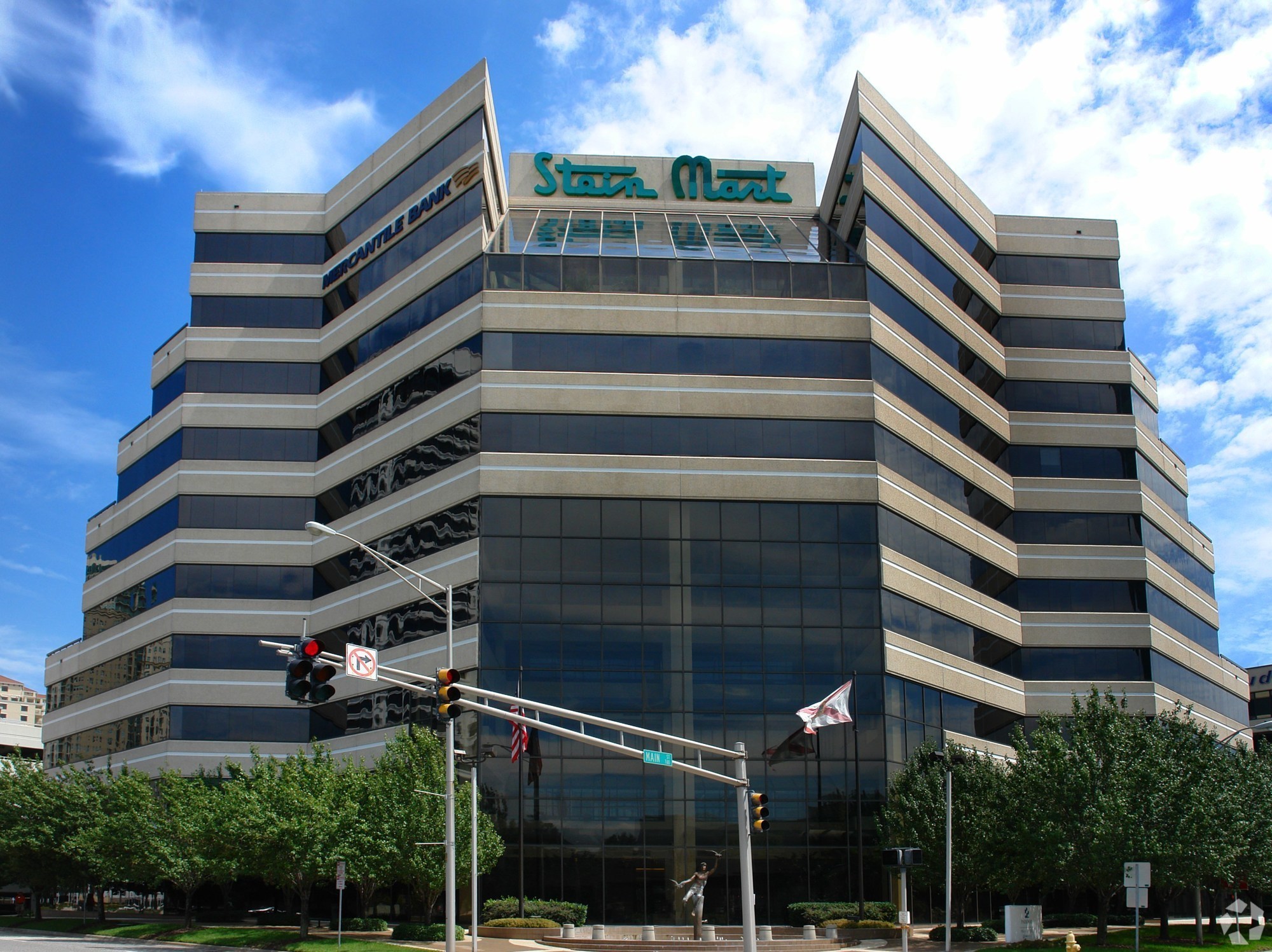 Southbank headquarters might take longer
Stein Mart established its headquarters in Jacksonville in 1984 in the Deerwood area, relocating from Greenville, Mississippi, and moved in 1994 to 1200 Riverplace Blvd. on the Downtown Southbank.
It leases 109,000 square feet in the 10-story, almost 197,000-square-foot building.
"I think the office space will be a good opportunity for a large tenant looking for marquee building naming rights, but it might take some time," Harden said of the structure, which is known as the Stein Mart Building and carries signage of the retailer's name.
 "The Southbank is a desirable neighborhood and the improvements along Riverplace Boulevard make it a very attractive opportunity," he said of the infrastructure and landscape work and amenities added to the street in recent years.
Michael Loftin and Jesse Shimp with JLL are the leasing agents for the ownership but were unable to comment.
Real estate statistics show a second-quarter office vacancy rate of about 7-8% on the Downtown Southbank, lower than the Northbank and the overall area average.
Lease terms part of the bankruptcy filing
Stein Mart filed the Chapter 11 bankruptcy petition in the U.S. District Court Middle District of Florida Jacksonville Division.
The filing said the company leases all of its retail store locations, support facilities, offices and some equipment.
Lease terms vary and generally are for 10 years with two or more five-year options.
In 2019, Stein Mart paid about $99 million in rent and $37 million in common area maintenance fees, insurance and real estate taxes.
Stein Mart said that after its March 18 COVID-19 shutdown, it negotiated with most of its landlords to defer rent during the closure period until after the reopening or by extending the lease period by the amount of time the stores were closed. Stores started to reopen in late April.
The company said the stores will stay open until the merchandise is liquidated, expected during the fourth quarter. The stores will close on a staggered basis.
Stein Mart Director of Investor Relations Linda Tasseff said the Northeast Florida leases have 10 to 20 years remaining and the company will have the right to "assume" or "reject" - keep or end - any of the leases in the bankruptcy filing.
As a public company, Stein Mart traded as SMRT.
"Whatever Leases SMRT rejects will be capped at 3 years and terminated by judicial order," she said by email.
That also applies to its Jacksonville office space.
Tasseff did not have the lease term information about distribution centers in Georgia, Texas and California, totaling 532,000 square feet, but she said all the rules on the leases are the same during the bankruptcy process.