In Northeast Florida, Wawa Inc. is expanding beyond Duval, Clay and St. Johns counties into Nassau.
Wildlight LLC proposes a Wawa gas station and convenience store at northeast Florida A1A and Daydream Avenue in the Wildlight community east of Interstate 95.
England-Thims & Miller Inc. is the civil engineer.
Since December 2017, Pennsylvania-based Wawa has opened 11 locations in Duval and Clay counties and has filed plans for St. Johns County.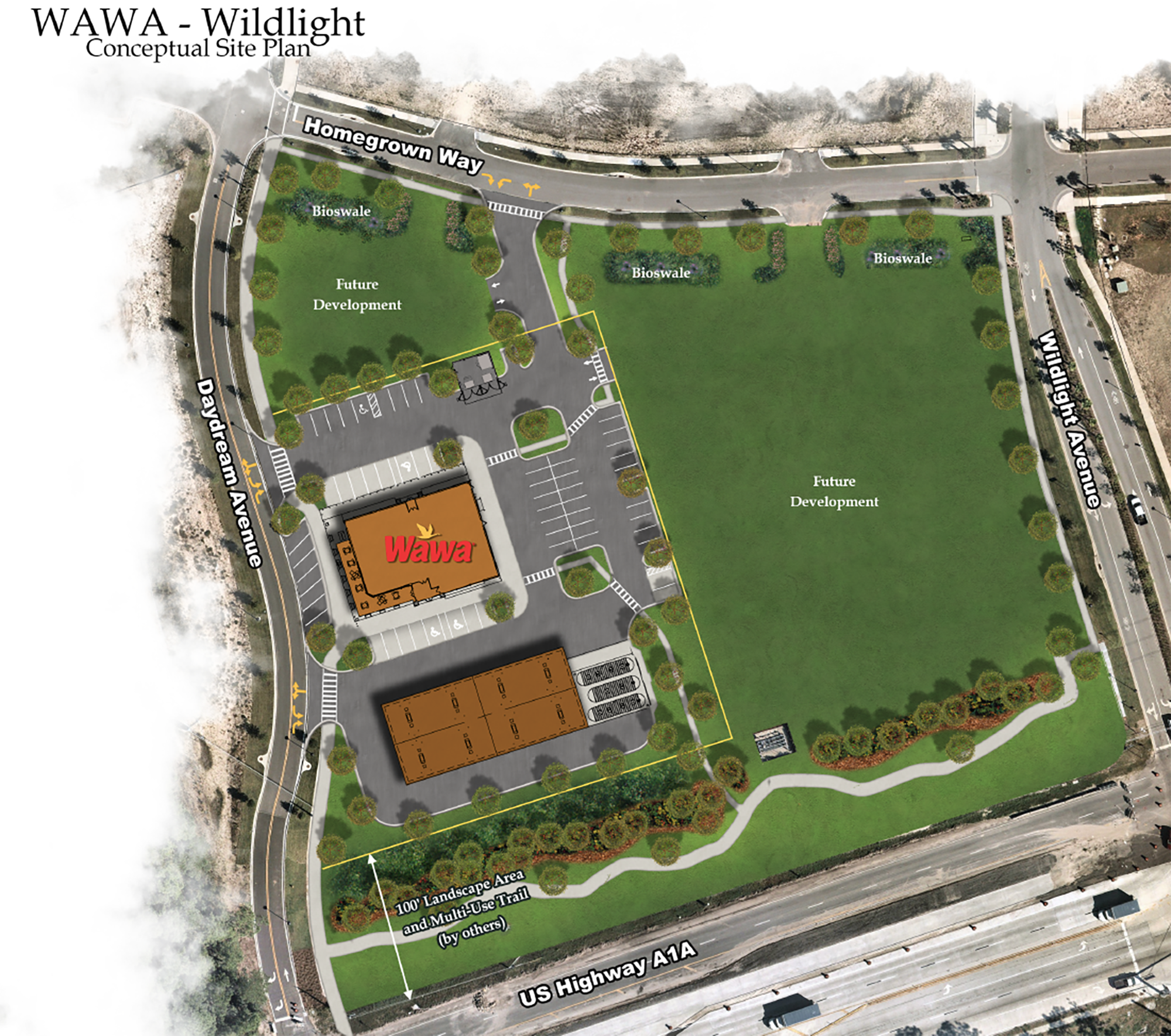 Bruce said 10 more sites are under contract.
Wawa is opening two stores this year in Northeast Florida, she said. It opened a store Jan. 23 at Philips Highway and Bowden Road and another will open this spring at 7911 Blanding Blvd.
Bruce said Wawa also will open in Flagler County at Florida 100 and Bulldog Drive.
Wawa intends to open two to three stores a year for the next few years in Northeast Florida, she said.
Wawa continues to pursue sites. Among the latest is at southeast Baymeadows Road and Baymeadows Way, near I-95, in southern Duval County.
The city calculated a mobility fee of $239,911 for development of a 6,119-square-foot gas station and convenience store on 3.78 acres.
Brightwork Acquisitions LLC intends to buy 6.2 acres from landowner David Hammers for the project. Tampa-based Brightwork Real Estate Inc. is the developer.
The city issued the fee certificate and a concurrency reservation certificate Feb. 5.
Bohler Engineering is the agent and the civil engineer. Environmental Consulting & Technology Inc. is the environmental consultant.