New Jersey-based Metropolitan Warehouse & Delivery appears to be the first tenant in the second building of Lane Industrial Park at 2280 Lane Ave. N. in West Jacksonville.
Metropolitan Warehouse & Delivery, headquartered in Perth Amboy, specializes in e-commerce furniture delivery, warehousing and customized delivery. It now leases 16,000 square feet at 9855-101 Mining Drive in the Southgate One warehouse.
The city is reviewing a permit application for ARCO Design/Build to improve 60,654 square feet of warehouse space in Unit 201 of the 160,000-square-foot Lane Industrial Park multitenant building at an estimated cost of $600,000.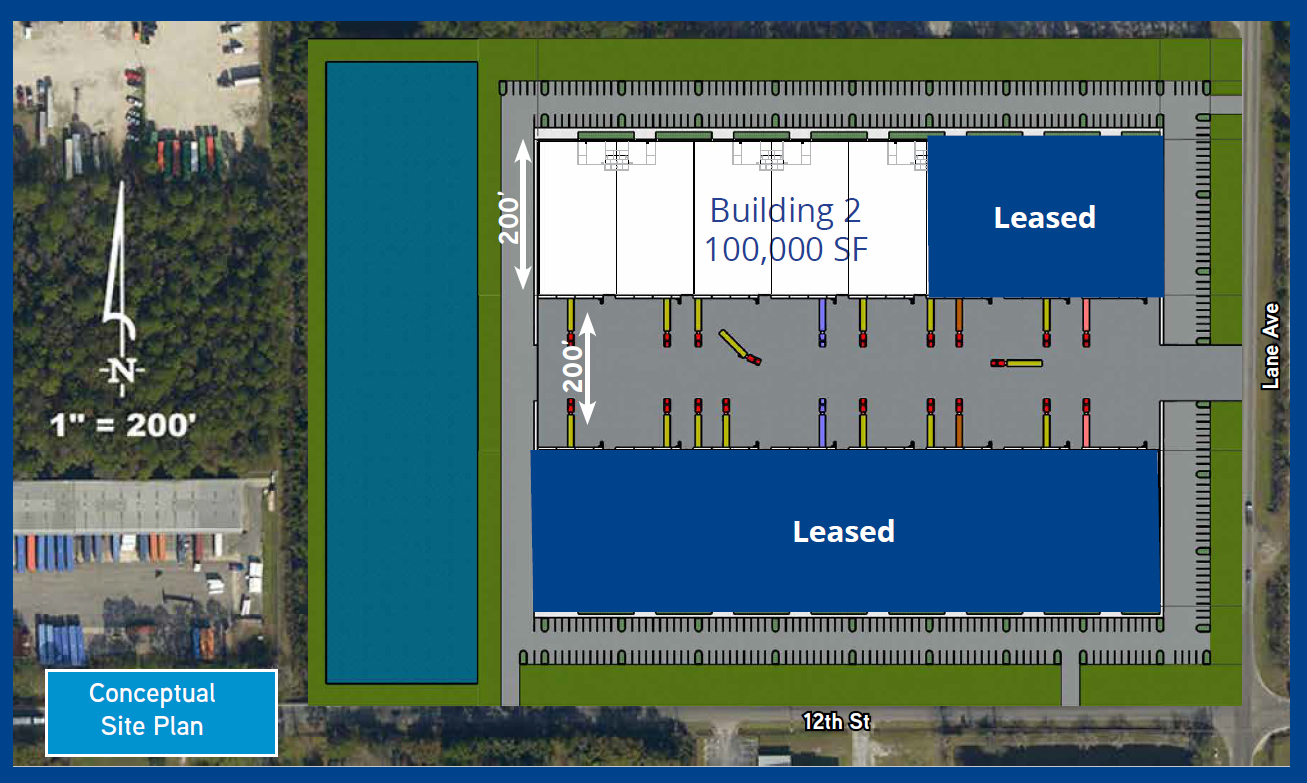 The space includes a 1,225-square-foot office. 
Lane Industrial Park is designed for two 160,000-square-foot warehouses at northwest Lane Avenue and 12th Street.
Colliers Executive Director Guy Preston and Associate Director Seda Preston in Jacksonville comprise the leasing team for the property.
Seda Preston said Dec. 8 ARCO is building-out the interior for Metropolitan Warehouse & Delivery concurrent with constructing the shell building so that the tenant will be able to occupy the space when the structure is completed in the first quarter of 2023.
She said Michael Eisner, an associate with RE/MAX Select Group in Plantation, represented Metropolitan Warehouse & Delivery.
ARCO Design/Build is building the warehouse at a construction cost of $6.55 million.
Metropolitan Warehouse & Delivery is hiring for warehouse associates in Jacksonville
The company says on metropolitanwarehouse.com that is it was formed in 1989. It says it has facilities in 40 locations in 28 states across the U.S., including three in Florida in Jacksonville, Tampa and Palm City.
"Metropolitan Warehouse & Delivery is a leading provider of white-glove delivery services to e-commerce retailers, furniture vendors, designers and manufacturers," says the website.
It says it is exclusive to the furniture industry and offers more than 2 million square feet of warehouse space along with a "real-time warehouse management monitoring system."
"By using the latest in automation and technology, Metropolitan reduces transit times drastically," it says.
It says it has worked more than three decades "to continuously deliver an unmatched level of service to the High-End Furniture, Antiques and Manufacturing Industries."
It says its clients include Costco Wholesale, Bed Bath & Beyond, Modloft, Urban Outfitters, Anthropologie and Chairish.
The first 160,000-square-foot building at Lane Industrial Park is fully leased by Cenntro Electric Group Ltd., Forward Air, Conn's HomePlus and Seal Shield.