A developer for Tesla dealerships submitted plans to the city Jan. 14 for an electric vehicle sales center in Atlantic North in Jacksonville.
That's the site where landowner Sleiman Enterprises wants to designate land for an electric vehicle sales showroom and service bays that industry sources suspect is Tesla Inc.
NLA/GCH Jacksonville LLC filed construction plans with the city for EV Sales Atlantic North at 11585 Atlantic Blvd., at northwest Kernan and Atlantic boulevards.
The proposed 45,505-square-foot building on 6.32 acres includes a Supercharger location, which is a Tesla feature. The site is near Cinemark Jacksonville Atlantic North.
The LLC is based in Denver and associated with Game Creek Holdings, a real estate development and investment company that has developed Tesla sales and service centers. 
Game Creek Holdings Principal Jonathan Power and Director of Development Jake Klopp are identified in the application.
Power said Jan. 17 he had no comment.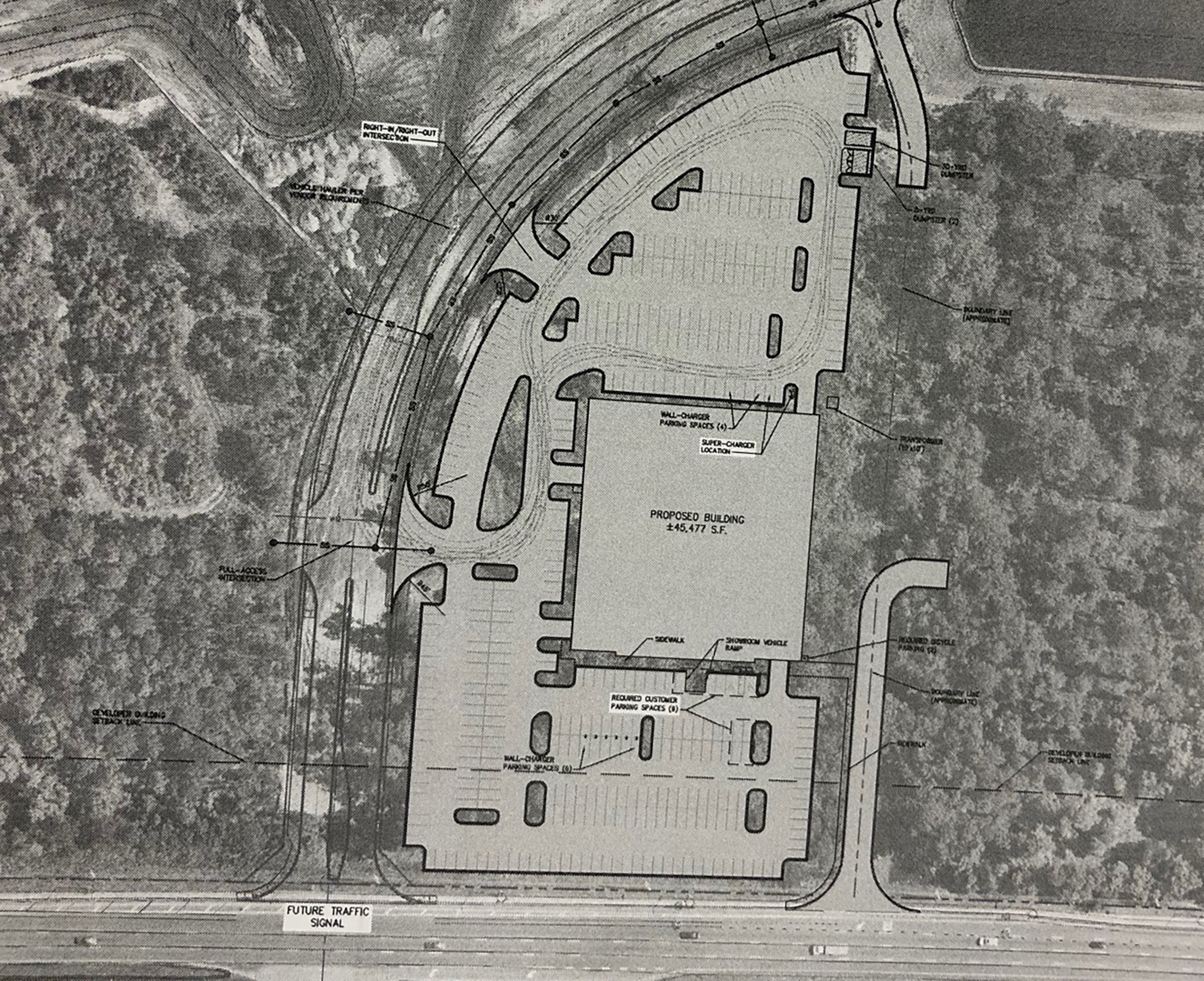 Kimley-Horn and Associates Inc. is the civil engineer.
Tesla operates a showroom at St. Johns Town Center and a service center at 7818 Philips Highway.
CNBC.com reported July 28 that Tesla is closing some of its showrooms in high-end shopping malls and instead investing in less-expensive locations, according to a report from the Electrek.co site that tracks, analyzes and reports on the transition to electric transport. 
Sleiman COO Michael McNaughton said Dec. 21 he had no comment on behalf of Sleiman Enterprises.
Sleiman owns and is developing the property through the Atlantic North Land Trust.
Tesla and St. Johns Town Center's manager have not responded to emails or a call.
The city issued mobility fee calculation and concurrency reservation certificates for a 45,477-square-foot EV sales showroom at the address.
It calculated a mobility fee of $262,399 to mitigate the traffic impact. 
Plans show a retail showroom and lounge, 15 service bays, 10 wall-charger spaces and two Supercharger spaces. In the U.S., only Teslas can use Superchargers.
CNBC reported that Tesla, based in Austin, Texas, plans to close mall showrooms, marking a shift in the company's retail strategy. It said that in early 2019, Tesla Chief Executive Elon Musk said the company would be closing most of its brick-and-mortar locations and shifting its sales online.
"However, the company ended up reversing course and keeping a significant number of locations open," it said.
The Electrek.co site that tracks, analyzes and reports on the transition to electric transport said Tesla operates more than 170 galleries and showrooms across the U.S. The site reported Aug. 4, 2020, that Tesla was working on a significant expansion of its retail and sales presence, including expansions in new markets.