Cantina Louie Mexican Street Food is moving its headquarters to the Regency area next to its Monument Road restaurant and opening a commissary kitchen.
"This will be a big step for us," said President Ben Porter, a partner in Cantina Louie. "All food preparation is currently done at the individual locations."
Cantina Louie Mexican Street Food is up to a dozen locations, including two St. Johns County restaurants set to open this spring in the Shoppes of Aberdeen in Fruit Cove and in Julington Creek.
"We will be producing a lot of our products in that kitchen and then deliver to the individual restaurants," Porter said.
"This will streamline the process, create consistency and also consolidate some labor."
Porter said the kitchen will produce all the sauces, some dessert items, pre-made ingredients and seasoning kits.
"For instance, with pico de gallo, they would simply dice tomatoes, add the pre-made ingredient kit, blend, then serve."
The commissary kitchen also will process most protein items. Currently, those are hand-cut in restaurants and that can create some inconsistency. 
Porter said at the commissary, the cuts will be done by machine and then marinated before being sent to the restaurants.
He expects the move in April. 
Cantina Louie's headquarters will move from about 2,500 square feet in Jacksonville Beach to the more than 5,600-square-foot space, which includes the kitchen, at 1040 Hospitality Lane.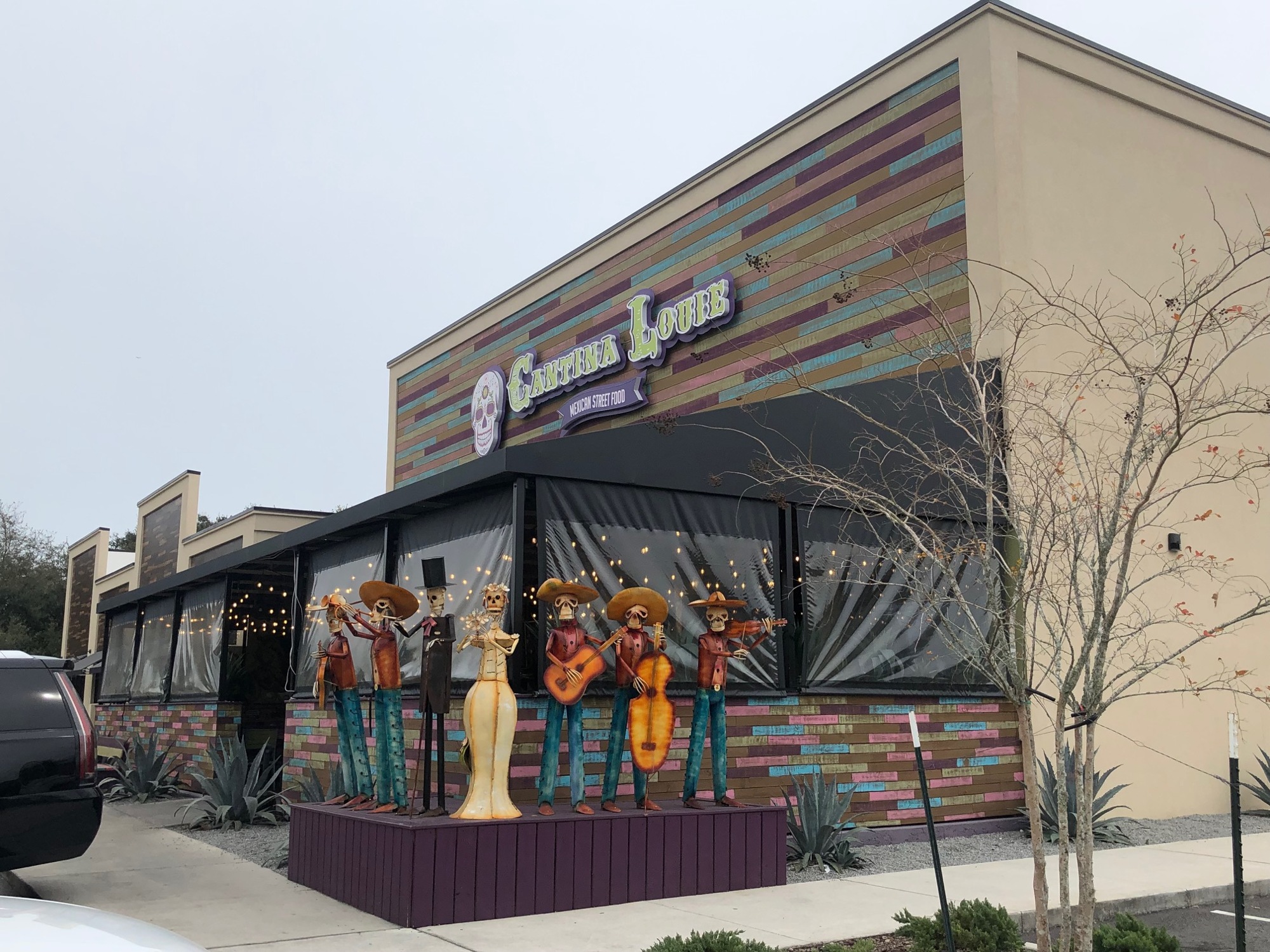 Cantina Louie opened a 4,800-square-foot restaurant and bar there a year ago. The site is at Monument Road and Interstate 295, north of Regency Square Mall. It is next to a Ruby Tuesday restaurant and Gate gas station and convenience store and in front of the Hampton Inn.
Cantina Louie Corp. bought the land and developed the restaurant and adjacent commercial space for lease. It now will use the entire building, called the Shoppes at Monument center.
Porter and Luis Cuevas lead ZT Holdings #06 LLC, which bought the property from Gate Petroleum Co. in January 2018 for $1.1 million. 
ShayCore Enterprises Inc. built the more than 10,400-square-foot shell building for ZT Holdings at a cost of $1.6 million. Porter previously anticipated up to four additional tenants at 1,400 square feet each.
In July 2020, the city approved a permit for Styles Smith Plumbing Inc. to build-out the Cantina Louie restaurant at a cost of $325,685.
Porter said Jan. 24 his group expects to move four or five employees from current restaurant operations to the commissary.
He said the corporate team of 10 comprises five in the office and five regional staff members in the field.
The city approved a permit Jan. 11 for Styles Smith Plumbing Inc. to prepare the building shell for the commissary and headquarters at a cost of $190,000. Porter anticipates a total $600,000 build-out.
Cantina Louie's 10 existing locations comprise three in Duval County; two more in St. Johns County in Ponte Vedra and St. Augustine; and one each in Fernandina Beach, Palm Coast and Daytona Beach as well as two in South Asheville and Matthews, North Carolina.
Porter said the commissary kitchen will serve the Florida locations. Porter said that when additional locations open in North Carolina, Cantina Louie will look at opening a commissary kitchen in that market.,
Cantina Louie Mexican Street Food serves lunch and dinner.
The menu includes appetizers, nachos, salads, quesadillas, enchiladas, tacos, burritos, fajitas, entrees, desserts, a children's menu, wine, beer and specialty drinks.
The partners opened the first Cantina Louie in 2014 in St. Augustine.