Seefried Industrial Properties Inc. is exploring development of three industrial buildings totaling almost 500,000 square feet in Northwest Jacksonville, according to an application with St. Johns River Water Management District.
Called the Lem Turner Business Park, the application shows the project on 43.6 acres at northeast Interstate 295 and Lem Turner Road.
Atlanta-based Seefried Industrial Properties is the applicant. Kimley-Horn and Associates Inc. and LG2 Environmental Solutions are consultants.
The wetland impact map shows three buildings of 222,000 square feet, 137,760 square feet and 114,000 square feet.
Those total 473,760 square feet.
The project is described as a proposed industrial development with associated infrastructure and stormwater management facilities.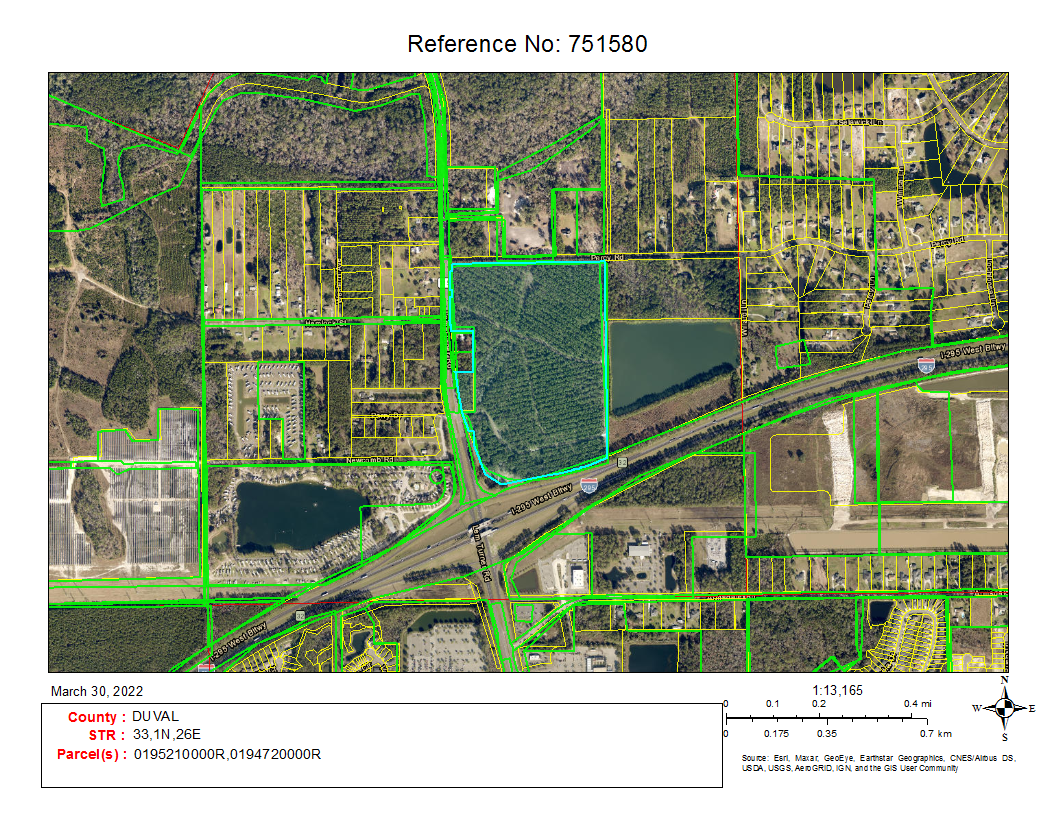 Seefried Industrial Properties is active in the Northeast Florida market.
In April, the national industrial real estate firm bought 63.4 acres in North Jacksonville, where it had submitted plans for a 525,000-square-foot warehouse.
Through a limited liability company, Seefried paid $8.5 million for two parcels of the undeveloped timberland. It bought the property from A-B Distributors Inc. of Jacksonville.
The deed was recorded April 22 with the Duval County Clerk of Courts. It comprised two parcels – 32.08 acres and 31.32 acres.
Property records indicate about 53.6 acres is listed for a light industrial use.
The St. Johns River Water Management District received an application for the warehouse at 186 Pecan Park Road, at southwest Pecan Park Road and North Main Street.
Plans did not identify a tenant. The site will have parking for 295 cars and 164 trailers.
The applicant is part of Seefried Industrial Properties.
Kimley-Horn and Associates is the civil engineer. LG2 Environmental Solutions is the environmental consultant.
The conceptual plan identifies the project as Building 100, indicating more are planned.
Jacksonville's first-quarter industrial vacancy rate is below 4% as landlords work to add more buildings for prospective tenants.
Ferdinand Seefried founded Seefried Properties in 1984.
Seefriedproperties.com says the company specializes in the development, leasing and management of industrial real estate across the U.S. 
It leases and manages about 40 million square feet for its institutional and European clients and has developed, or is developing, about 190 million square feet of space valued more than $17 billion across more than 120 markets.
It has regional offices in Dallas, Chicago, Los Angeles and Phoenix. 
Seefried partnered with USAA Real Estate Co. in 2016 to develop land for Jacksonville's first Amazon fulfillment center in Northwest Jacksonville.
The developed property sold to an investor for $107.8 million in July 2020.