St. Johns County is reviewing a large-scale comprehensive plan amendment and rezoning for the Colonial Hinman Intermodal Exchange Facility, a proposed 214.13-acre project that would comprise at least 850,000 square feet of warehouse space and a 50,000-square-foot intermodal terminal.
The St. Johns County Planning and Zoning board meeting is scheduled at 1:30 p.m. Dec. 1 at 500 San Sebastian View.
The project site is on the south side of County Road 214 between Interstate 95 and Holmes Boulevard.
A letter from Buckholz Traffic of Jacksonville to the Growth Management Department of the St. Johns County Planning and Zoning Department says the CHIEF Commercial Development access will be a single full-access driveway that will connect to County Road 214 about 1,000 feet east of Adams Acres Road. 
"The development is expected to be constructed and fully occupied by the end of 2025," says the letter dated Aug. 3.
A plan shows the building as 892,296 square feet on 215.79 acres and is labeled the Col Hinman Industrial Railyard Concept.
No tenant is identified.
The Sept. 12, 2022, Economic Impact Analysis was prepared for Dr. Roy H. Hinman II and Bryan Greiner of Augustine Development Group.
Both groups are based in St. Augustine.
It refers to the intermodal exchange facility as a master-planned industrial project of about 238 acres to be developed as a combination of flex, industrial and logistical space of about 900,000 square feet and a 10-year horizon for development.
The analysis, by Fishkind Litigation Services Inc. of Orlando, says the project will employ 1,817 people when fully built-out.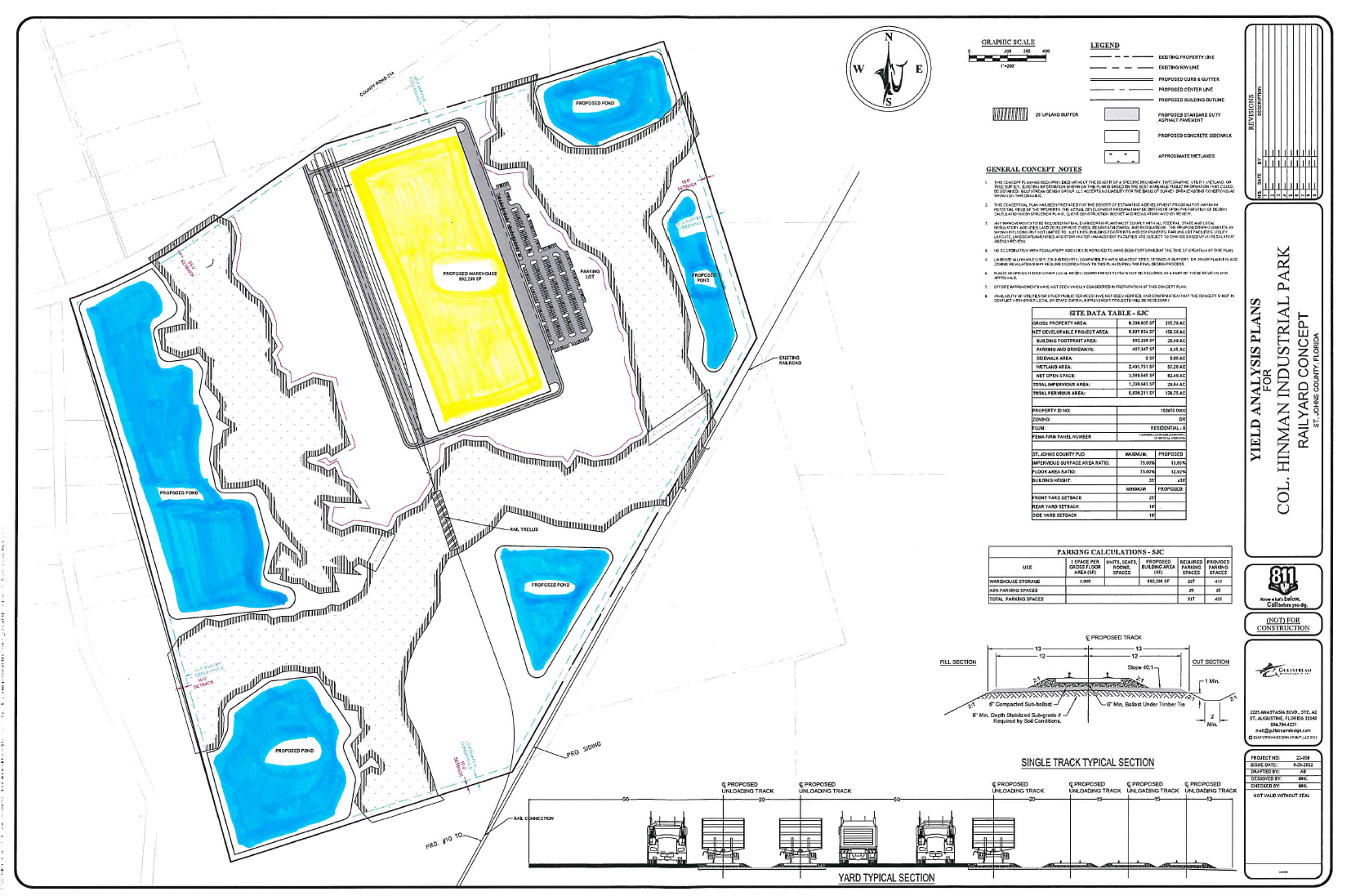 The project requests changing the Future Land Use Map designation of about 214.13 acres at 2775 County Road from Residential-R to Industrial. The request is COMPAMD 2022-05.
It initially requested rezoning the property from Open Rural to Heavy Industrial to allow for a proposed intermodal distribution facility, but a Nov. 18, 2022, application attachment amends that to add a condition that no heavy industrial is allowed. It says the request is for light industrial.
It also says all proposed light industrial uses are more than three football fields' distance from any border of the property. 
The request is REZ 2022-18.
The attachment also says the proposed facility and uses will be located on the property on County Road 214 with direct access to the Florida East Coast Railway system, "which will provide safe and appropriate circulation of business for the transport of goods, which has been shown to reduce fuel consumption, truck trips on our roads and highways, as well as in helping to eliminate millions of tons of CO2 emissions and providing billions of dollars in road and highway maintenance fund savings. This use will both create and promote multi-modal transportation opportunities while buffering itself from surrounding uses."