Saxum Real Estate says the industrial use of 816 acres it bought in North Jacksonville is in preliminary planning.
Austin, Texas-based Saxum, an investment and development company, appears to be working toward developing an industrial park of 3.7 million square feet, according to a JEA utility service availability request.
In emails and statements since Jan. 24, Saxum said it is working on the project with KABR Group, a private equity real estate firm based in Ridgefield Park, New Jersey.
Saxum paid almost $14.5 million on Dec. 9 for two parcels at Arnold Road and Gold Star Parkway it bought from a Ponte Vedra Beach owner.
The land is north of Jacksonville International Airport and west of Interstate 95.
Saxum said the property benefits from access and proximity to I-95, the airport and Jacksonville Port Authority terminals.
"Saxum and KABR are evaluating several options for the developable portion of the property including industrial use to support the continued growth of container volume at JAXPORT and the increased focus on freight at the Jacksonville International Airport," it said.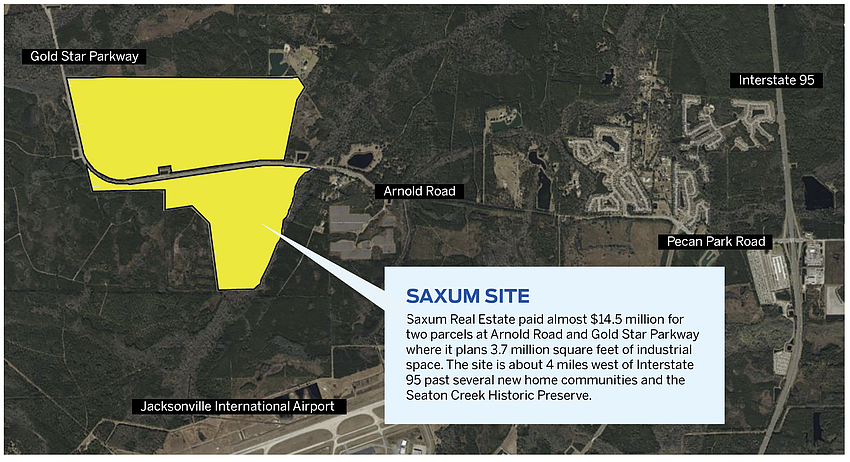 "The project plans to address the undersupply of new, Class A industrial space, which is required to support the significant growth of logistics demand in the market."
Saxum says its partnership with KABR "aligns one of the preeminent industrial and logistics developers in the nation with a proven developer that has over a decade of experience owning, operating, and developing in Jacksonville as well as other prominent East Coast markets."
Saxum said the property's zoning allows uses permitted under a 2009 planned unit development. 
Ordinance 2009-153-E, enacted by City Council on March 10, 2009, rezones 1,013 acres that include that land bought by Saxum.
The legislation allows permitted uses and permissable uses by exception in an industrial light zoning district.
"We have engaged several consultants including (a) civil engineer and are evaluating several different layouts and options for the site," the company said.
Deno Hicks of River North Strategies, a government relations and business development firm, is providing due diligence support services.
England, Thims & Miller Inc. is providing master planning and civil engineering services
Through Arnold Road PropCo LLC, Saxum bought the land from Laurens Street LLC, which state records show is led by Michael Braren.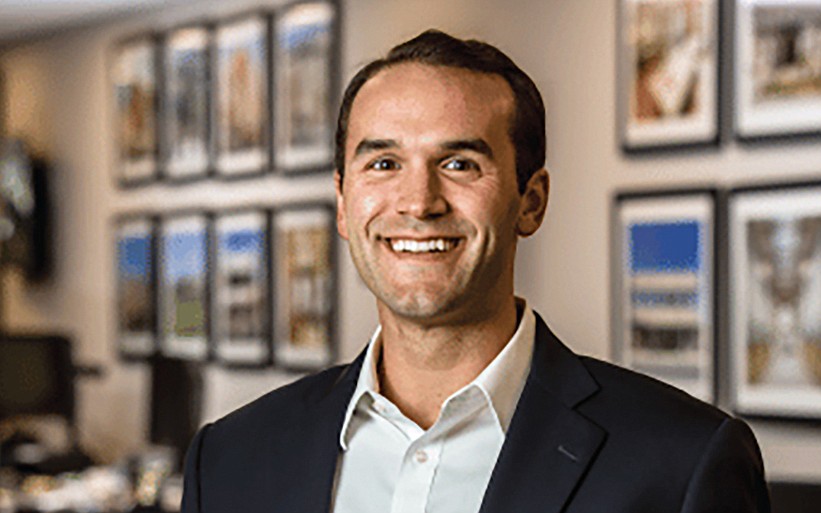 "We closed on this land in December, and are working through our long term vision for the site, which will align with the in-place PUD Industrial Zoning," said Saxum Principal Matthew Wassel by email Jan. 24.
"At this point, we are still working through our planning," he said.
Saxumre.com says Wassel oversees the firm's leasing platform and directs marketing, tenant targeting and lease execution for Saxum's portfolio. 
Arnold Road PropCo was registered with the state Nov. 16. It is led by President Anthony Rinaldi, who is the founder and managing principal of Saxum.
England, Thims & Miller submitted a service availability request to city utility JEA on Jan. 16 for what is called Arnold Road Industrial Park.
The project description is about 3.7 million square feet of industrial park buildings.
Saxum and KABR are active in the market.
Saxum currently is developing a 330,000-square-foot cold-storage space and freezer facility in Imeson International Industrial Park in North Jacksonville.
Saxumre.com says Saxum's national portfolio and development pipeline includes industrial, multifamily, office, mixed-use and student housing assets.
Its portfolio capitalizations surpass $2 billion and include more than 2.5 million square feet of ground-up cold storage development and 1,400 multifamily rental units, 4,000 student-housing beds and other assets.
"Our development pipeline totals over $700 million in project capitalization across multifamily, student housing, cold storage and industrial asset classes ranging from value-add to ground-up development," it says.
KABR Group is active in Jacksonville with The Klotz Group of Companies, including on the Morocco Shrine Center redevelopment into the Village at Town Center apartment, restaurant, retail, office and hospitality project and The Reef Oceanside Apartments in Atlantic Beach.
"Saxum and KABR are both committed to the City of Jacksonville and continue to look for additional investment opportunities," Saxum said.
KABR Group has acquired more than 6 million square feet of development rights, 4 million square feet of office, hospitality and industrial space and more than 4,000 multifamily units.