The Davis family, whose land holdings include property that became Nocatee and eTown, is working toward a more than 6,000-acre residential and commercial development in Southeast Jacksonville.
Big Creek Timber LLC asks the city to rezone 6,174.21 acres east of Interstate 295 and south of Butler Boulevard for those uses. About a third of the acreage will be protected or placed in conservation.
The undeveloped property is east of Sweetwater, eTown, Wells Creek, Hampton Park, Florida 9B and U.S. 1. It is north of Nocatee.
It is next to the Davis family's 25,000-acre Dee Dot Ranch.
The rezoning to planned unit development specifies 10,575 residential units comprising 6,103 single-family houses, 2,410 town homes and 2,052 multifamily units; and 915,000 square feet of commercial uses.
The application, through Ordinance 2023-0069, is scheduled for hearings at the Jacksonville Planning Commission on March 9; City Council on March 14 and March 28; and the Council Land Use & Zoning Committee on March 22.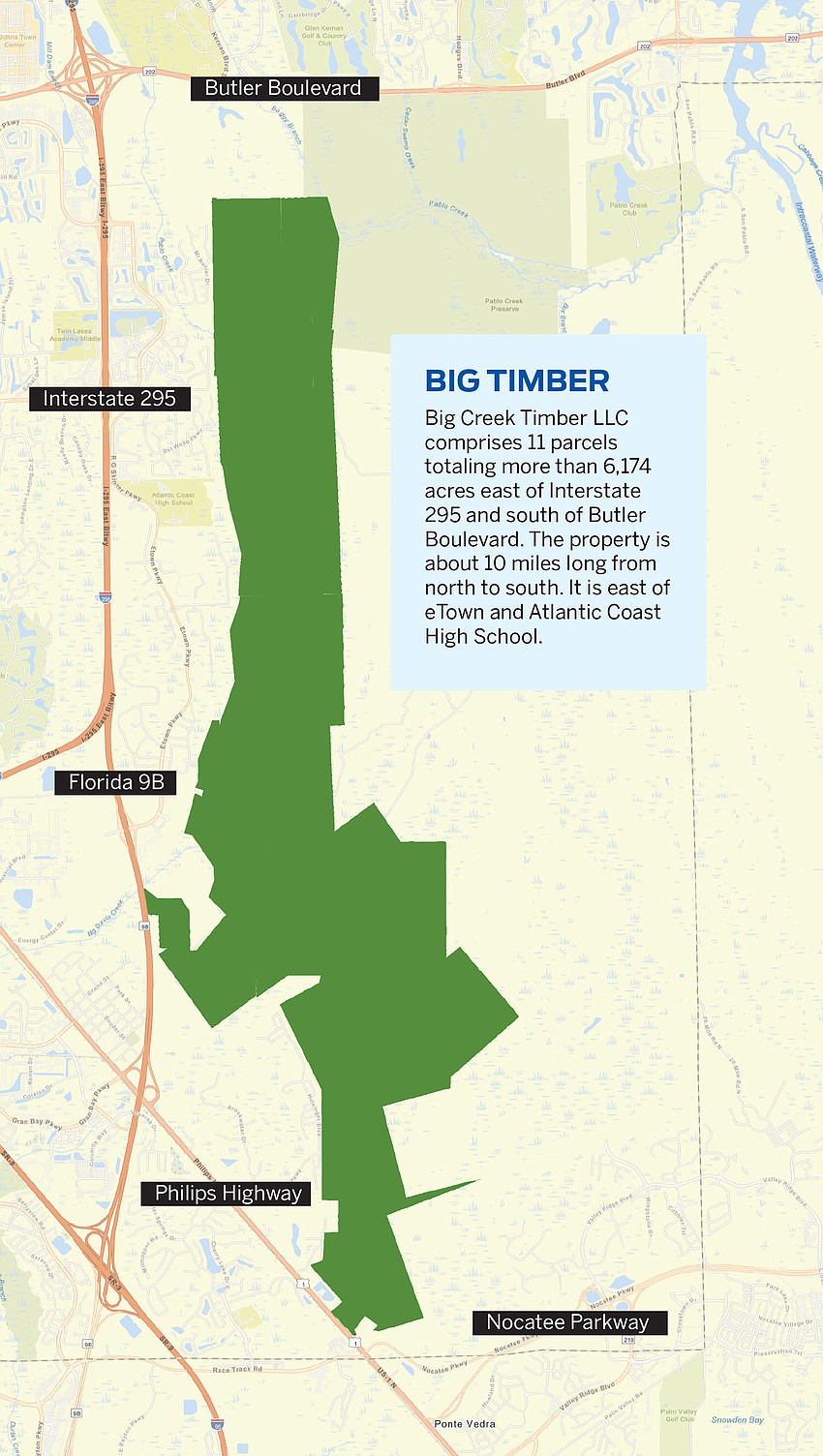 Jacksonville land-use lawyer Paul Harden is the applicant.
Companion Ordinance 2023-0067 adopts a large-scale amendment to the 2030 Comprehensive Plan and 2023-0068 approves a conceptual master plan.
The property comprises 11 parcels that were conveyed Jan. 8, 2021, by Estuary LLC to Big Creek Timber LLC. 
Estuary LLC is led by Chairman A. Dano Davis and President Jed Davis along with several officers who also are officers of Big Timber Creek LLC. The Davis family founded Winn-Dixie Stores Inc.
The current land uses are low density residential. The proposed use is subject to the Big Creek Timber LLC Conceptual Master Plan.
The current zoning is rural residential-acre. The proposed zoning is planned unit development.
The PUD zoning district will provide for a multiuse master plan to include commercial office, institutional, single- and multifamily residential neighborhoods with active and passive recreation.
"The PUD proposes clustered development for the efficient use of land that allows for the preservation of a significant portion of the Property for conservation purposes," says a Jan. 23 written description of the Big Creek Timber LLC PUD.
The PUD also proposes architectural standards "that will facilitate an aesthetically pleasing common development theme that is internally and externally compatible."
A site plan shows uses to be permitted within each area in the property according to a master plan.
The conservation and open space could include green space, passive and low intensity recreation uses that include parks, playgrounds, dog/pet parks, park structures, greenways and walkways, nature walks, trails, gardens, ponds, observation platforms, shelters, picnic areas, wetland preservation, docks, piers and more.
Parking and loading requirements refer to retail/commercial and restaurants; office; a movie theater; hotel rooms; senior housing; and residential units.
Overall development standards refer to access and transportation, including internal circulation, lane capacity, external connections and more, including an extension of Gate Parkway.