The city issued a permit Feb. 27 for Lincoln Property Co. to build a 302,800-square-foot warehouse shell at a project cost of $22 million on land the developer bought in June in West Jacksonville.
Miller Construction Co. of Fort Lauderdale is the contractor and  Adkinson Engineering is the civil engineer for the structure on 41.29 acres at 2992 Pickettville Road.
Dallas-based Lincoln Property bought the land from landowner Jack Allen for $5.5 million. Colliers Director Joseph Turri, who represented Allen in the sale, said previously that 27.6 acres is usable.
The land is west of Interstate 295 and south of Pritchard Road.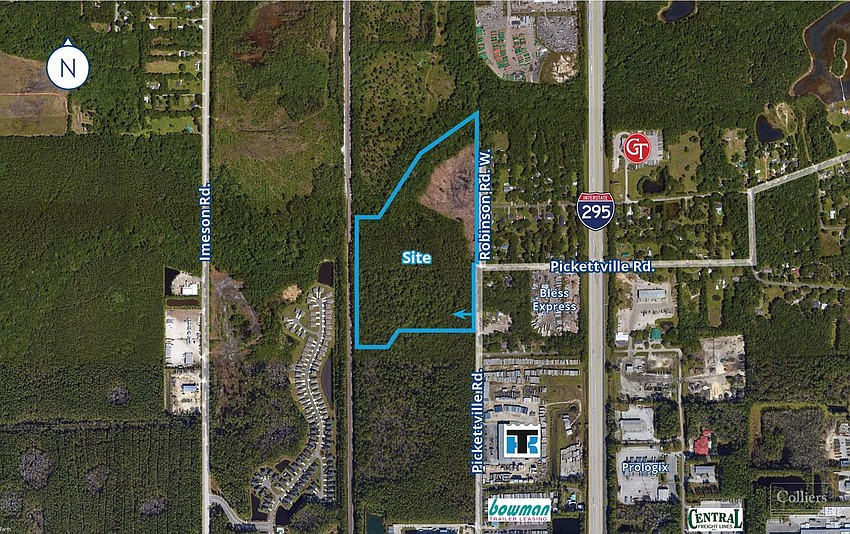 Plans show a general storage warehouse on about 12 acres and use of the remainder for parking, truck parking, a pond, mitigation and wetland.
The client is listed as Lincoln Property Co.'s Atlanta office.
Chicago-based Lincoln Advisors bought the Pickettville Road property through Columbia Florida Pickettville Industrial LLC. 
Allen sold it through Transportation Property Partners LLC.
Cushman & Wakefield of Florida LLC executive directors Tyler Newman and Jacob Horsley are marketing the property for tenants. 
The marketing brochure shows there is a 2,566-square-foot speculative office space in the building's southwest corner.
There are 135 trailer parking spaces and 326 vehicle spaces.
It is one of several warehouses in development as the industrial vacancy rate in Northeast Florida falls to 3.2% and below.