Baptist Health and Another Broken Egg are coming to the reconfigured Mandarin Landing shopping center and anchor tenant Whole Foods Market is completing a renovation there.
Baptist Health said it is relocating two Mandarin medical offices into the 24,650-square-foot former Office Depot building at Mandarin Landing, which is at 10601 San Jose Blvd., north of Interstate 295.
The targeted opening is early 2024.
Baptist Health said two Baptist Primary Care offices - Mandarin North and Mandarin West - will relocate to the building, which will include a laboratory "to make outpatient blood work easily accessible to Baptist Primary Care patients."
"These two primary care practices have dedicated themselves to caring for generations of Mandarin families," said Catherine Graham, Baptist Health senior vice president of Clinical Service Lines and Ambulatory Business Development. 
She said the location will allow Baptist Health to continue serving its long-standing patients "while at same time enabling convenient access to care for the many new families moving into our community daily."

Plans include adding a Baptist Health specialty practice soon.
Patrick McKinley, Jacksonville-based Regency Centers Corp. vice president and market officer, said March 3 that the center's layout will be reconfigured by demolishing retail space next to the former Office Depot, which closed in November 2020, and building new space next to Whole Foods.
"We are in talks with several prospects for this space, and have already signed a breakfast/lunch restaurant, Another Broken Egg," McKinley said.
Regency Centers owns the shopping center on 17.3 acres. The landlord said the center is almost 140,000 square feet of space.
Regency Centers said a portion of the parking lot will be modified and there will be landscape changes to improve customer connectivity and enhance traffic patterns "for easily and safely visiting shops and restaurants."

"An upcoming complete façade renovation will also bring a fresh look and updated aesthetics to the plaza," McKinley said.
"Whole Foods will be completing an interior remodel with a focus on an enhanced shopping experience, and Baptist Health will add a new, large format medical facility (in the former Office Depot space), with multiple practices to better serve their patients and customers in Mandarin and the greater Jacksonville communities."
McKinley said Regency hopes to announce a new restaurant soon that will be added to a portion of the parking lot closest to San Jose Boulevard.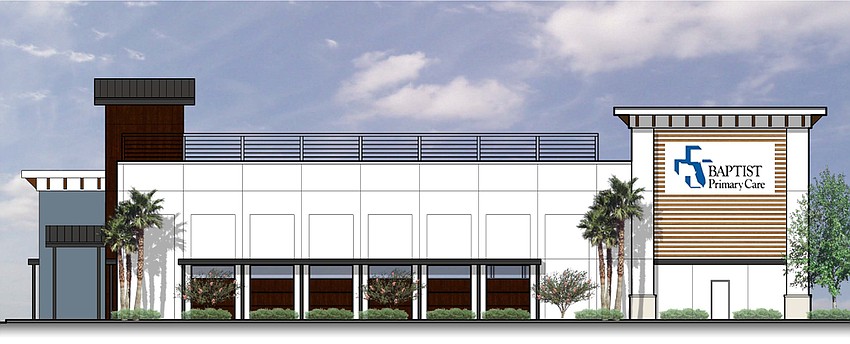 The city is reviewing civil engineering plans by England-Thims & Miller Inc. submitted Feb. 27. 
The plans specify a new Pad 4 and Building 5.
The retail space between Whole Foods and the former Office Depot will be demolished and a new 9,800-square-foot Building 5 will be developed to the south of Whole Foods.
Parking is planned between that new building and the Office Depot structure.
Pad 4 is near San Jose Boulevard and can accommodate a building of at least 7,000 square feet, plans show.
Property records show the center was built in phases starting in 1976 through 2008.
Whole Foods opened the 51,701-square-foot Mandarin store in 2008. 
The center also is anchored by Kirkland's Home and Enza's Italian Restaurant.
McKinley said the shopping center will remain similar or slightly smaller in size with the reconfiguration.