New Jersey-based Metropolitan Warehouse & Delivery is building-out as the first tenant in the second building of Lane Industrial Park at 2280 Lane Ave. N. in Northwest Jacksonville.
The city issued a permit Feb. 21 for ARCO Design/Build to improve 60,654 square feet of warehouse space in Unit 201 of the 160,000-square-foot Lane Industrial Park multitenant building at a project cost of $697,582.
Metropolitan Warehouse & Delivery, headquartered in Perth Amboy, specializes in e-commerce furniture delivery, warehousing and customized delivery.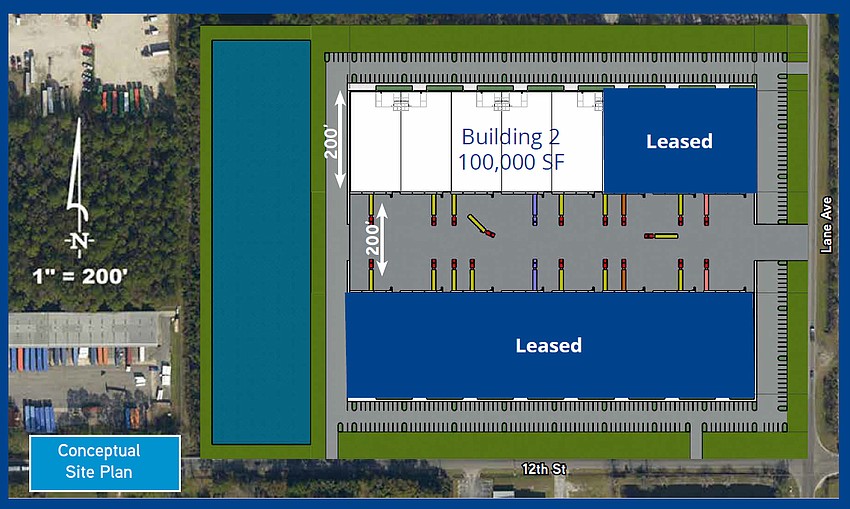 It now leases 16,000 square feet at 9855-101 Mining Drive in the Southgate One warehouse.
Lane Industrial Park is designed for two 160,000-square-foot warehouses at northwest Lane Avenue and 12th Street.
Colliers Executive Director Guy Preston and Associate Director Seda Preston in Jacksonville comprise the leasing team for the property.
Seda Preston said Dec. 8 ARCO is building-out the interior for Metropolitan Warehouse & Delivery concurrent with constructing the shell building so that the tenant will be able to occupy the space when the structure is completed in the first quarter of 2023.
ARCO Design/Build is building the warehouse at a construction cost of $6.55 million.
Metropolitan Warehouse & Delivery says on metropolitanwarehouse.com that it was formed in 1989. 
It says it has facilities in 40 locations in 28 states across the U.S., including three in Florida in Jacksonville, Tampa and Palm City.
The first 160,000-square-foot Lane Industrial Park building is fully leased by Cenntro Electric Group Ltd., Forward Air, Conn's HomePlus and Seal Shield.