Look in the back of the Mixed Fillings Pie Shop in Five Points and you'll most likely see owner Natasha Burton rolling out dough.
The dough is cold and the color of a manila file folder. One after another she flattens the disc of dough, places it over a pie tin and crimps the edges. She repeats the process over and over.
This is her form of therapy.
She achieves peace of mind. Customers receive one-of-a-kind pies.
On April 28, Burton opened her new shop at 1049 Park St. Six weeks earlier she moved from the original location at 2251 Oak St., which she said was too small, hidden away like a speakeasy and came with too many hassles.
"Location is the difference between surviving and a thriving business. If you have a location where you have visibility, not only are you benefiting from your repeat customers but now you are gaining a whole new audience of people who never knew you existed."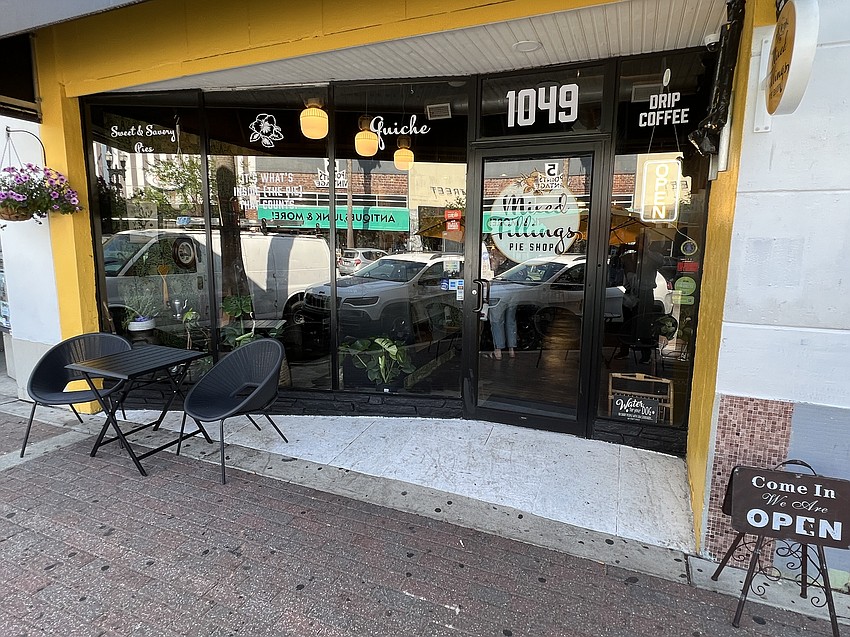 The new shop is a narrow storefront with a display case at the door and a long bar for those who want to relax and have a slice of pie or a single serving of quiche or chicken pot pie. 
Behind that is the kitchen. There, Burton makes at least 50 pies a day. Most days she sells out.
She has two employees.
Hours are 10 a.m. to 5 p.m. Wednesday-Saturday. Starting May 22, Burton plans to open the shop from 7 a.m. to 5 p.m. Monday-Saturday.
Closing time varies because when the last pie of the day is sold, she closes the door.
"People say we need to make more pies. They don't understand we make more than 50 a day and we make them all from scratch. We don't buy anything. Nothing is commercial," she said.
"We have a supply-and-demand issue because pies take time."
She sells pie for $7 a slice and half pie starts at $17.50. A whole pie starts at $35. 
Slice flights of different flavors are four for $25 and six for $38.
Burton has more than 30 recipes and usually makes between eight and 15 on any one day. Her most popular are Blurred Limes Key Lime Pie and Apple of My Pie.
Others of note include Wake Me Up Before You Cocoa (Lava Chocolate Pie), Peanut Butter and Jealous, Beach Don't Kill My Vibe Coconut Cream Pie, We the People Buttermilk Pie and Three Sisters Mixed Berry Pie.
The store hadn't been open a week and it sold out for Mother's Day special orders.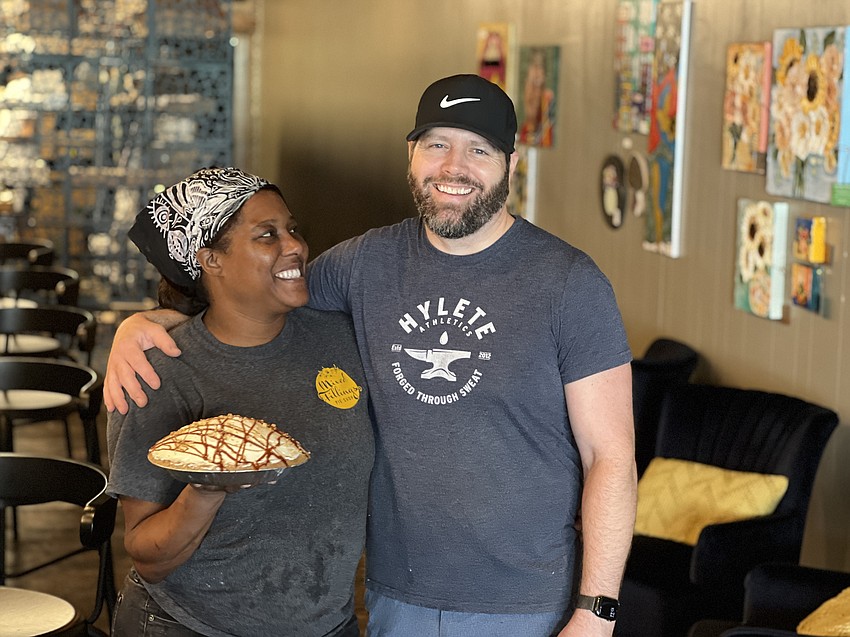 She also sells wheat-free pies, but is quick to clarify they are not gluten-free. Wheat flour dust is in the kitchen and the wheat-free pies are not safe for those with celiac disease. 
Burton, 42, is from Miami and met her husband and business partner, Curtis Giebler, while in Dallas. Before starting culinary school there at age 30 she had a variety of jobs, and sometimes none. She has experienced homelessness and was sexually abused as a child, she said.
The repetitive nature of rolling out pie crusts relaxes her.
"I have PTSD and I feel that baking really, really helps me to cope with anxiety. I get in that repetitive motion and I don't have to stress out so much about the things I can't control," she said.
After culinary school, Burton developed recipes for Beachbody, which is now called BODi. It is a fitness and health food company. Later, she became a private chef.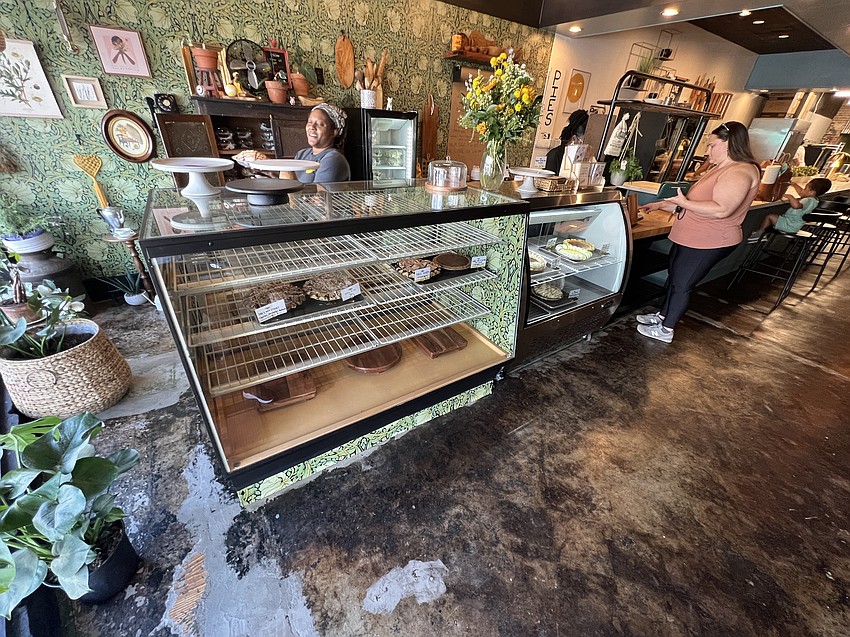 In 2019, she moved to Jacksonville to be closer to her family, who had moved here.
It cost her $25,000 to start her business in June 2020. Plans to supply restaurants with pastry stalled from the start, a consequence of the coronavirus pandemic.
She went on social media and built a website to spread the word about her little pie shop. Customers found her and bought her pies.
Moving to the new store took more time than she thought, and some ingenuity. 
Burton began renting the new store in February 2022 and planned on moving in soon after, thinking that she had a financial partner. That arrangement fell through and she continued to pay rent at both the Oak Street store and on the Park Street location for a year, she said. 
A year's rent plus moving and build-out expenses cost Burton more than $100,000.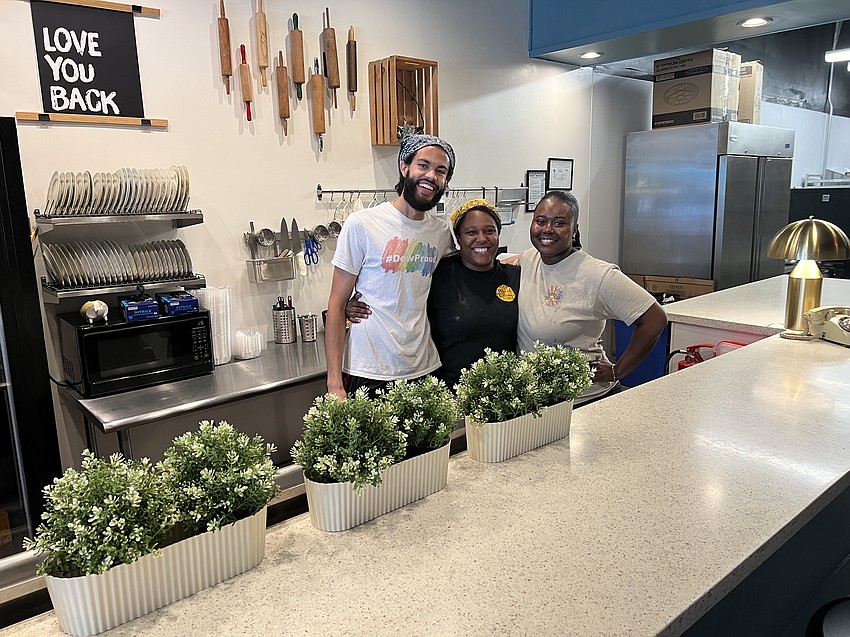 "This location was too good to pass up," she said.
The former Rec Room bar and arcade needed to be lightened. Burton painted the exterior bright yellow, quite a contrast from what Five Points had been back in the day when it was home to Jacksonville's Goths.
Her oven stands on legs for ease of use and is a bit more than 5 feet high. Assembled, it wouldn't go through the door. She thought she'd have to remove the front window to bring it in. That would have cost $1,000, she said. 
With the help of family and friends, they removed the legs, turned it sideways and squeezed it through the door. Then her husband and others had to hold the heavy appliance in the air while she reattached the legs.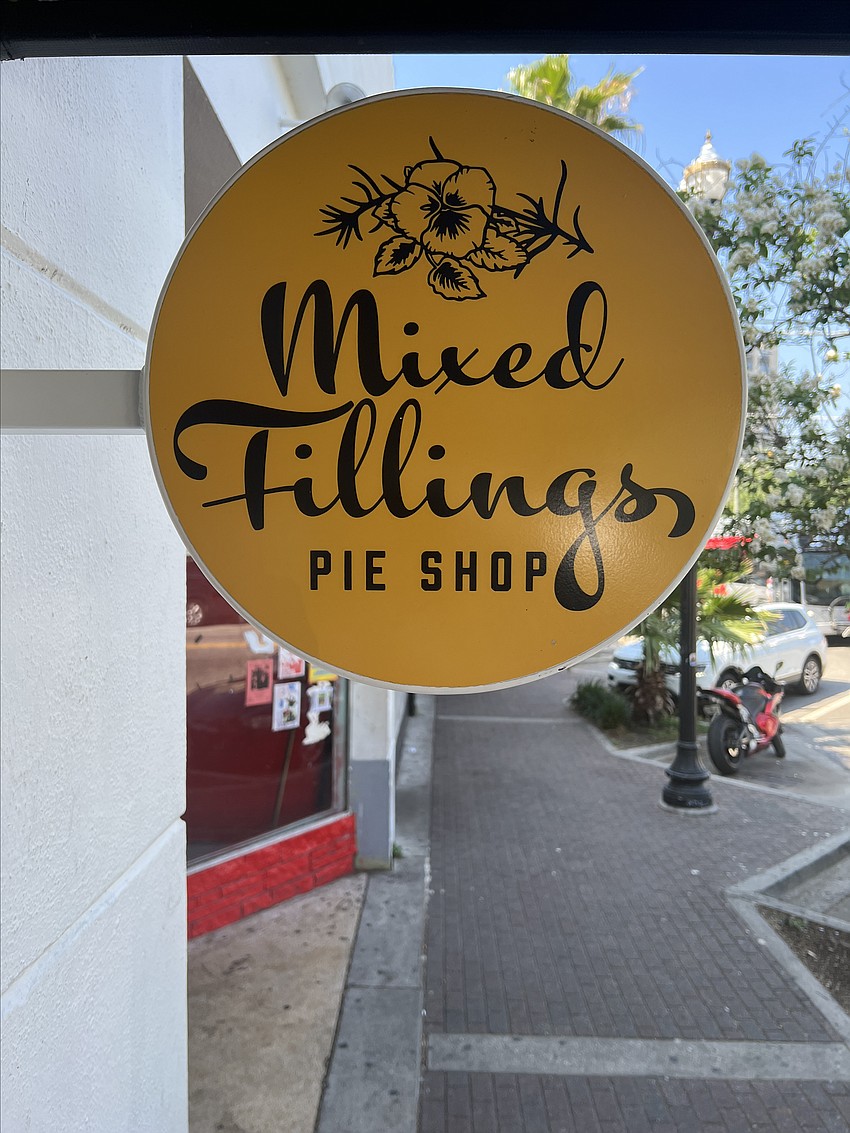 She estimated she saved another $7,000 by not building a wall to define the kitchen. Instead inspectors approved the black drapes she hung to separate her workspace from the path to the restroom for less than $300.
"Little things like that is the reason that people don't get started. Either they don't understand or don't take the time to do a little bit of research," she said.
Burton's goal is to grow the business to the point where she can increase her staff by hiring those needing a skill and work on philanthropic causes. She has established a nonprofit called Society of Survivors to help end childhood sexual abuse by assisting victims and empowering them to become advocates for the cause.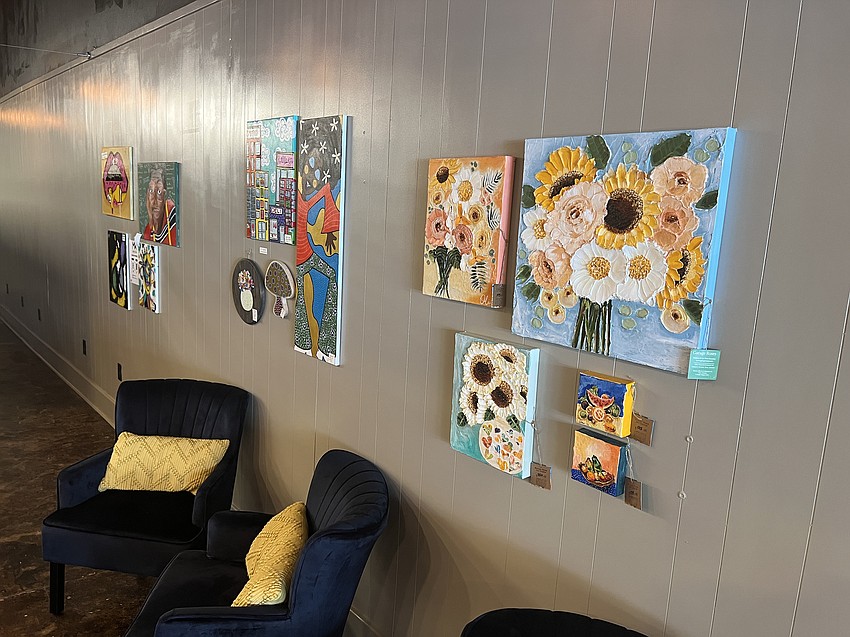 "We started learning about the importance of getting people to share and getting people to trust their family and actually feel comfortable sharing their traumas."
She is baking pies at a time when eggs are expensive. To save money, she is baking more fruit pies, which don't use as many eggs.
"The price of eggs isn't affecting my business. The price of eggs is affecting my marriage," she said.
"My husband is the CFO. He has a degree in finance. He says we need to raise our prices. I am a mom and I do the shopping for our household. I feel bad about raising prices. You don't want to price yourself out of the market."