Winn-Dixie will open its College Park supermarket at 8 a.m. Sept. 20.
In preparation for a 2023 opening, the city issued a permit Dec. 19, 2022, for ShayCore LLC to renovate 43,615 square feet of space for Winn-Dixie at 999 University Blvd. N. at project cost of $3.84 million.
Part of Jacksonville-based Southeastern Grocers Inc., Winn-Dixie said previously the store will create more than 100 jobs.
Winn-Dixie will lease 48,738 square feet of space in College Park, the redeveloped Town & Country Shopping Center, where it opened a store in 1997 and closed it in 2006.
Meredith Hurley, director of public relations and community for Southeastern Grocers, said in April 2022 the supermarket will be similar to the layout of the company's new and recently "refreshed" North Florida stores. 
It also will have "customized details with the tastes and preferences of our Arlington neighbors in mind," Hurley said.
Jacksonville-based JWB Real Estate Capital bought and is redeveloping the 70-year-old retail plaza at northeast Arlington Expressway and University Boulevard in Arlington.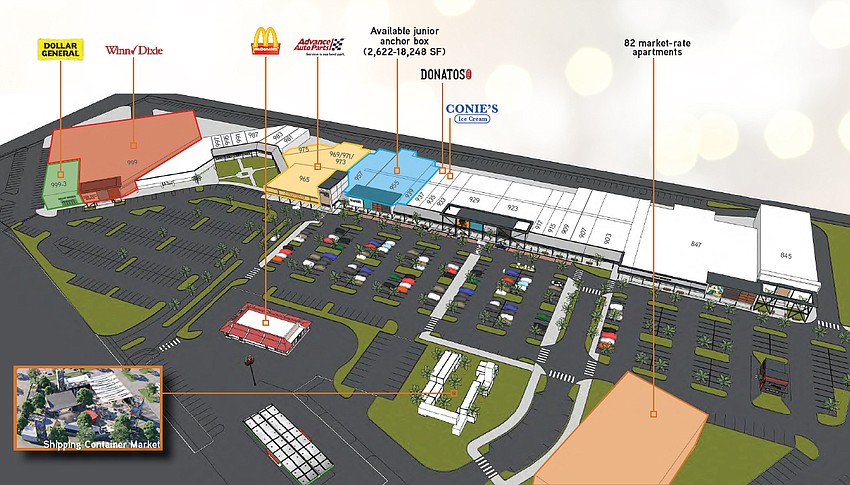 Property records show Town & Country was built between 1953 and 1979. It comprises about 189,000 square feet of space.
The property is part of the Renew Arlington Community Redevelopment Area, which the city hopes to assist with rejuvenation.
Through 903 University Blvd LLC, Jacksonville-based JWB Real Estate Capital paid almost $5.1 million for the 18.27-acre property in August 2019.
The Winn-Dixie might soon be operating under different ownership.
Southeastern Grocers announced an agreement Aug. 16 to sell the company to supermarket operator Aldi.
Southeastern Grocers Inc. said it is selling about 400 Winn-Dixie and Harveys supermarkets in Florida, Georgia, Alabama, Louisiana and Mississippi to Aldi.
Southeastern Grocers also operates 28 stores under the Fresco y Más banner, which will be sold separately to an investment group called Fresco Retail Group LLC.
Aldi said it will convert some of the Winn-Dixie and Harveys stores to the Aldi brand but continue to operate the rest under the Winn-Dixie and Harveys banners.
The companies hope to complete the transaction in the first half of 2024.