Elevate Commercial Investment Group is converting three decades-old South Jacksonville hotels – two former Days Inns and the former America's Best Inn – into apartments that will average 300 square feet and charge monthly rents that average about $1,000.
The purchase price and permits show an investment of at least $29 million.
Elevate Commercial bought the properties in late 2022 through Jacksonville Portfolio Opportunity Phase 1 LP, Jacksonville Portfolio Opportunity Phase II LP and Jacksonville Portfolio Opportunity Phase III LP.
It contracted with Jacksonville-based Avant Construction Group Inc. to renovate the properties into 339 apartments for completion about March.
"Our goal is to transform these properties into microunits, catering to individuals who may find it challenging to afford a standard size 800- to 1,000-square-foot apartment in Jacksonville," said Jorge Abreu, CEO of Dallas-based Elevate Commercial Investment Group.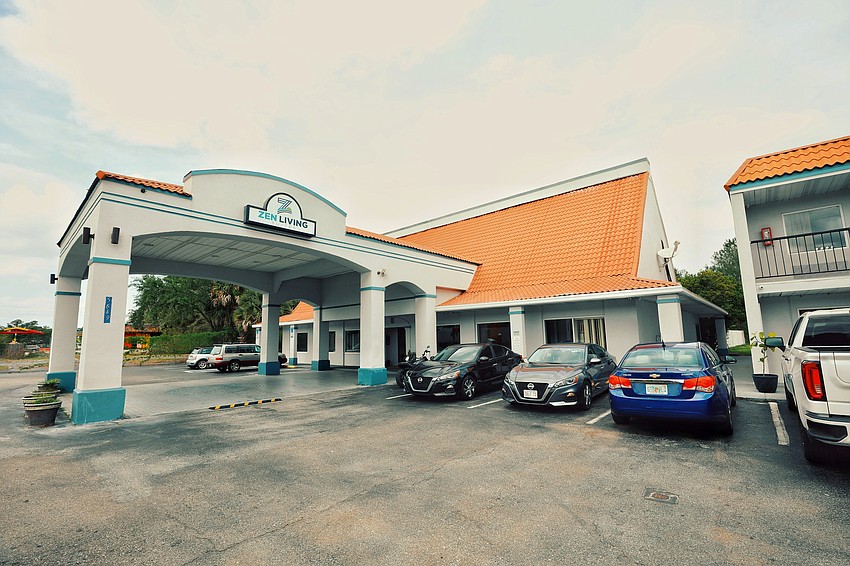 Avant Construction Group is renovating two 40-year-old hotels at 8220 and 8255 Dix Ellis Trail into residential apartments called Elevate at Baymeadows and a 52-year-old hotel at 5649 Cagle Road into apartments called Elevate at Southside.
Elevate Commercial Investment Group paid $10.75 million in late 2022 for the former America's Best Inn and the former Days Inn along Dix Ellis Trail off Baymeadows Road near the Prominence office park.
It paid $5.5 million for the Days Inn, also branded Zen Living, on Cagle Road at University Boulevard West and Interstate 95.
The properties had been attracting law enforcement and legal attention.
"The properties have been in a deteriorated state for several years, fostering crime, creating blight and a refuge for many homeless people in an unsafe environment," Elevate co-founder and COO Eric Bodiwala said in a news release from Avant.
He said the apartments "will provide attractive residential options in a central location, that cater to people who live and work on Jacksonville's Southside."
Scott Callaway, project manager at Avant, said that with buildings clear, "construction is going well and we are happy to be involved in improving the standard of living in the area."  
Abreu said Elevate continues to seek tax credits and housing program support.
"We are continuing to try as we believe we should as we are taking these problem properties and transforming for the better and improving the community," he said.
The average rental rate of $1,000 "is in line with similar properties in the area and most of those have waiting lists for their units," he said.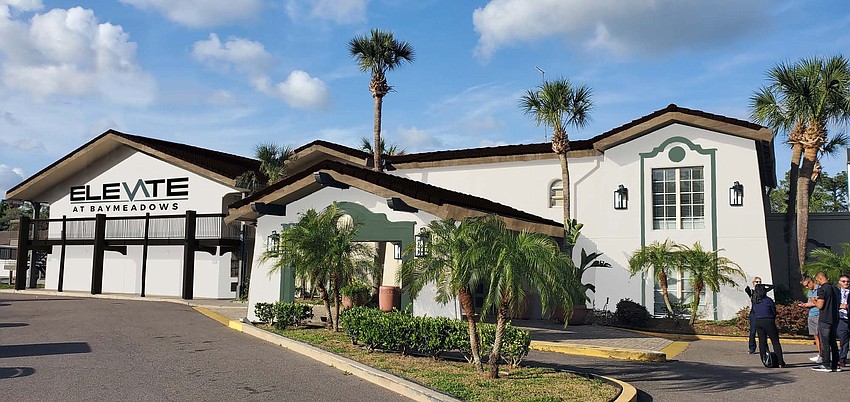 The properties
Elevate at Baymeadows I
Elevate at Baymeadows I, the former Days Inn at 8255 on Dix Ellis Ellis, will comprise 107 units. The 104 studio apartments will be 325 square feet; two one-bedroom units will be 650 square feet; and one two-bedroom unit will be 855 square feet. 
Elevate bought the property Dec. 21, 2022, for $5.5 million from Krishna Investment Properties LLC and Ravi Hotel LLC.
Property records show the 40,511-square-foot, two-story property on 1.71 acres was developed in 1982.
The city is reviewing three permit applications totaling $3.65 million for the property.
County court records show that Elevate evicted residents from eight units in March and April 2023.
"An emergency has arisen due to the fact that the subject property has been determined to be unsafe and a risk to public health and safety," state seven of the eviction judgments.
"The subject property is under a 24/7 'Fire Watch.'"
Elevate at Baymeadows II
Elevate at Baymeadows II, previously America's Best Inn at 8220 Dix Ellis Trail, will comprise 110 units. There will be 107 studio units of 290 square feet and three one-bedroom units of 580 square feet.
Elevate bought the property Oct. 25, 2022, for $5.25 million from Baymeadows Hotel 18 LLC.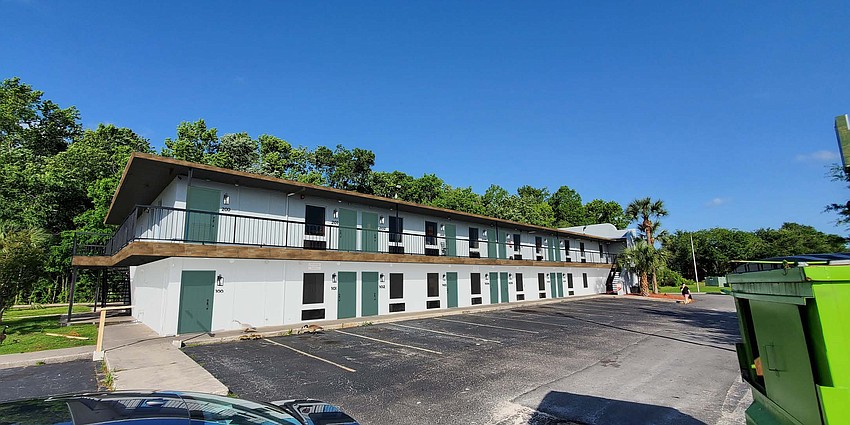 Property records show the 34,000-square-foot property on 3.71 acres was developed in 1984. 
The city issued three permits Aug. 8 for Avant Construction Group to renovate the property at a cost of $4.2 million.
Avant said the project scope for America's Best Inn is converting the hotel's three two-story buildings into residential apartments with new unit kitchenettes. The service module is being converted into a communal laundry area.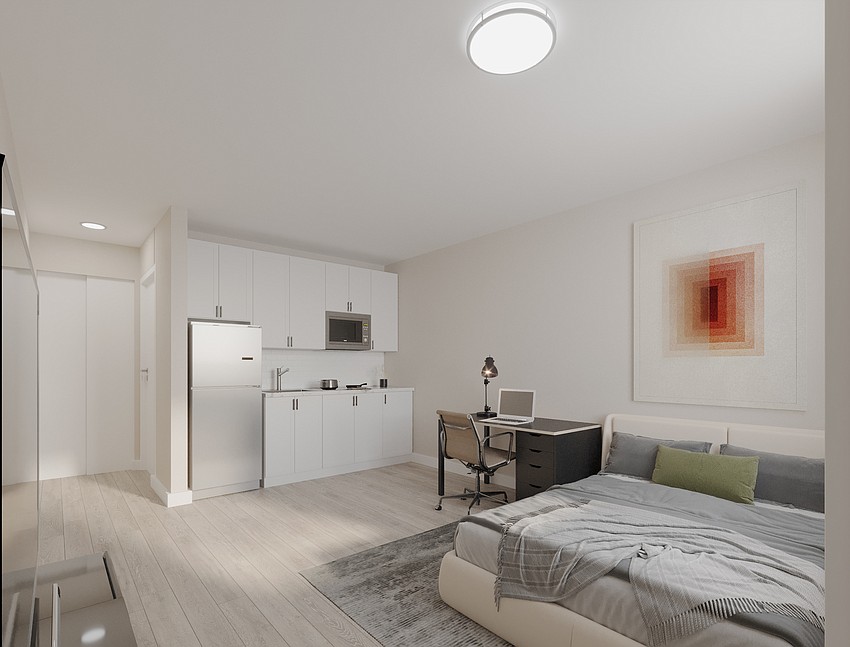 Jacksonville Daily Record news partner News4Jax reported in April 2022 that people staying at America's Best Inn received notice that they had to vacate the property due to renovations.
News4Jax said Jacksonville Sheriff's Office records showed there had been 826 calls for service since Jan. 1, 2021, to the extended stay motel.
A rendering of the renovated Elevate at Southside apartments planned in the former Zen Living and Day's Inn at 5649 Cagle Road.
Elevate at Southside
Elevate at Southside, the previous Zen Living and Day's Inn at 5649 Cagle Road, will comprise 124 units. Of those, 122 will be 286-square-foot studio units and there will be two one-bedroom units of 572 square feet. 
Elevate bought the two-story property Nov. 21, 2022, for $5.5 million from Cagle Hospitality Associates LLC. The city is reviewing permits for the former Day's Inn, built in 1971, at a cost of almost $4.57 million.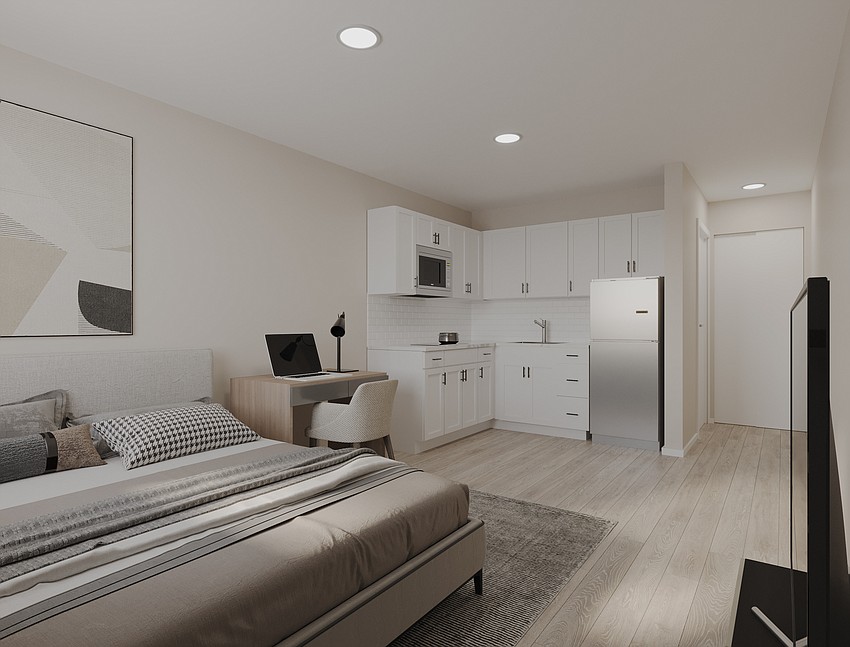 The vision
Avant said in a news release that Elevate at the Dix Ellis properties will "create attractive studio and one-bedroom apartments."
It said the communities will have amenities that include a "completely renovated pool area and fitness room, and a washer and dryer in each unit."
"The vision for the development of these properties not only provides much-needed housing for the growing Jacksonville workforce improve the entire area, making it much more attractive, as well as safer for the community," Bodiwala said.
Abreu said the population and job growth "that Jacksonville has witnessed over recent years has caught our attention, and we recognize the pressing need for affordable housing in the area."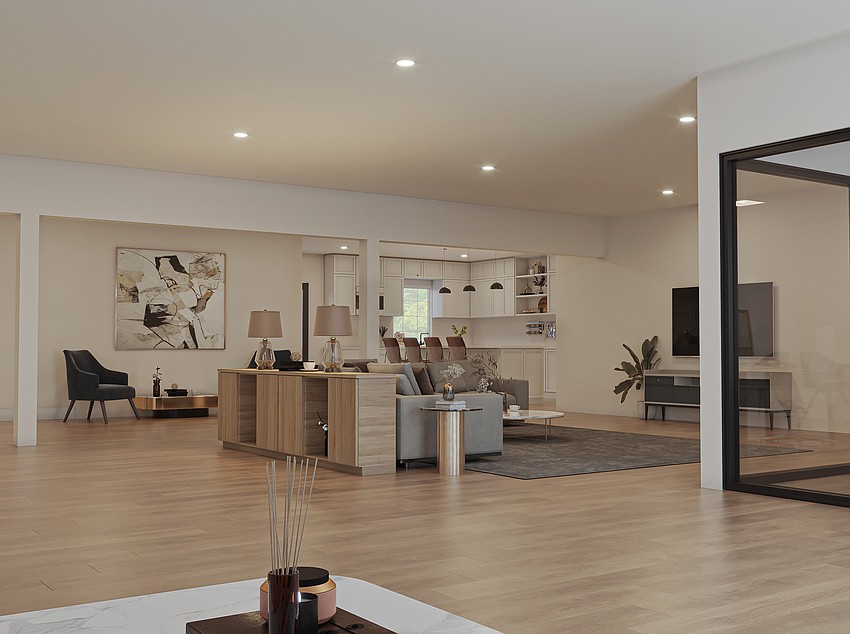 "Fortunately, we've successfully acquired these hotels at a favorable cost basis, which positions us to allocate the necessary resources for their redevelopment," he said.
Elevate CIG says it is a multifamily investment firm that focuses on "cash-flowing apartment communities in major, well-positioned metropolitan areas across the United States."
Avant said in the release that Elevate chose to invest in Jacksonville "because of its rapid development, and available tax benefits."
Avant Construction Group is a commercial construction company specializing in ground-up construction, hospitality and interior build-outs. Its most recent work includes several historic renovations in Downtown Jacksonville.  
"Though this project is obviously not historic, there's still an element of challenge and creativity to completely transform an old and forgotten building," said Alan Cottrill, CEO of Avant, in the release.
"It's rewarding to be part of improving the landscape of our city and provide functional, attractive spaces, where there was once crime and blight."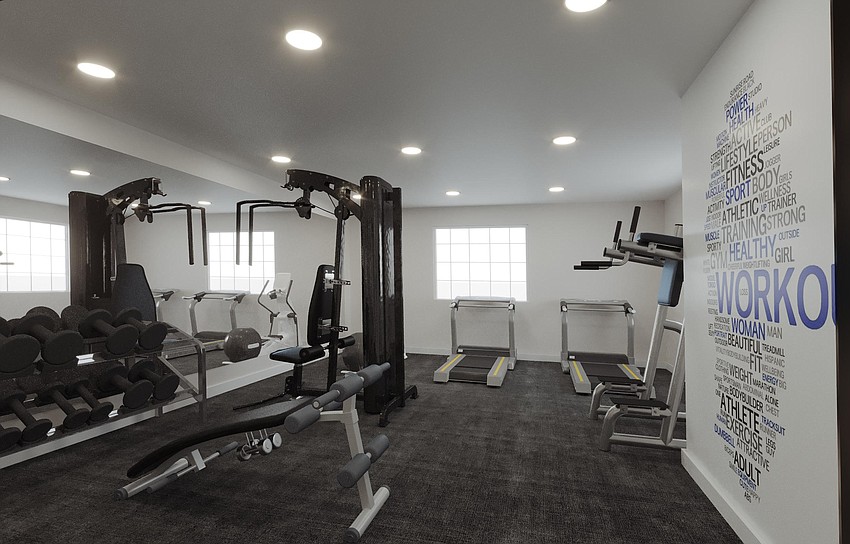 Average rents
The average monthly rent in Jacksonville is $1,530 as of midyear, according to the NAI Hallmark commercial real estate company.
Rents ranged from $1,345 in Westside to $1,848 in St. Augustine/St. Johns County.
Occupancy is 93.3%.
However, new apartments command higher rates.
At Vista Brooklyn Downtown, available studios start at $1,342 and one-bedroom units at $1,647. 
At Olympus Preserve at Town Center, studios start at $1,453 and one-bedrooms at $1,617.
Available one-bedrooms at Novo Kendall Town in the Arlington area start at $1,355; at $1,511 at The Menlo in eTown; and at $1,795 at Presidium Regal at 14051 Beach Blvd. 
About Elevate
ElevateCIG.com says the multifamily investment firm manages assets worth more than $500 million.
It lists 18 apartment properties in Arkansas, Oklahoma, South Carolina, South Dakota and Texas, as well as the Jacksonville portfolio.
"Our primary objective is to ensure capital preservation while delivering robust and risk-adjusted returns to our investors," it says.
"We offer busy professionals an opportunity to invest in real estate without the burden of property analysis, tenant management, or repairs," it says.
"Our core expertise lies in value-add multifamily real estate, and we excel in maximizing the value of every asset we acquire. Rather than predicting market cycles, we focus on purchasing cash-flowing apartment communities in major, well-positioned metropolitan areas across the United States."
Naples-based investor Faris Capital Partners at fariscapitalpartners.com lists the three projects as current deals.
All have a 22% projected annual return.
Faris describes the three hotel buildings as "Mid-1980's garden style."
"The plan is to increase value by repositioning to apartments, rebranding, upgrading exterior and interiors, adding storage units, improving amenities, improving operational excellence," it says.
Abreu said Faris is one of its partners on this deal. 
"Our Company, Elevate Commercial Investment Group, is the main deal sponsor and then we have a couple other partners that we teamed up with to acquire these with Faris Capital being one of those."