Mayor Lenny Curry introduced his $1.2 billion budget to the Jacksonville City Council on Monday, his largest since taking office in 2015. 
If approved, the Republican mayor's 2018-19 budget would set aside $161.4 million in capital improvements, solid waste and stormwater projects, nearly double what was proposed during his first budget cycle in 2015. 
The plan includes a $30 million increase for the Jacksonville Sheriff's Office, a 10 percent bump to $41.1 million for the newly organized Kids Hope Alliance, a $17 million increase for Jacksonville Fire and Rescue Department and more hours allocated to employees of the Jacksonville Public Library system.
Curry called the city's financial position "strong" and poised to "grow and thrive" in 2019, due, in part, to pension reform approved by council in 2017. 
"It demonstrates that Jacksonville is moving forward," Curry said after his presentation.
"Without pension reform, there would be no restoration of library hours, without pension reform there would be none of this heavy investment in CIP in public safety," he said.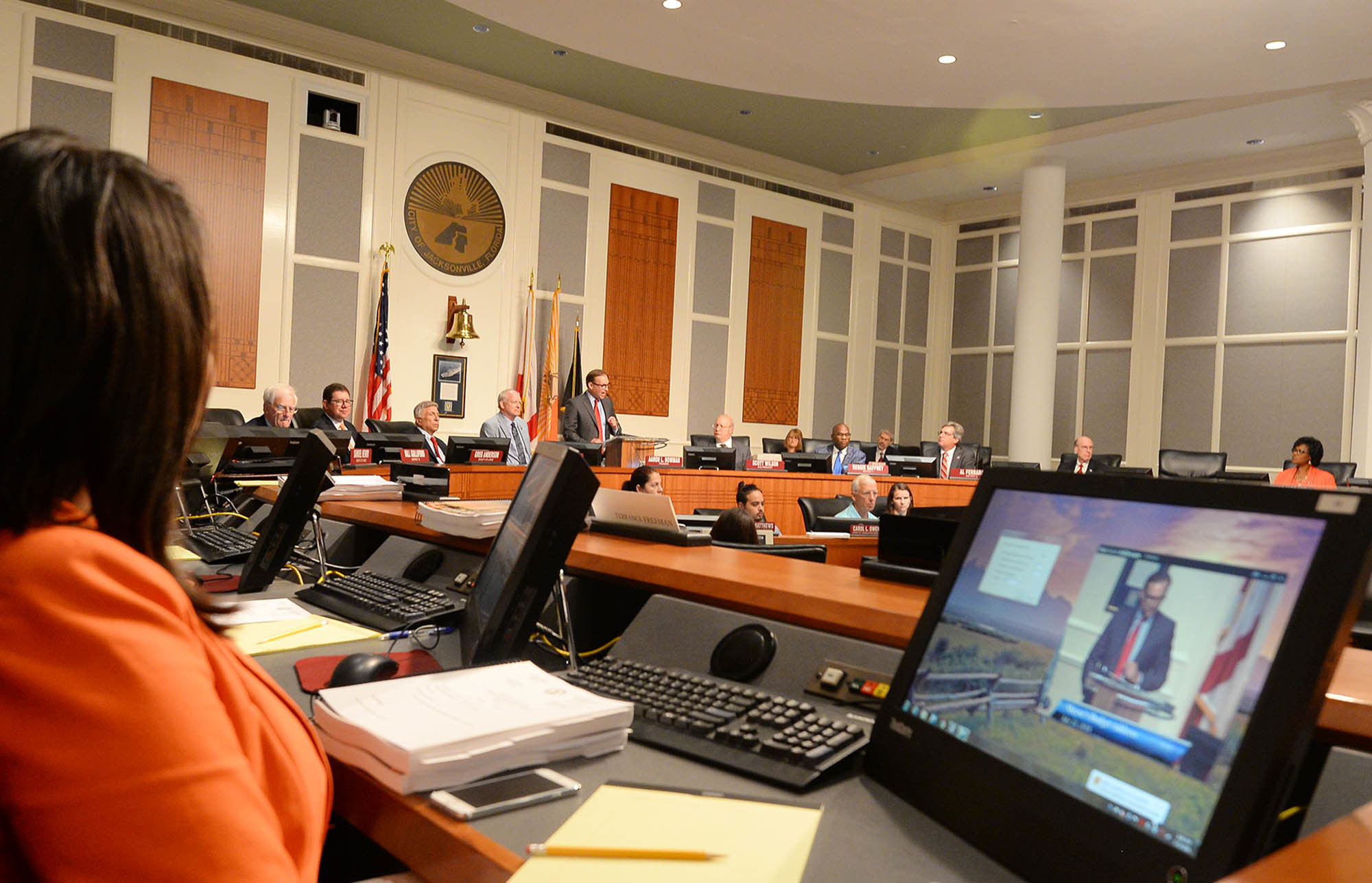 The city's economic development efforts in Downtown Jacksonville also could receive more funding in Curry's fourth budget. 
Two new positions are proposed to expand the Downtown Investment Authority's effort to revitalize Downtown, along with $2.5 million for the Downtown Economic Development fund. 
Curry said the funding is in response to what's planned for the urban core. 
"The DIA came to us and asked for that funding so they can negotiate some of these deals," he said. "It's getting ahead of those conversations before they happen." 
The $2.2 million increase to the development fund is in anticipation of developments teased by Jacksonville Jaguars owner Shad Khan for the property around TIAA Bank Field, as well as the redevelopment of the former City Hall and Duval County Courthouse buildings into a convention center and hotel and the Berkman Plaza II property along East Bay Street. 
The capital improvement program is spread across a five-year cycle, worth approximately $610 million. 
The budget essentially doubles Curry's first CIP requests of $77 million in 2015. 
"Before I took office, that number was zero," he told council members. 
Curry said the CIP again addresses "a decade-long backlog of infrastructure projects." 
Other budget proposals include $25 million for the Jacksonville Zoo and Gardens over a five-year period. The zoo is tasked with matching the city's spending during that time. 
Curry lists $60.3 million over four years for improvements to McCoy's Creek and the Emerald Necklace park system. 
He proposed $120 million in funding over six years for UF Health Jacksonville, with $15 million earmarked in 2019. 
The general fund budget, which accounts for the city's operating and departmental costs, is up by $33 million for 2018-19. 
According to the city's finance department, ad valorem taxes increased by nearly $50 million, although a sizeable amount is paid back to the city's tax increment districts. 
Property taxes 
One thing not changing is the millage rate, which will remain at $11.4419 for every $1,000 in assessed property in most of Duval County. The three Beaches communities and Baldwin have separate rates, which also remain unchanged. 
During his address, Curry again pledged not to raise taxes.
He also expressed confidence that a proposed additional homestead exemption, which could impact general revenue in his next budget, was not a concern. 
Voters in November will decide if they want to amend the Florida Constitution by approving Amendment No. 1 which would increase the homestead exemption by exempting the assessed valuation of homestead property worth $100,000 to $125,000 for all levies other than school district levies. The $25,000 increase would place the maximum exemption at $75,000.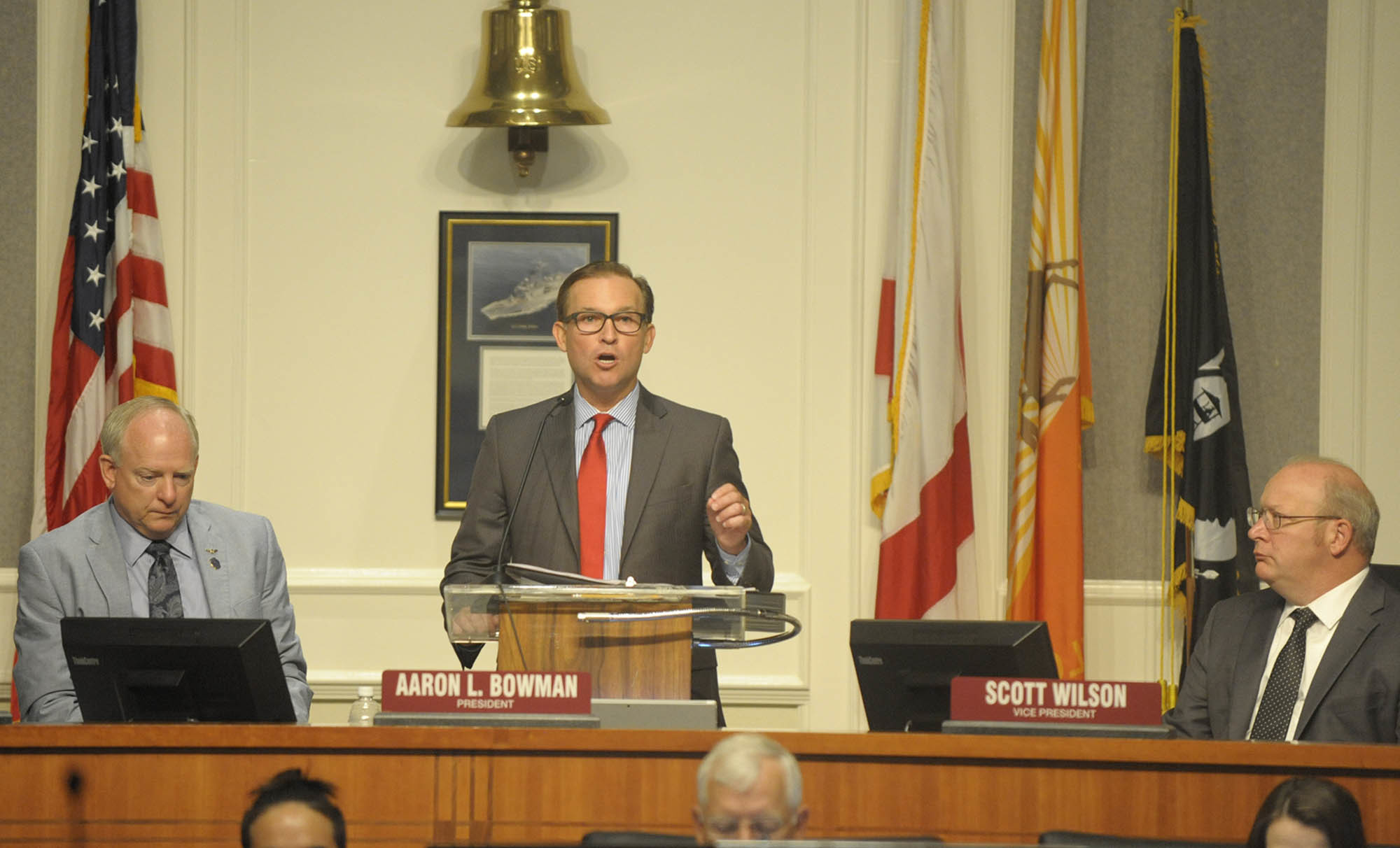 "We're prepared for next year and I am confident, I am sure we'll be able to do what we need to do for the people of Jacksonville without raising taxes," Curry said. "I'm not raising taxes." 
Council President Aaron Bowman also was unfazed by the potential amendment. 
"I think what you're going to see in next year's budget is it's probably going to be flatline to where we are," Bowman said. 
"I'm expecting the homestead extension to pass so we probably won't be able to add as many things as we did this year, but I don't think it's going to harm us," he said. 
Voters will decide in November if they want to approve Amendment No. 1 along with 12 other constitutional amendments. 
Finance Committee to dig in
Beginning on Aug. 7 and continuing for most of the month, the council Finance Committee will dissect and debate Curry's budget proposal. 
Republican Greg Anderson is the chair of the seven-member committee along with Democrat Joyce Morgan serving as vice chair. 
Lori Boyer, Reginald Gaffney, Bill Gulliford, Jim Love and Sam Newby also serve on Finance. 
During the three weeks of hearings, city department heads, representatives from independent authorities and members of the mayor's administration will discuss their individual budgets, and, in some cases, argue for enhancements. 
Following Curry's budget presentation, the finance committee met to support keeping the current millage rate. 
Bowman addressed the body, asking them to "focus less on policy and more on the actual budget." 
"We've got the 'A-team' here," he joked. 
Council will take up a total of 10 budget-related pieces of legislation in September, ahead of the new fiscal year, which begins Oct. 1.