Hopdoddy Burger Bar is taking over Grub Kitchen & Bar in The Strand at Town Center.
The Texas-based companies announced in January 2022 that Hopdoddy Burger Bar agreed to buy Grub Burger Bar to create a combined HiBar Hospitality Group.  
When Grub opened at The Strand it was called Grub Burger Bar. It later changed its name to Grub Kitchen & Bar.
The name comes from "hops," used in beer, and "Doddy," a nickname for Black Angus cattle, says hopdoddy.com.
Hopdoddy sells burgers, fried chicken, fries, "loaded brussels," salads, shakes, cocktails beer and wine, kids' meals and more.
The shareable fries include green chile queso, buffalo, honey and sage sweet potato, and other flavors.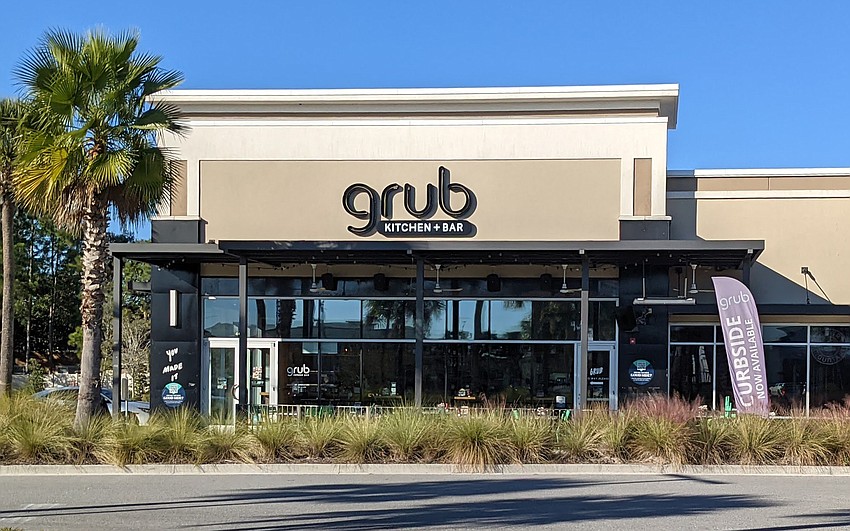 The city issued two sign permits Feb. 13 for Hopdoddy Burger Bar at the Grub location at 4906 Town Center Parkway. Southeastern Lighting Solutions is the contractor.
Nation's Restaurant News said that in the announcement, Austin, Texas-based Hopdoddy, with 32 restaurants in five states, and Bryan, Texas-based Grub Burger Bar, with 19 restaurants in five states, will broaden the footprint of both "better-burger" concepts under the new HiBar banner.
Terms of the deal, which was backed by Hopdoddy private-equity investor L Catterton, were not disclosed.
The hopdoddy.com site now shows 49 restaurants open or coming soon in eight states – Arizona, California, Colorado, Georgia, Florida, Louisiana, Tennessee and Texas.
The three Florida locations comprise one open in Gainesville and two coming soon in Jacksonville and Tallahassee.
In October, Hopdoddy announced it was opening its first locations in Georgia and Florida by year-end 2022. Those were in Atlanta and Gainesville.
The announcement said the brand's expansion comes as Hopdoddy converts Grub Burger Bar locations after its January 2022 acquisition, bringing the brand's total presence to 50 locations in eight states.
"We're committed to bringing a taste of Austin, Texas, to Georgia and Florida, especially after hearing how guests in these markets crave elevated burger builds," Hopdoddy CEO Jeff Chandler said in the announcement.
"Our conversions of existing Grub locations into Hopdoddy restaurants have strategically amplified our growth efforts, and we're confident our new fans will fall in love with our one-of-a-kind fries, margaritas and boozy shakes."  
All Hopdoddy restaurants bake three types of buns on-site daily and hand-cut fries each morning. 
Hopdoddy was founded by four friends in Austin in 2010.