The availability and the cost of renting an apartment will continue to be a story throughout 2022.
The Florida Apartment Association reports the average monthly rent for a one-bedroom apartment in Jacksonville is $1,244. Want a two-bedroom apartment? Count on an average price of $1,472. Three-bedroom rents average $1,748. 
With an overall average monthly rental rate of $1,411, Jacksonville remains lower compared with other Florida cities. Rentcafe.com lists Tampa at an average $1,762, Orlando at $1,733, and Miami at $1,998.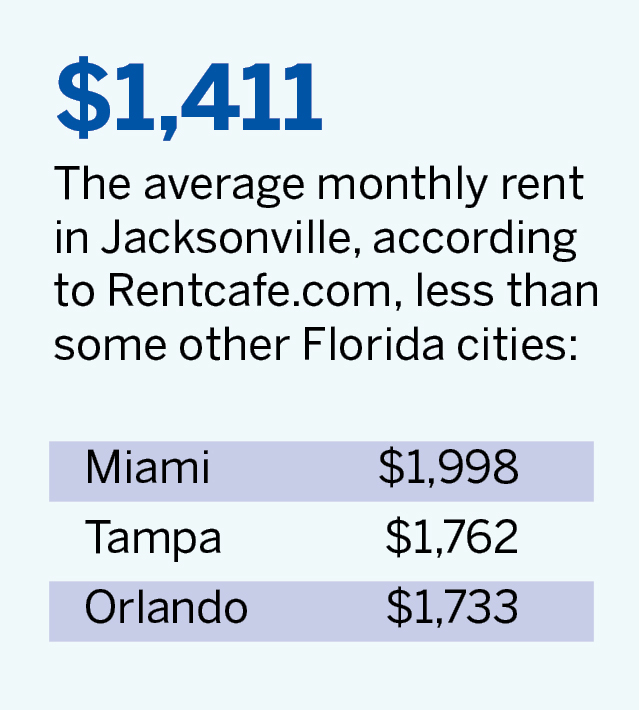 Occupancy rates are at record highs in Northeast Florida, according to Amanda White, government affairs director for the Florida Apartment Association.
Traditionally, Duval County's vacancy rate hovered at 10% but has fallen to 4.5%.
"What we are seeing is the impact of not building enough housing to keep up with rapid growth," she said.
The availability of single-family homes also is shrinking, according to the Northeast Florida Association of Realtors. 
It said in November that Duval County barely had one month's inventory of single-family dwellings to sell. 
There were 1,501 units for sale, making for a seller's market with the median price at $312,750, listings lasting about 21 days and buyers paying almost 100% of the asking price.
Jacksonville has bargains compared with St. Johns County, where the median sale price is $479,000. Ponte Vedra Beach properties are selling at a median $1.4 million.
These numbers reflect the increase in the state's population over the past year. The News Service of Florida reports that from July 1, 2020, to July 1, 2021, Florida's population grew by 211,196 people for a total population of 21.78 million. 
The report estimated Florida's population will be 24.47 million by 2030. 
Over the next five years, it is estimated that 849 people will move to Florida every day. 
Jacksonville is no longer just the Interstate 95 pass-through to Orlando, Tampa or South Florida. People are coming to live in Jacksonville for a reason, said Missi Howell, president of the Northeast Florida Association of Realtors.
"We have growth in the medical field, transportation and logistics, technology, banking and finance. New companies are coming to our area," she said.
Besides increased employment opportunities, changes in work culture because of the coronavirus pandemic are playing a role in Florida's growth. 
Working remotely, people need not live in their main office's town or even state. 
High-cost states like California, New York and Illinois are losing population to Texas and the Southeast. Lower taxes and cost-of-living prices are attractive. 
And as some states require proof of vaccination in public places like restaurants, gyms or theaters, Florida's less restrictive coronavirus protocols are attracting people, Howell said.
With a shortage of apartments, more are being built. 
At least 14 communities totaling 3,519 units are expected to open in 2022.
There's a question whether that will be enough.
"We aren't going to be able to build our way out of this problem," Howell said.
Several projects will open this year, but with increasing costs of labor and materials, rental rates also are rising. 
Since 2010, the rental price per square foot has risen from 92 cents to $1.34 in 2019. 
The cost is higher since the Florida Apartment Association conducted that study.
Building apartments isn't easy. Land zoned for multifamily use is in short supply, White said.
"Jacksonville's zoning plays a big role with 90% of residential land zoned exclusively for single-family development. Single-family zoning doesn't give us the density we need," she said.
Rezoning is not simple. City Council and Council committee meetings attract residents who resist new apartments in their neighborhood, which is why so many multifamily projects are built along major thoroughfares rather than next to subdivisions.
Statewide, developers told the Florida Apartment Association that local taxes can represent 50% of a unit's rent proceeds. 
That leads developers to sell units as condos, which are taxed at a lower rate, but further reduces the number of rental units.
Here's an example of a renter with take-home pay of $3,200 a month. 
At rent of  $1,411, a $400 car payment and a $300 student loan payment, about $1,000 remains for other expenses.
That means 2022 will continue to challenge new renters.