A city committee approved contracts July 14 totaling $1.833 million with Agency Landscape + Planning LLC to begin design on the proposed 10.2-acre Shipyards West Park Downtown.
The Professional Services Evaluation Committee voted 3-0 to approve two contracts with Cambridge, Massachusetts-based Agency for the park meant to replace the former Kids Kampus south of TIAA Bank Field. 
That site is being redeveloped for Jacksonville Jaguars owner Shad Khan's Four Seasons hotel-anchored project.
Shipyards West Park is planned between Catherine Street and Hogans Creek along the St. Johns River Northbank.
Downtown Investment Authority Operations Manager Guy Parola told the committee that Agency's work will be partially funded by the Northbank Tax Increment District account and city capital improvement money, requiring two separate contracts.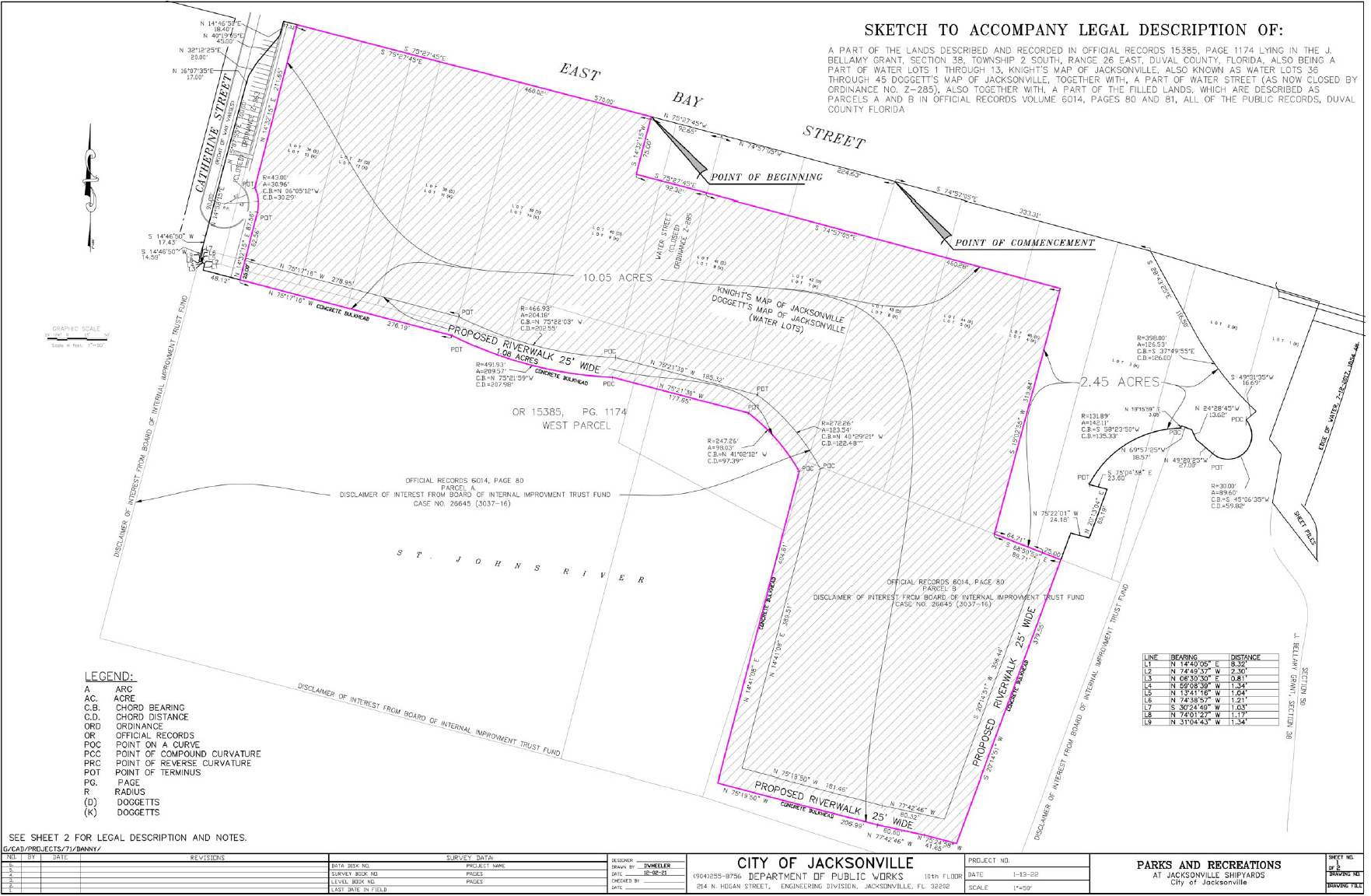 "Per state statute, you can't commingle those dollars, so they need to be kept at arm's-length of each other," Parola said. 
One contract is $447,961 and the other is $1,385,212. Both run through Sept. 30, 2023. 
The contracts can be extended for six months if agreed upon by the city and Agency, the committee documents say.
The contracts will produce 60% of the final park design. There is an option to complete it or renegotiate the deal to include building the park, according to Parola. 
A draft of Mayor Lenny Curry's fiscal year 2022-23 Capital Improvement Plan released July 7 includes $5 million for Shipyards West. 
The Curry administration listed another $10 million for the park in FY 2023-24, but budgeting that money will be up to the next mayoral administration. 
To free up the Four Seasons site for development, the DIA and city obtained permission from the Florida Department of Environmental Protection, which held restrictions on the former Kids Kampus through a grant.
The 36-year-old, $1.5 million grant from the Florida Recreation Development Assistance Program was meant to develop and maintain a public marina and related support facilities at the 8-acre Kids Kampus. 
A map submitted by the DIA to the state for the land-swap approval shows 10.2 acres of the Shipyards West Park will be encumbered by that grant. 
An additional 2.45 acres outlined on the map is not under the grant restrictions and will be for development of small-scale vendors and retail as an amenity for park guests, DIA CEO Lori Boyer said in April.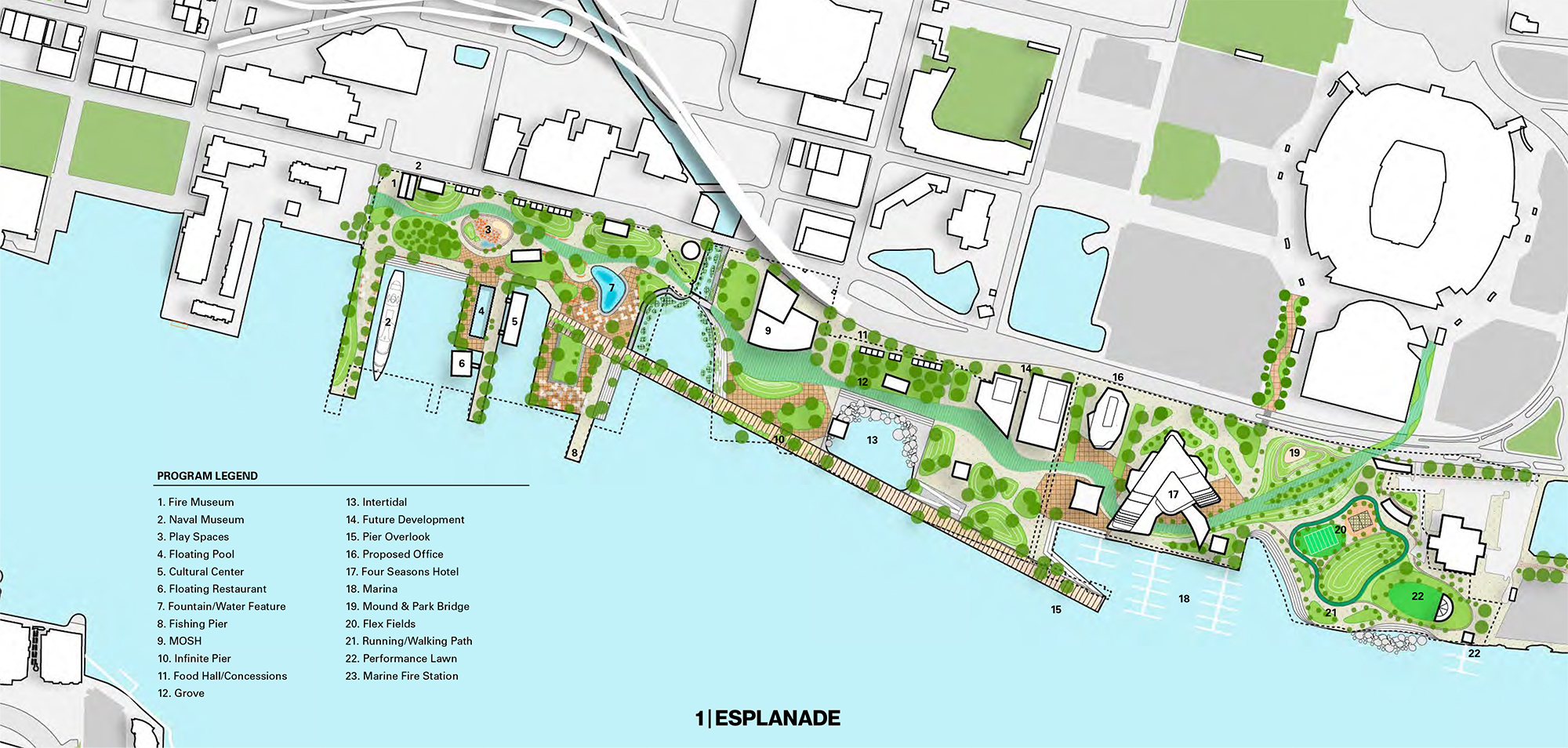 The park also is included in an esplanade plan developed by the Jessie Ball duPont Fund as part of its $500,000 riverfront development study in 2021. 
City Council approved that plan in June as part of the DIA's five-year master plan update.
City Parks, Recreation and Social Services Director Daryl Joseph told the committee July 14 that the Shipyards West project ties into the department's effort with the DIA to redevelop and add to riverfront park and green spaces Downtown.
If Curry's Capital Improvement Plan doesn't change before he introduces it to Council on July 21, the city could invest $12.5 million the proposed park at Riverfront Plaza, formerly the Jacksonville Landing, in FY 2022-23 and another $12.5 million in 2023-24. 
The budget also has line items for $7.2 million for the Museum of Science and History relocation adjacent to Shipyards West; $5 million for a Northbank Riverwalk extension from Catherine Street to Metropolitan Park; and $2 million for Northbank Riverwalk maintenance.
The DIA's goal is to create interconnected public spaces and parks along the Downtown Northbank and Southbank.
In July, Agency came in second to Perkins & Will Inc. in a request for proposals to design the proposed park at Riverfront Plaza, the former Jacksonville Landing site.
Agency's lists 60 design projects on its website for public space designs and master plans.
Design firm Principal Landscape Architect Gina Ford was lead designer for the Sasaki team that from 2009 and 2017 designed segments of a revamped Chicago Riverwalk. 
The firm also created a master plan for the 56-acre Sarasota Bayfront redevelopment and designs for the Sarasota Bay Park Phase One.