Home prices are stabilizing but the effects of inflation, increasing mortgage rates and low inventory contributed to higher costs in Northeast Florida, according to the October report by the Northeast Florida Association of Realtors.
Median prices for single-family homes, condominiums and town homes have fluctuated between $350,000 and $375,000 since March and came in at $359,990 in October.
The median price for detached single-family homes was $383,500.
NEFAR measures home sale activity in Baker, Clay, Duval, Nassau, Putnam and St. Johns counties.
The Housing Affordability Index continued to decline in October as it fell to 62 from 68, an 8.8% drop. The year began at 98.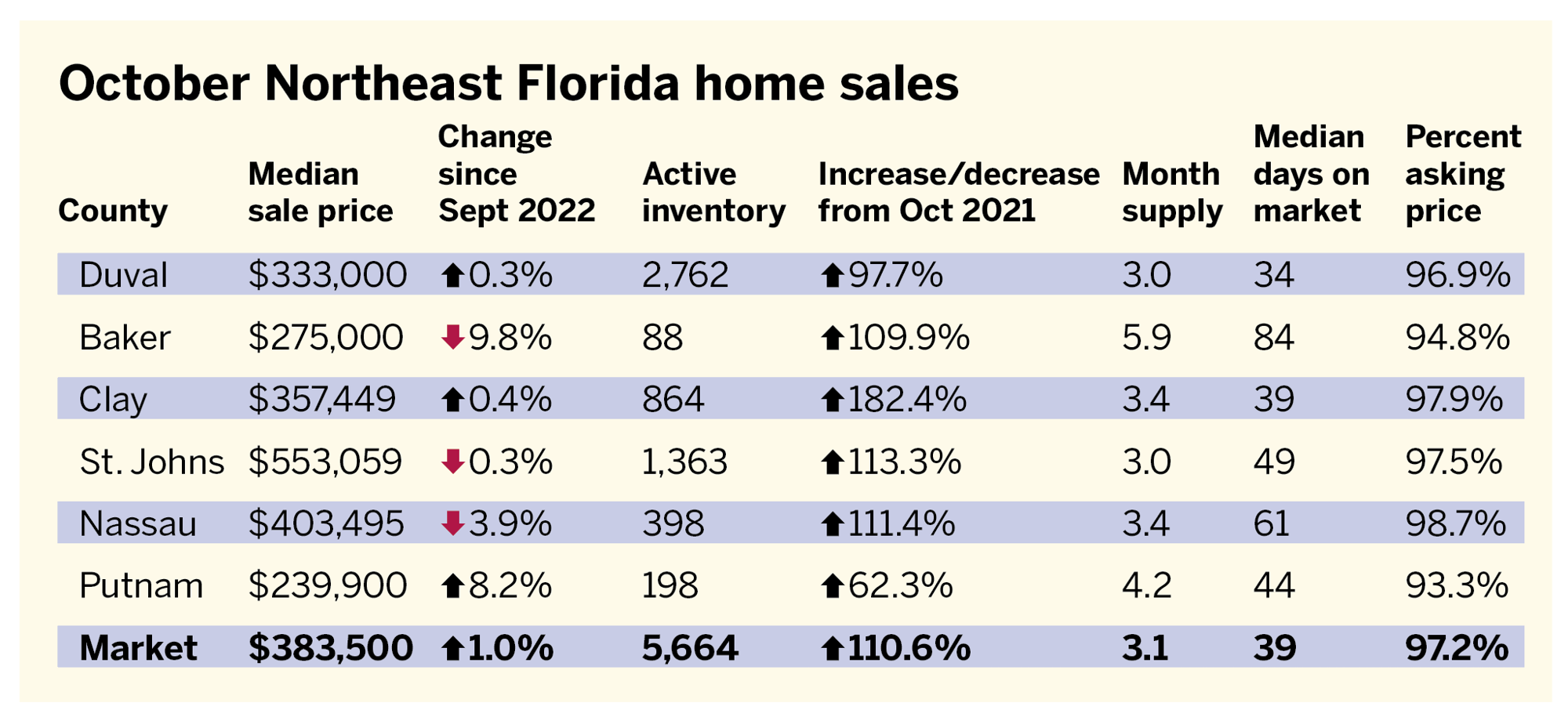 The index measures whether a typical family earns enough to qualify for a mortgage on a typical home based on current interest rates, median income and median home prices. 
The goal is an index of 100 or above, according to NEFAR.
"As expected, the real estate market continues to stabilize, as we close out the month of October and move into the holiday season," said Mark Rosener, 2022 NEFAR president, in a news release.
"This year has been a bit of a bumpy ride navigating through the end of the pandemic, the rise of inflation, the mid-year elections and the rise of interest rates."
Inventory was up 110.6% over October 2021 with 5,664 units, providing a 3.1-month supply of houses to sell. Real estate agents started the year with a 1.1-month supply and only 1,903 houses in the six-county region.
"Three months' supply is still considered a 'sellers' market, although it is far from the frenzied market we saw in 2021 and early 2022," Rosener said.
He said he sees indicators returning to the pre-pandemic year of 2019, "which is a good sign for both buyers and sellers."
Building permits on the rise in October
The fourth quarter began with 154 more building permits issued in October than September.
It marked the continuation of the up-down permitting trend that began in June.
A total of 1,132 permits were issued in Clay, Duval, Nassau and St. Johns counties in October. In September, 978 permits were issued, said the Northeast Florida Builders Association.
Clay fell from 125 permits in September to 105 in October; Duval increased from 328 to 498; Nassau almost doubled from 52 to 97; and St. Johns dipped from 473 to 432.
Jessie Spradley, executive officer of NEFBA, noted that Duval and Nassau counties saw increases in permits in October. 
Of the 498 issued in Duval, 175, or 35%, were for town homes.
It's doubtful the year will end with a rise in the number of permits, due to seasonal slowdowns and increasing interest rates, Spradley said.
"We are still 11% below last year but we are 25% higher than 2019," Spradley said.
He uses 2019 as a benchmark of the year before COVID, rising interest rates and inflation changed building trends.
In 2021, there were 16,138 permits issued in the year.
However with 12,052 permits issued so far in 2022 with two months to go, the 14,000 range is within reach, Spradley said. 
That would make 2022 the third-best year this century. In 2005, a record  17,753 permits were issued.