With financing in order and a permit application filed, Strings Sports Brewery is nearing construction in Springfield.
Restaurateur Scott Adeeb's vision for the former 9th and Main restaurant space at 1850 N. Main St. combines aspects of a traditional sports bar and a microbrewery in one of Jacksonville's historic neighborhoods.
"I don't think I've ever seen a sports brewery before, so this will be unique, not only in Springfield but in all of Jacksonville," Adeeb said Tuesday.
A permit application filed July 26 details a $653,000 build-out with 4,764 square feet of indoor and 2,497 square feet of outdoor space.
"Everything is going to be sports-themed," he said. "We're going to have a lot of interactive things for kids and families."
Plans show a 360-square-foot basketball court, darts and a shuffleboard table inside, along with outdoor games like cornhole on a 2,093-square-foot courtyard.
Adeeb's sons, Colby and Trevor, are the brewmasters, and Trevor's wife, Kaiti, will run the front-of-house operations.
The brewery plans show a 669-square-foot tank room, along with office space, a mill room and boiler room where they will brew a rotation of new concepts year-round.
Adeeb said every beer recipe has a sports-related name like the Red Caps Red, an Irish Red Ale named after the Negro Leagues baseball team based in Jacksonville from 1938-42.
"We're kind of establishing a niche that nobody seems to be doing in the microbrewery business," he said.
He said the desire for brewing comes from his sons.
"We have a second home up in western North Carolina, which is one of the microbrew capitals of the country," he said. "They would always take me into these places and we'd try beers."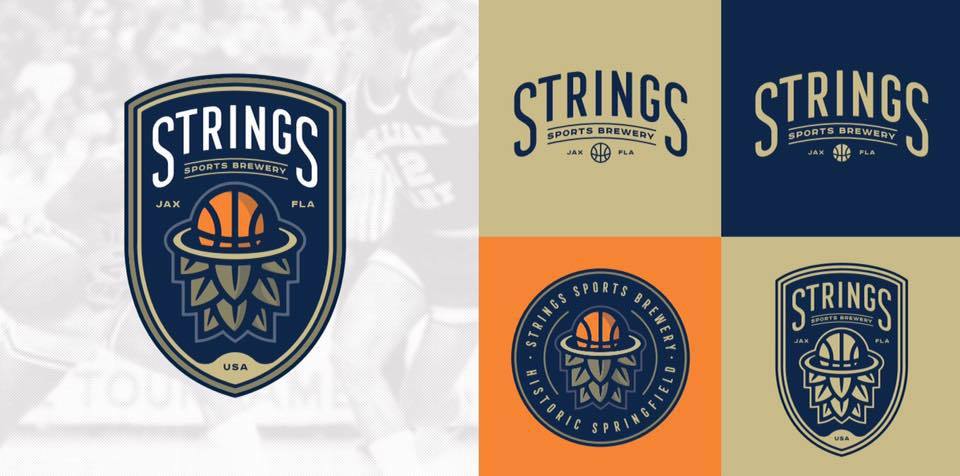 Adeeb said after seeing microbrewing operations around the country, he realized they could do it as well.
"Just by chance, I was introduced to the 9th and Main property and one thing led to another and I said let's go for it," Adeeb said.
The restaurant side of the project is called Strings Street Fare.
He said the menu takes inspiration from his barbecue background and will include traditional Southern dishes "with an eclectic flare."
"Everything's going to be homemade," he said. "You'll walk up, place your order and we'll run it out to your table."
Adeeb owns and operates the Bono's Pit Bar-B-Q restaurant at San Pablo Road and Beach Boulevard. In the 1990s he owned another sports-themed restaurant at the Beaches, also called Strings.
Adeeb has worked on the Main Street project for years, moving first to rezone the property, then to secure lending.
Through Adeeb Properties LLC, he purchased the former 9th and Main and Henrietta's restaurant space this year, nine years after the last tenant shut down.
When traditional lending fell through this year, Adeeb engaged with LISC, the Local Initiatives Support Corp., to secure financing. The New York-based nonprofit helps entrepreneurs finance development projects in urban and rural areas.
When he first considered the 0.36-acre property, Adeeb said that like most people who didn't venture into Springfield often, he wasn't aware of how much the historic Downtown suburb was growing.
"Me being a beach guy, I never traveled west of San Pablo Road very often," he said.
"When I first went out here, I thought, 'This is a big piece of property, I don't know if this is going to work'," he said.
For the next four or five months, Adeeb said he attended neighborhood meetings and did research about Springfield.
"Since I started this project, Springfield has blown up even more," he said about the renewal along Main Street.
"When I first considered this, Hyperion (Brewing Co.) hadn't opened, Main and Sixth hadn't opened," he said. "Crispy was renovating his space, and now all of those three are open."
While Adeeb said he plans to remain at the Beaches for now, Trevor and Kaiti purchased a home in Springfield.
"We're glad to be part of this ongoing revitalization and to see this place really grow, Adeeb said.
He said construction should begin in the next couple of weeks now that the financing is secured.
Adeeb said he's targeting a January opening, pending the beer creations.
He said the brewery will feature a rotation of other craft beers, but the focus remains on their own recipes.
"We do not want to open until we at least have a handful of our beers," he said.
"You only get that first impression once."
As construction begins, Adeeb said he has a request.
"It's time to quit calling that place 9th and Main, it's now Strings Sports Brewery," he said.
"9th and Main's history. It's time to move on."