Jacksonville Mayor Lenny Curry began his second term July 1 at the same time former City Council member Lori Boyer stepped into her role as CEO of the Downtown Investment Authority. Developing and marketing Downtown is high on Curry's list of priorities. 
"As I said the night of the election, you wouldn't recognize Downtown in four years," Curry said. "The previous four years, things have been happening and I think it's important to remind people as to where we are."
Curry and Boyer provided details about Downtown projects that are city-owned or will use city-backed incentives.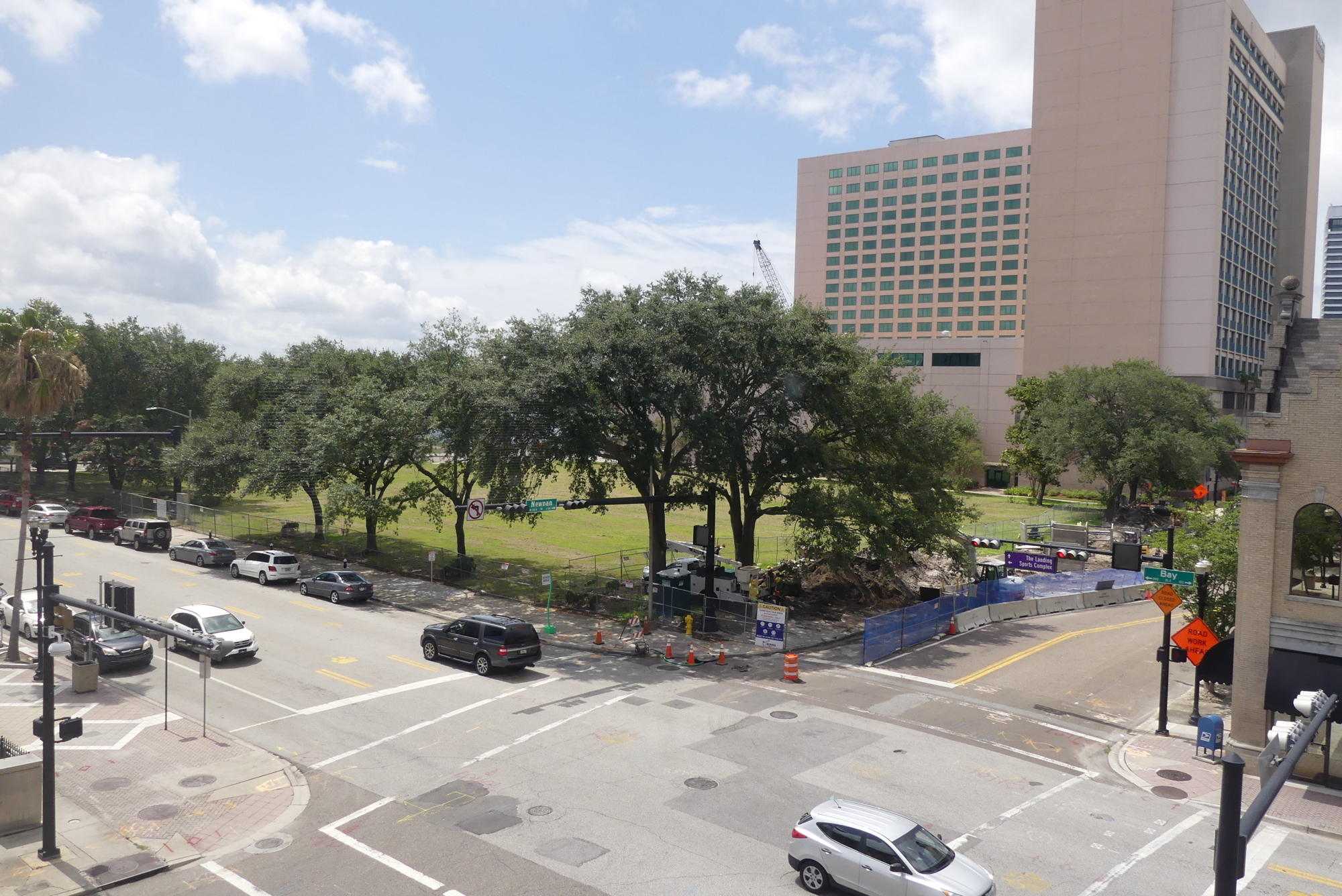 Old Courthouse/City Hall: Headed to market
With the demolition of the former Duval County Courthouse and City Hall complete, city and DIA officials are preparing to move forward with developing 8.3 acres at 220 and 330 E. Bay Street.
Boyer said the DIA board wants to put the site on the market by October, publishing a request for proposals to developers that will include a city-owned parcel east of the Hyatt Regency Jacksonville Riverfront.
The DIA wants the ground floor of any development on Bay Street to include restaurants, retail or entertainment uses that produce pedestrian traffic. Boyer said the site could help reach the JAX Chamber's goal of 10,000 residents Downtown, a density she says will spur development in the core.
"We are hopeful that at least part of that site can support high-rise (development)," Boyer said. "And if the area behind the Hyatt can support a high-rise and we can get that increased density, then we get to that 10,000 or 12,000 residents Downtown just that much more quickly." 
CBRE Jacksonville, a commercial real estate services company, is conducting a highest and best use analysis of the properties and the city is gathering information on existing easements and utility services.
Boyer said DIA board members should have the analysis and information by September.
The Jacksonville Landing: Seeking proposals
Curry said the city will solicit bids to develop The Jacksonville Landing site after its demolition near the end of the year.
In the meantime, the DIA will determine what type of development works at the site. 
Boyer said the 2015 Landing plan coordinated by the DIA board and drafted by Wakefield Beasley & Associates and Urban Design Associates of Atlanta could be used to guide its planning.
"This is totally hypothetical. We take that 2015 plan, and whether it is with the assistance of a broker or whether it is just at the board level, we are going to look at what do we believe are the critical parameters of development that we would put in an RFP," Boyer said. "Some of these things are fixed and some we are going to let the market respond to."
Boyer said there could be a highest and best use study from an outside real estate firm, similar to what the board commissioned with the former courthouse and city hall properties.
Curry continues to push for public green space to be part of the design as well as commercial or residential elements "that the market can bear."
When asked Monday if he would support incorporating elements from the 2015 plan, Curry didn't dismiss the idea.
"I would encourage the DIA to look at any available information that could be helpful in soliciting bids," he said. "But it has to be something that represents the jewel that the piece of property is and where it sits — the front door of our city."
Lot J: Agreement expected this summer
Curry said the city is "verbally close to an agreement" on an incentives deal for the proposed $500 million Lot J development at TIAA Bank Field.
The mayor said he expects a "comprehensive" incentives agreement with Jaguars owner Shad Khan and his Iguana Investments Florida LLC will be presented to City Council by the end of the summer. 
"Clearly the big capital investment that can happen most quickly is Lot J. I'm ready to go on that," Curry said. "And that will drive what happens in the Shipyards across the street."
JEA Tower: Likely sticking with Downtown
JEA's senior administration said layoffs and customer rate increases could be coming within 10 years if sales and revenue continue to decline, raising questions about the utility's contract with Ryan Companies US Inc. for a $72 million headquarters Downtown.
Curry anticipates the deal with Ryan will move forward.
City Council approved the $2.6 million sale of 1.52 acres along West Adams Street to Ryan on June 25 with a provision that the city could buy it back if JEA abandons the deal and moves to south Jacksonville, as the utility indicated it might.
The mayor acknowledged that JEA has an exit strategy built into its lease agreement with Ryan, but he expects the public utility to keep its plan to stay Downtown. 
"They're facing some strategic hurdles that they're talking about," Curry said. "I expect that they're going to figure this out and they will likely move forward with their deal with Ryan."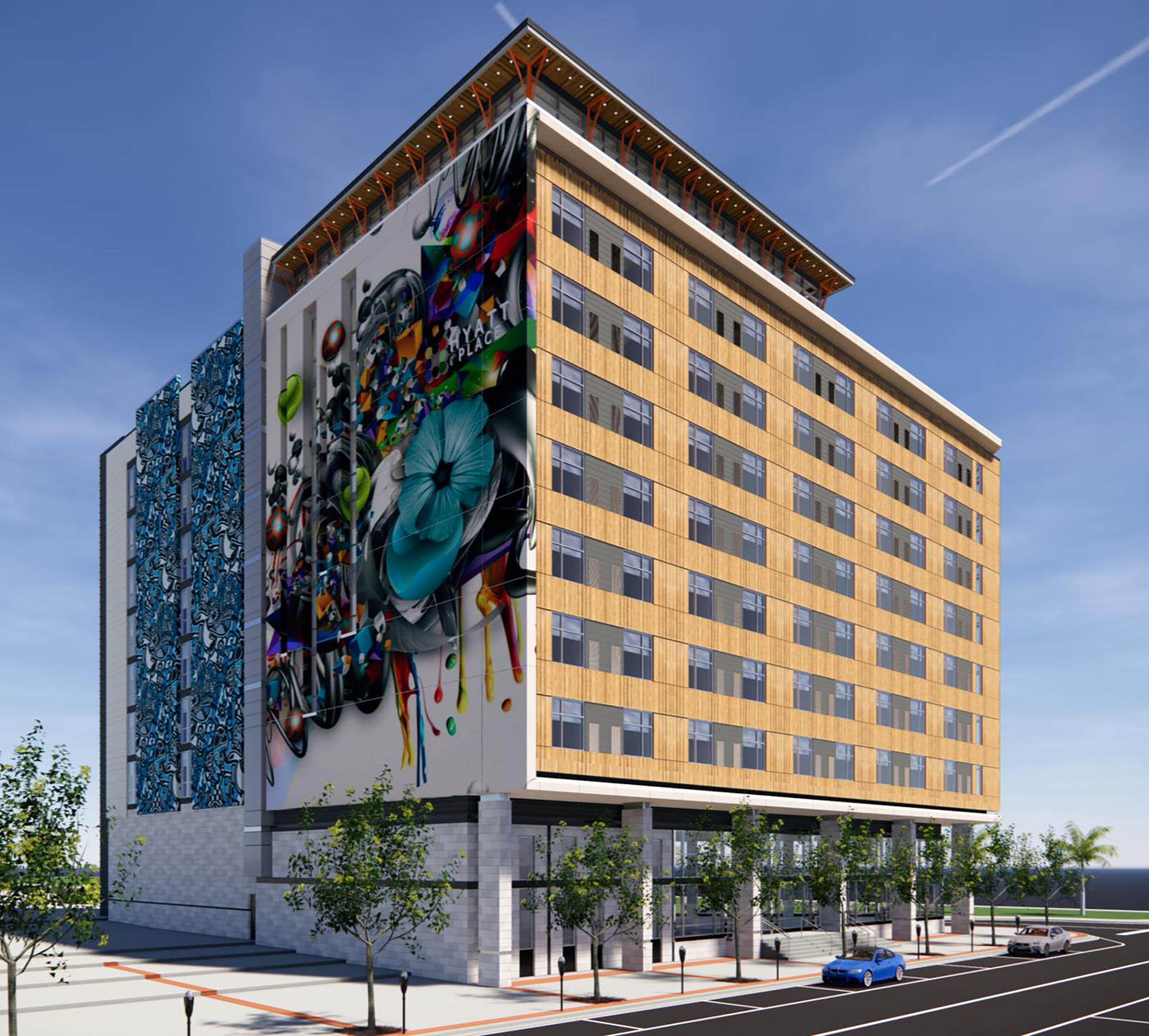 Downtown hotels: Seven planned
Draft marketing materials released by Boyer on Tuesday show seven hotels in planning or development Downtown. 
The document shows developers will add 815 hotel rooms over the next several years to the 2,361 available. An estimated 200 hotel rooms, previously announced for Khan's Lot J development, are not included in the material. 
Those listed are:
• AC Hotel By Marriott: Downtown Southbank, The District — 147 rooms
• Courtyard By Marriott: Laura Street Trio — 131 rooms
• Hyatt Place: Hogan Street and Independent Drive  — 128 rooms
• La Quinta: Ambassador Hotel — 127 rooms 
• Residence Inn by Marriott: Brooklyn — 135 rooms 
• Unnamed hotel: Lot J — rooms to be determined
• Unnamed hotel: The Shipyards — 147 rooms
A draft version of the 2018-19 State of Downtown Report shows hotel occupancy rates are at 72%, up 13.8% since 2011.
River City Brewing Co.: "Real" investor interest
There is investor interest in the city-owned River City Brewing Co. property on the Downtown Southbank, according to Curry, but he declined to identify who is looking at the site, now the location of a restaurant.
"I can tell you there's money — there's capital interest in it and it's real," Curry said.
Boyer said when she was working on legislation in May to update the Downtown zoning overlay and design standards, architects from a firm she declined to identify asked her how the changes would affect development of the site.
Berkman Plaza II: Working  on 'viable option'
Jaguars owner Shad Khan has not discussed purchasing the Berkman Plaza II with the mayor's office, Curry said.
The Berkman Plaza II borders the Shipyards property, of which Khan is the master developer. 
"I haven't talked to Shad (Khan) about that property as it relates to him purchasing it. All our discussions are Lot J, then Shipyards and up toward Berkman," he said.
Property owner 500 East Bay LLC failed to pay $58,600 in 2018 property taxes on time, according to records from the Duval County Tax Collector.
Work on the unfinished high-rise, called an "eyesore" by Curry, stopped in 2007 after a construction accident. 
500 East Bay bought the property in July 2018 for $4.75 million from Choate Construction Co.
Curry said his team is working with 500 East Bay and developer Barrington Group on a viable option for the Berkman II. Barrington dropped plans in April for a 340-room hotel and resort, amusement park and parking garage at the riverfront site. 
"Before ownership changed hands, I was very patient but was in a position where my posture was about to become very aggressive," Curry said. "There's new ownership there now, and I want to give them the opportunity to perform, for now. But it's not an option to let it sit there and rot for four years."
Duval County Jail: A priority to move it
Within the next four years, Curry wants to have a plan to move the Duval County jail out of Downtown.
He said the move remains a priority even though a draft five-year capital improvement plan for Jacksonville through 2024 released this week does not include money for a new jail.
"The jail is a priority of mine in the next four years and it's going to remain a priority," Curry said. "Just because it's not in the CIP doesn't mean it's not a visionary thing that I'm committed to."
Curry said a jail move will not be included in the city budget until "there is a real plan."
The mayor said he is working with Sheriff Mike Williams and a site for a future jail has not been located.
Greyhound parking lot: a prospective building
An unpermitted surface parking lot appeared in May at the former Downtown Greyhound terminal site on 1.46 acres at 10 N. Pearl St.
But more could be happening with the property.
Curry confirmed property owner AK Pearl LLC, led by investor Ramon Llorens, and an unidentified developer from South Florida are in conversations with the DIA about building on the site. The mayor said he could not add more details.
Nikki Kimbleton, the city's director of public affairs, said the parking lot owner has been fined for the unauthorized paving and is in negotiations with city code enforcement officials about what's next for that use.
"Right now we're in the process of communicating with them," Kimbleton said. "You can't take it back. The damage is done."