Jacksonville Jaguars owner Shad Khan's proposal to develop the Shipyards property near TIAA Bank Field through Iguana Investments Florida LLC expired, so new plans could be submitted to the Downtown Investment Authority, reports Jacksonville Daily Record news partner WJXT TV-4.
DIA CEO Lori Boyer did not immediately return an email requesting comment.
WJXT reported the issue came up at the City Council Finance Committee meeting Aug. 18 during an update on progress with the development of the Shipyards, Metropolitan Park and Lot J near TIAA Bank Field.
Khan's Iguana Investments and other developers could submit proposals.
Plans for the Shipyards submitted to the DIA by Iguana in 2018 included a convention center and a hotel.
The riverfront Shipyards is west of Lot J, where Khan is planning a $500 mixed-use development and Live! Entertainment District.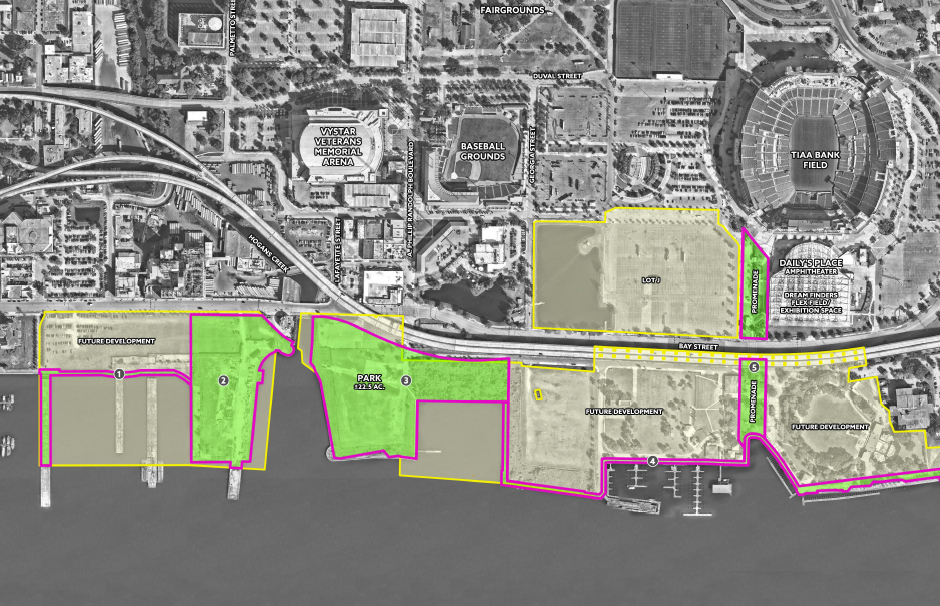 Baltimore, Maryland-based The Cordish Companies and Jaguars subsidiary Gecko Investments LLC are equal partners in the development project operating as Jacksonville I-C Parcel One Holding Company LLC.
A proposed $233.3 million tentative incentives deal with the city was announced in July 2019, but the Jaguars did not comment on that deal when asked earlier this month.
"Since the original Shipyards proposal was submitted and approved, the plans for Lot J came online. As a result, some of the development originally planned for the western portion of the Shipyards were incorporated into the current Lot J plans," Iguana Investments spokesman Dan Edwards said in an email to the Daily Record on Aug. 18.
"That western portion is no longer part of the Shipyards plan, so this news from DIA is simply part of the process. We look forward to continuing to work with the City on these important projects," he said.
Khan sought the removal of the Hart Bridge Expressway ramps, torn down this year, to facilitate development of the Lot J and Shipyards sites.
In July, the attorney for iguana said the developer was considering integrating Metropolitan Park into the Shipyards design.
On Aug. 18, the Council Finance Committee voted unanimously on a bill that would have reimbursed the state and federal governments for grants used to create Metropolitan Park.
Brian Hughes, Mayor Lenny Curry's chief administrative officer, said the bill no longer is needed because it was introduced to start a dialog with state and federal partners.
"The dialog continues," Hughes said.