PulteGroup announced Feb. 15 it will build its third Northeast Florida Del Webb community on 226 acres in Wildlight.
Wildlight is a master-planned 2,900-acre community in Nassau County along Florida 200 between Interstate 95 and U.S. 17. Raydient Places + Properties is the developer. 
Del Webb is designed for active adults age 55 and older, the news release said. Model homes are expected to open in early 2022. 
The development will be along Curiosity Avenue adjacent to Wildlight Elementary School. 
"We just identified Nassau County as a perfect place for active adults to retire to whether they're Florida locals or coming in from out of state," said Tony Nason, vice president of operations for PulteGroup's North Florida division. 
"The proximity to Amelia Island, beaches, Jacksonville airport and everything Jacksonville has to offer just seemed like a perfect fit for our brand."
Pulte plans up to 660 single-family homes. It will offer 16 floor plans from 1,343 to 3,339 square feet. Homes prices will start in the $200,000s.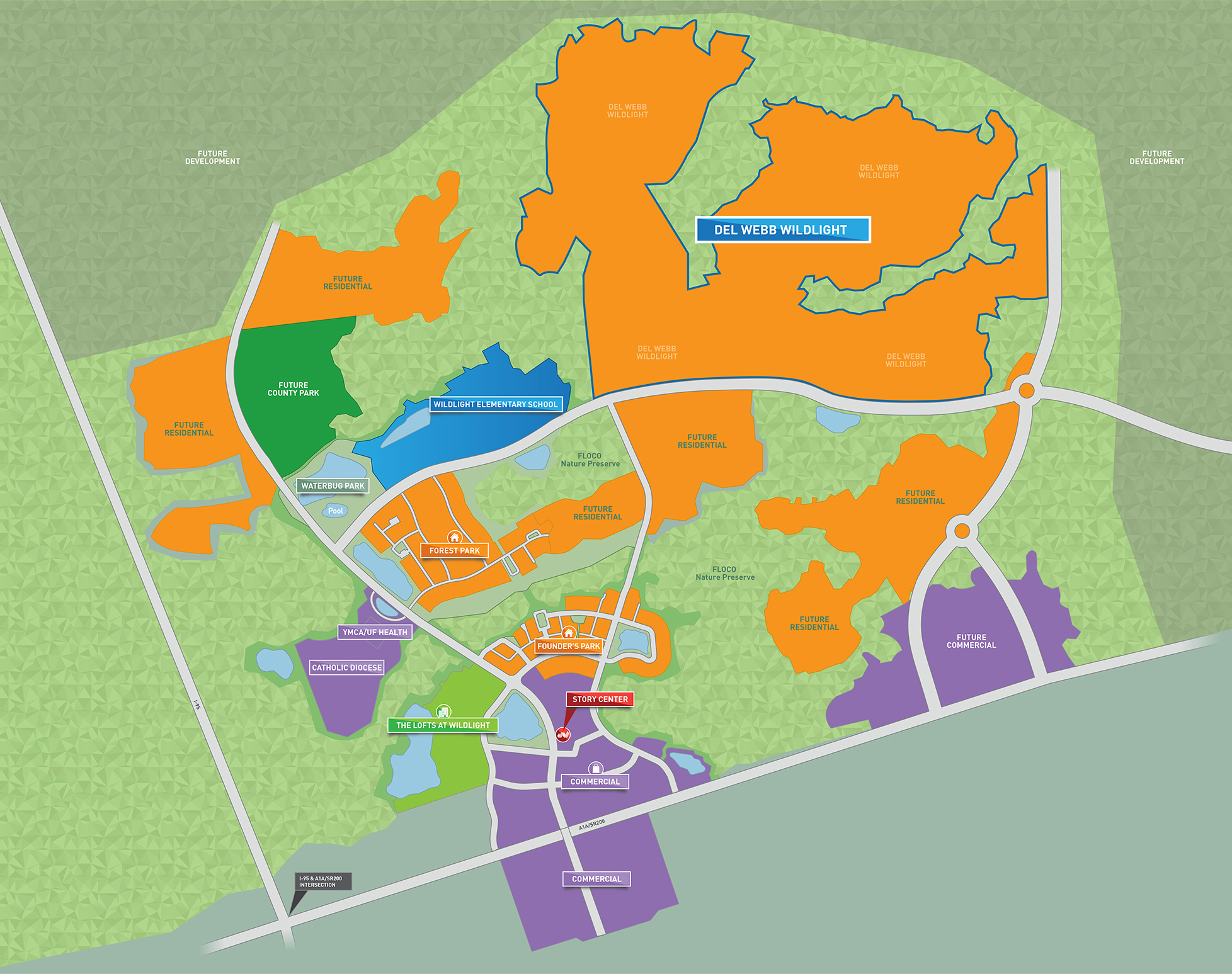 Floor plans will be similar to those in the Nocatee and eTown communities, Nason said. Exteriors will be designed with Florida low country architecture, similar to the rest of Wildlight, the news release said. 
Del Webb Wildlight will offer a 12,000-square-foot amenity center, two pools, tennis and pickleball courts, a dog park and more than 10 miles of walking trails. 
Del Webb is the largest development in Wildlight so far. 
"We are pleased to welcome Del Webb to Wildlight as the community's first neighborhood for active adults," Wes Hinton, vice president of Wildlight said in a news release.
"Del Webb's strong brand recognition for quality design, resort-style amenities and close community connection makes it the ideal fit for Wildlight and our Florida Lowcountry lifestyle. As the gateway to the state of Florida and one of the fastest growing counties in North Florida, Nassau County and Wildlight offer a perfect launching point for this best-in-class active adult builder," he said.
Pulte has Del Webb communities in Nocatee and eTown. Nocatee opened in June 2019 and eTown opened in August 2019. Both are selling homes in phase two. 
Nason said amenity centers in both communities are under construction and the communities have been successful. 
Typically, they've been attracting residents from Jacksonville and outside the state, he said. 
"We see people who are looking to downsize, the kids are out and they don't need as much square footage anymore," Nason said. 
Del Webb also has communities in Naples, Orlando, Palm Beach, Tampa, Sarasota and Port St. Lucie. 
Pulte Homes recently opened several communities in Northeast Florida and has plans for more growth in the area, Nason said. 
Those include Bradley Pond along Cedar Point Road in North Jacksonville and The Trails at Grand Oaks in northern St. Johns County. It also is starting work on The Preserve at Bannon Lakes along International Golf Parkway in St. Johns County.
Nason said he sees Pulte growing into those counties, as well as in Nassau and Clay counties.
"We really like the counties we're in right now, St. Johns and Duval, so we're definitely still targeting those," Nason said.