University of Florida and city officials have been working since mid-2022 on a public-private partnership to "explore opportunities" for a health care and financial technology graduate campus in Downtown Jacksonville, but details about the project's scope, cost and site location have yet to be decided.
Newly installed UF President Ben Sasse, Mayor Lenny Curry and other officials were hesitant during the Feb. 7 news conference at City Hall announcing the effort to use the term "campus" to explain the proposal. 
Campus has "technical meaning that requires us to deliberate with our Board of Trustees and Board of Governors. So there's a lot of stuff still to work through," Sasse said. 
"But the fact that we're here, we want to grow, we want more partnerships at both healthcare and education is indisputable. We're really grateful for your partnership," he said.
Mori Hosseini, chair of the UF Board of Trustees, described the possible project as a campus in Jacksonville focused on medicine, business and engineering.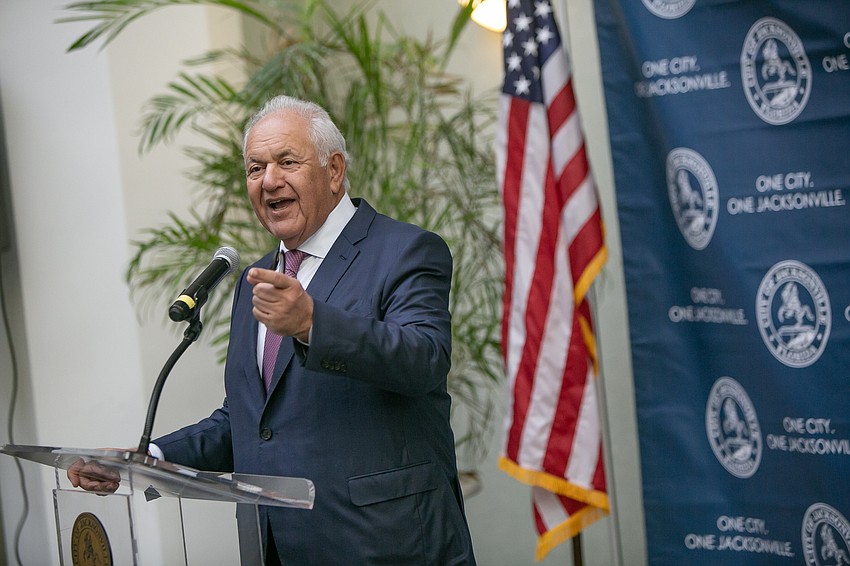 He said it would provide new graduate education programs aimed at "supporting the region's growing workforce needs" in biomedical technology and focused on pioneering technology related to simulation, health applications of artificial intelligence, patient quality and safety, health care administration and financial technology."
Curry said the city doesn't have a total project cost but doesn't consider it a roadblock.
The mayor said he plans to file legislation with City Council for a $50 million local investment over three years to help finance the project. 
Curry said UF and the city also would be looking for an additional $50 million from the private sector. 
According to Curry, UF Board of Trustees appointee Patrick Zalupski will lead that fundraising effort.
Zalupski, founder and CEO of Jacksonville-based Dream Finders Homes Inc., was appointed to the board Feb. 2 by Gov. Ron DeSantis pending Florida Senate confirmation.
City Director of Public Affairs Katie Wiles said officials may ask for state money in addition to the $100 million investment from the city, Northeast Florida companies and private donors.
Curry called the proposal a "generational project."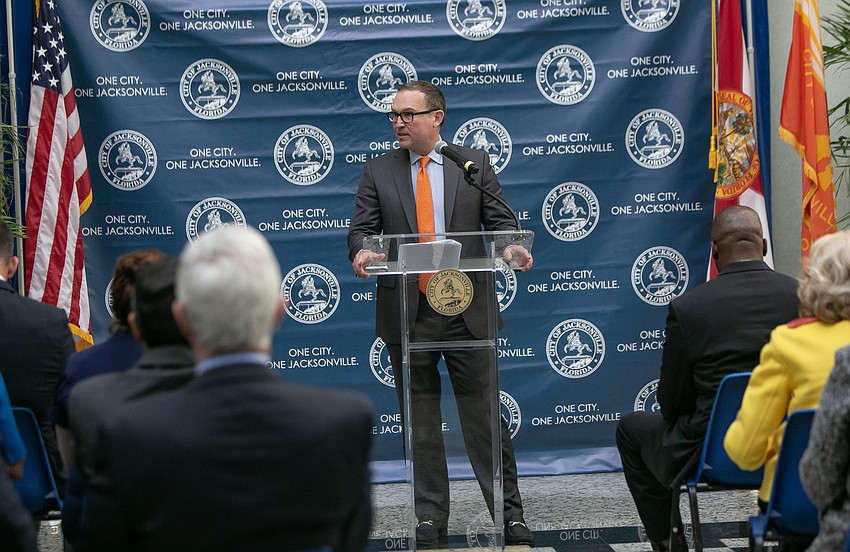 "The president of the University of Florida wouldn't be here today with the chairman of the board if this wasn't serious and real," he said after the announcement. "Nothing big is easy. Nothing visionary that's going to change things is easy. I don't expect it to be easy but I expect this to get done." 
When asked by news reporters if he'd discussed UF expanding to Jacksonville with DeSantis, Curry said he's talked to "a lot" of people in state leadership about the effort who were supportive.
"It's up to us in Jacksonville to take this vision and make it happen … with the University of Florida, which is why they're here today," Curry said. "They see and believe in this vision as well."
Location
Officials at the news conference didn't identify a site for the project or say how much land would be needed, but Curry said afterward it would be Downtown and that a site had not been selected. He said housing would likely be a component of the plan.
"It will be Downtown but we don't know where yet," Curry said. "I've heard that there is speculation that a site's been picked. There is no site that's been picked." 
A Feb. 2 letter to University of Florida Vice President Thomas Mitchell from JEA Managing Director and CEO Jay Stowe appears to show one area of Downtown being considered.
In the letter, Stowe says the utility would commit $10 million in in-kind services, including access to a trail through the Main Street Water Plant and Laboratory parcel through a purchase/lease/easement, to the project. 
"It is our intent to support this project as it supports downtown revitalization, complemented with the Hogan's Creek revitalization and Emerald Trail projects," Stowe wrote.
That in-kind investment in the UF fintech project includes:
• Access to the trail through the Main Street Water Plant and Laboratory parcel through a purchase/lease/easement.
• Within the JEA footprint, all infrastructure and beautification work, including the use of the conservation building.
• Beyond the JEA footprint, additional beautification in JEA right of ways.
Curry said UF would have a site selection committee make a final decision. 
Timing 
Officials didn't lay out how long it will take for details to be finalized and approved by the UF board and the state Board of Governors. 
But Curry said he "thinks there's a good chance" the agreement will be in place before the end of his second mayoral term June 30, with work beginning in 2024.
Curry is term-limited, and execution of the project would be up to the next mayor.
Business reaction
Officials said Northeast Florida business leaders have called for a UF financial technology and health care campus in Jacksonville for years.
Jacksonville is the global headquarters to several international fintech companies including Fidelity National Information Services Inc. and Black Knight and data analytics firm Dun & Bradstreet.
"It was a loose discussion that never really got any legs, and within the last six months we all started putting our heads together and said, we have to chase this," Curry said.
The Jacksonville site wouldn't be unprecedented for UF. The Florida Legislature allocated $100 million in the 2022 state budget for a UF technology campus in West Palm Beach.
In February 2020, DeSantis announced $3.6 million in grant money for financial technology workforce training programs at Florida State College at Jacksonville and St. Johns River State College. 
Curry said the fintech and medical-related programs at the UF expansion would not compete with others at FSCJ, Jacksonville University and the University of North Florida.
"This is a vision to have graduate classes here in Jacksonville, Florida, that you cannot get anywhere else" in the UF system, he said.
Sasse said UF graduate programs in Jacksonville could help combat the shrinking amount of time an average worker stays at one firm.
For JAXUSA Partnership President Aundra Wallace, the campus would mean another tool to help lure businesses to Jacksonville.
"When you look at your top 50 cities in the country, they all have some type of tie to a research respective university. That's the one thing we've been missing as a large, metropolitan city," Wallace said.
JAXUSA is the economic development arm of JAX Chamber.
He said it would keep workforce talent and recent college graduates looking to further their skills and education from leaving the Northeast Florida region.
"At the conclusion of this agreement, once it's been solidified, that allows us to check off that box," Wallace said.