Publix Super Markets Inc. confirmed it will open the San Marco East store Aug. 11.
After 20 years in the making, San Marco area shoppers have been waiting for the day.
They must wait just three more weeks.
For those counting hours, it will open at 7 a.m. that day and daily thereafter. It closes at 10 p.m.
Publix Media Relations Manager Hannah Herring said July 20 that the store will be 39,000 square feet on the second level, with the Publix Liquors on the ground level.
There is parking beneath the store as well as a surface lot.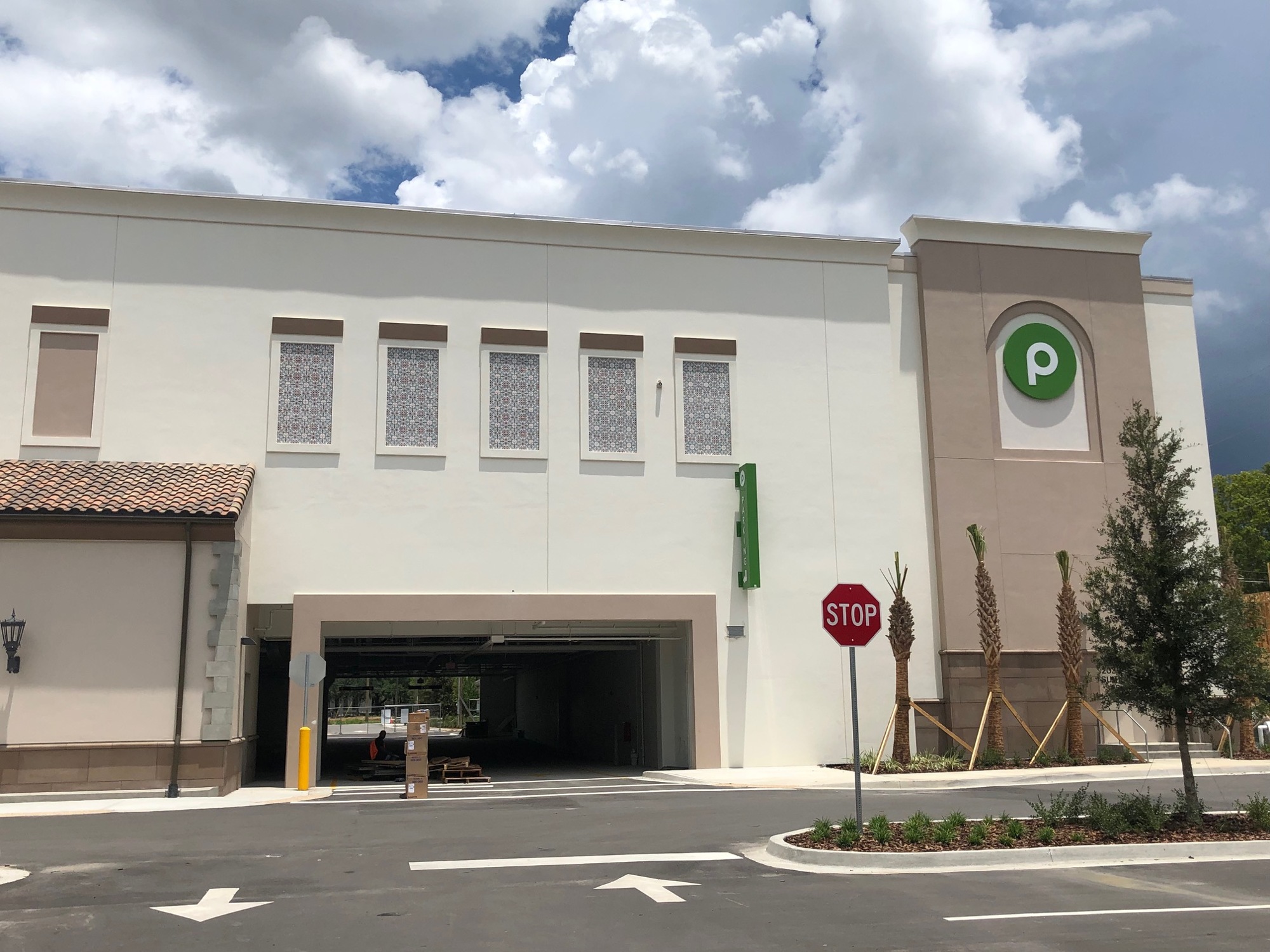 Elevators and a stairwell provides access to the second-story store.
There will be indoor and outdoor seating at the deli section that overlooks historic San Marco Square.
Herring said some of the store features include fresh meat, seafood and produce, including self-service floral; grocery, frozen and dairy sections; deli and bakery departments; and a pharmacy. Pharmacy hours have not been confirmed.
The deli department will include custom subs, salads and sandwiches; platters; sushi; an expanded specialty cheese selection; hot meals and sides; grab-and-go entree meals and sides; and Boar's Head fresh sliced meats and cheeses.
The bakery includes custom cakes, platters, fresh baked breads and desserts.
Publix also will feature contactless pay options, money and lottery services, and full-service and self-service checkout.
Signs are up for Publix at East San Marco as the supermarket prepares to open.
Signs are up on the front of the two-story building for Publix Food Pharmacy Liquors, Liquors, Parking and the logo. Signs are up on the side as well.
The store anchors the East San Marco shopping center at 2039 Hendricks Ave., at Atlantic Boulevard.
Jacksonville-based Regency Centers Corp., the developer of East San Marco, ceremonially broke ground Feb. 16, 2021, on the site that will include other tenants in addition to Publix, which is based in Lakeland.
Regency Centers said the two-story Publix will anchor 60,000 square feet of grocery, retail, and essential services in Jacksonville's historic San Marco neighborhood.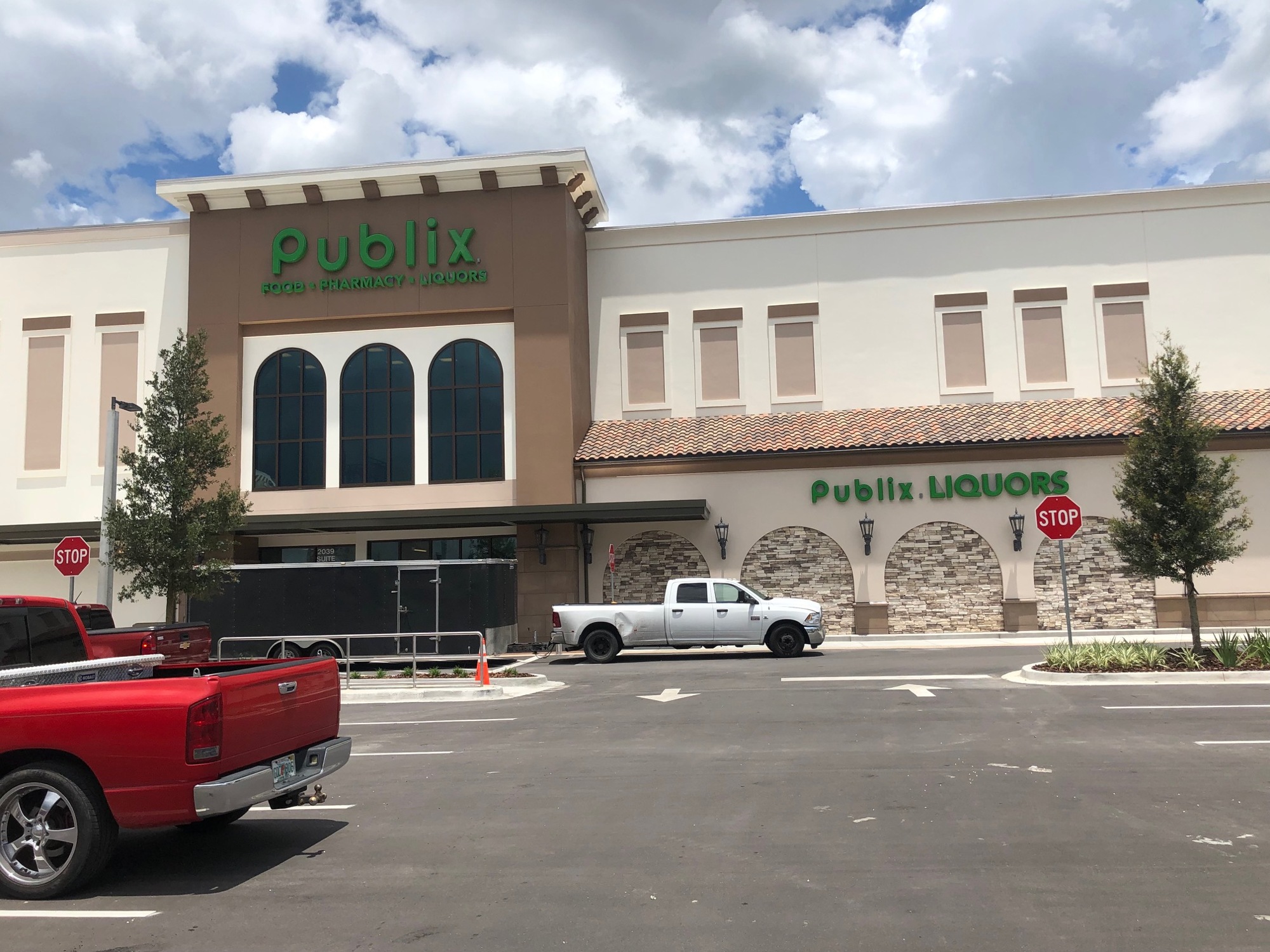 "San Marco has deserved this project for a long time," said Patrick McKinley, vice president and market officer at Regency Centers, at the private groundbreaking as the pandemic continued into its second year.
"There has been so much work behind the scenes to make this a reality for a number of years, that included invaluable feedback and assistance from our neighbors and stakeholders. East San Marco will become a great example of collaboration from a fantastic group of people, serving a community long overdue for a place like this," he said in a news release at the time.
Regency Centers is a national owner, operator and developer of shopping centers.
Initial discussions surfaced in 2002 about a Publix and mixed-use development on the site. In 2006, Regency Centers and The St. Joe Co. announced the project, including Publix and condominiums.
The project was delayed by several factors, including the recession and a residential development partner that pulled out of the deal in 2017.
 In 2018, Regency Centers Chairman and CEO Martin E. "Hap" Stein Jr. said the project would continue but with just the shopping center.
In October 2019, Regency Centers unveiled plans for East San Marco that included the area's first and, so far, only two-level Publix building, with parking on the ground floor and the supermarket on the top floor. 
It then applied for construction permits totaling 59,052 square feet of retail space, comprising a two-story building of 76,588 square feet, with a 39,000-square-foot Publix on the top floor and parking on the bottom; a two-story retail building totaling 8,665 square feet; a one-story retail building of 9,951 square feet; and a 1,436-square-foot Publix Liquors store.
The city issued the horizontal work permit in December 2020 for the 3.25-acre site and construction permits starting in February 2021.
The residential land was sold for town houses.