Construction is approved for Lofts at San Marco East, The Vestcor Companies affordable workforce apartments designed at Philips Highway and St. Augustine Road.
The city issued permits Feb. 2 for Summit Contracting Group Inc. to build the 172-unit apartment building at a project cost of $25 million.
Vestcor said in November construction would start in the first quarter of 2023.
The four-story, 183,500-square-foot building is planned on 5.54 acres at 3036 Philips Highway. 
Summit Contracting Group Inc. is the contractor. Group 4 Design Inc. is the architect. The engineer is Abbey Civil Engineers Inc. 
The apartments will comprise eight studios and 61 one-, 89 two- and 14 three-bedroom units.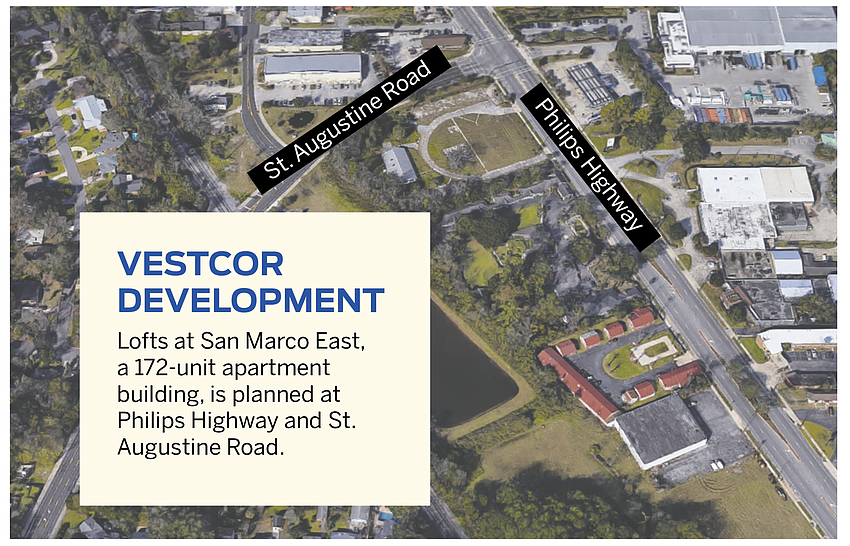 The city issued permits Sept. 14 for Realco Recycling Co. Inc. to take down vacant structures on the land for the development of the Lofts at San Marco East.
Realco Recycling was permitted to demolish a closed retirement facility at 3114 Philips Highway and a storage building at 3036 Philips Highway at a combined cost of $72,501.
Through Lavilla IV LLC, Vestcor bought the property in two deeds in March and June for more than $3.1 million. 
Ryan Hoover, president of TVC Development Inc., part of Vestcor, said previously the units will rent from $830 to $1,200 a month.
The project is targeted for people who apply and verify annual income of 60% or less of the area median income, which would be a cap of $35,160 for one person and up to $50,160 for a family of four. 
Hoover estimates a $42 million investment in the project, which he expects will be completed in spring 2024.
It comprises one four-story building with elevators. Apartments other than studios will have balconies.
Amenities include a fitness room, a community room with TVs, billiards and shuffleboard tables, computers and a dog walk area.
Hoover said the project will be financed by owner equity; federal-state Low-Income Housing Tax Credit equity; a State Apartment Incentive Loan from the Florida Housing Finance Corp.; a gap loan and Multifamily Housing Revenue Bonds issued by the Jacksonville Housing Finance Authority; and a HOME funds loan through the city Neighborhoods Department. 
Those are U.S. Department of Housing and Urban Development funds designed to increase homeownership and affordable housing opportunities for low and very low-income Americans.
In September 2021, TVC Development Inc. said it had a contract to buy acreage at Philips Highway and St. Augustine Road for development of workforce housing. 
City Council approved legislation in October 2021 to rezone the site and change the land use.
A written description described the apartments as affordable housing but did not elaborate.
"Redeveloping the Property from an abandoned motel to a multi-family use will improve the aesthetics of the lot and bring additional business to the area," said a written description.
The location is in the Spring Park area near San Marco, a location Hoover called an advantage for residents.
"The area has great access to all other areas of town and areas of employment including downtown," Hoover said by email.