Pet Paradise Resort and Day Spa is considering a location at the site of another Jacksonville-based company: Fidelity National Information Services Inc.
The city is reviewing initial plans for Jacksonville-based Pet Paradise to build-out a pet resort in a ground-floor building connected to the FIS parking garage at 347 Riverside Ave.
A pending permit shows an estimated cost of $1 million for the 11,892-square-foot project. 
The project is submitted for plan review only, indicating the project remains in due diligence. The estimated cost could change based on construction and materials costs before a permit is reviewed and issued.
Pet Paradise, which is 20 years old, and FIS did not immediately respond to questions about the project.
Kasper Architects + Associates, also based in Jacksonville, is the architect.
The resort would occupy a 6,000-square-foot connection to the FIS parking garage facing Riverside Avenue.
The space was developed for ground-floor office and retail space to the community, indicating a pet resort could be available both to FIS employees and the public.
The pet resort's top level is the roof of the addition. It would include a play yard and a small splash-pad pool amenity.
The ground level would consist of a check-in lobby, administrative and support space, grooming and boarding suites, Tiny Town for smaller pets, play yards and dog-bone-shaped interior pool, among other features.
FIS cut the ribbon Oct. 21, 2022, to open its $156 million headquarters at the Riverside address in Brooklyn.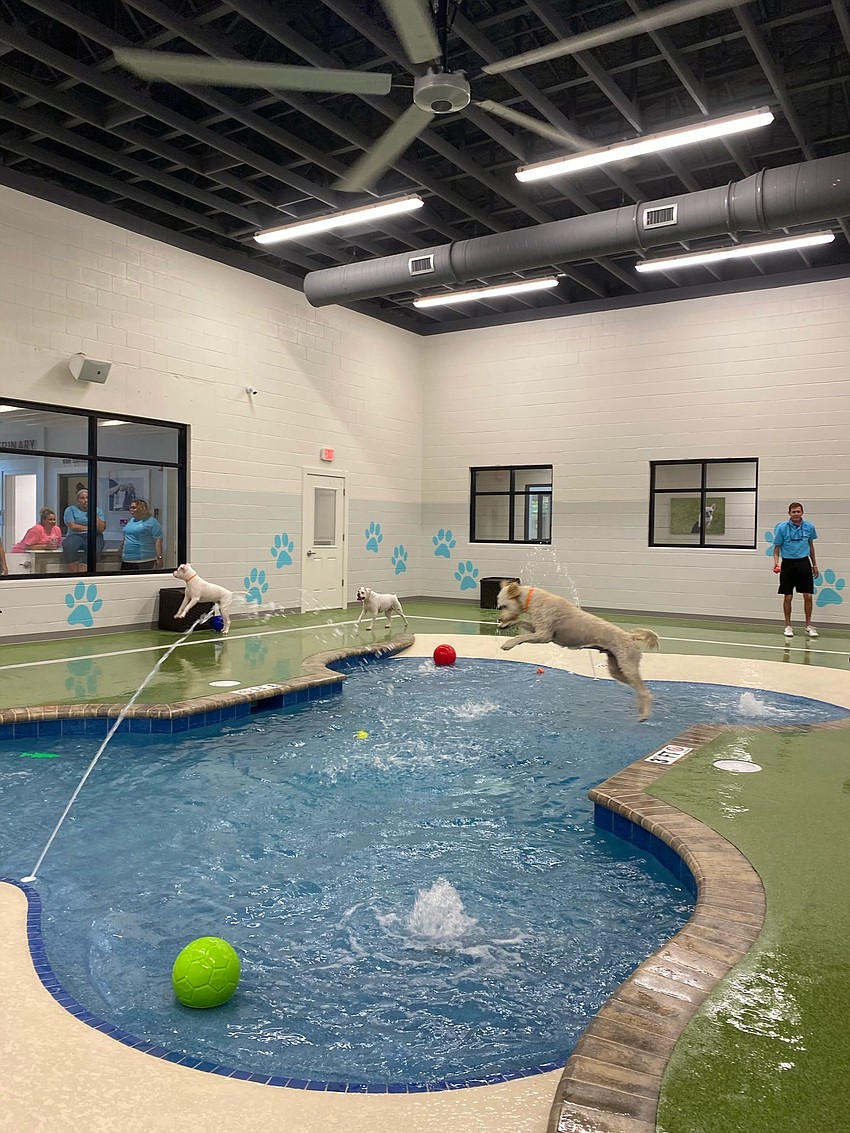 When plans for the financial technology firm's 12-story office building were unveiled in 2019, FIS promised to add 500 jobs to the 1,216 workers it already had in Jacksonville.
The project was approved for $29.9 million in city and state incentives.
FIS built an eight-level parking garage with 1,647 parking spaces connected to the office tower on the first and second levels with an air-conditioned garage elevator lobby. 
The redevelopment agreement with the city requires that 130 ground-floor spots be available to the public after 6 p.m. weeknights and on Saturday, Sunday and national holidays.
Pet Paradise Resort opened its first location in 2002 in St. Augustine.
Pet Paradise now has 50 locations in nine states.
Petparadise.com shows eight locations in Northeast Florida.
The resorts offer dog and cat boarding facilities, dog grooming services, veterinary care and doggy day camps. Amenities vary by location.