Gucci announced it opened its Jacksonville designer clothing store March 24 at St. Johns Town Center.
The fashion and luxury goods brand with U.S. headquarters in New York City renovated tenant space in the former Lush Fresh Handmade Cosmetics space at 4813 River City Drive, No. 143.
Dimension One Inc. of McDonough, Georgia, near Atlanta, was the contractor for the $1.5 million interior alteration for a 4,561-square-foot space. The city issued a permit Aug. 24.
Gucci said the store carries men's and women's shoes, handbags, luggage, small leather goods, jewelry, watches and eyewear.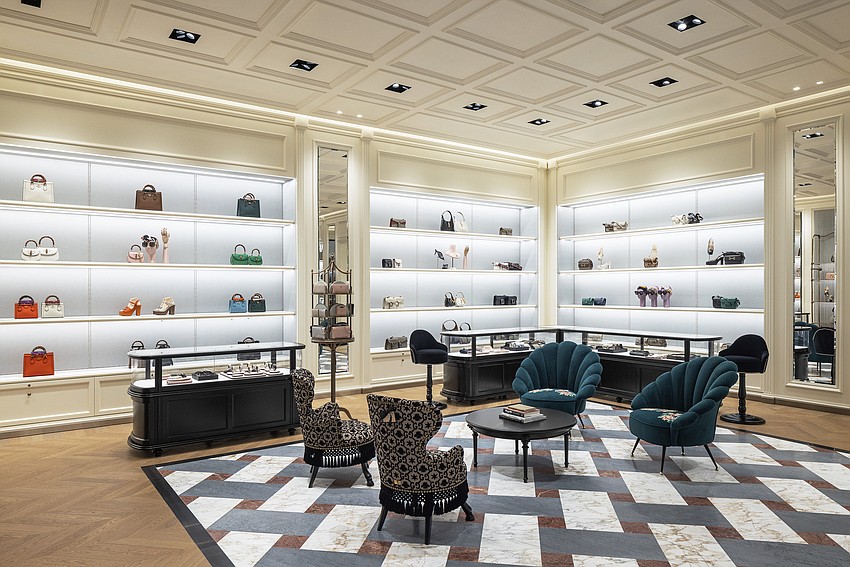 "Customers can explore a curated selection of leather goods and accessories, including the Jackie 1961 handbags and sandals as well as the Gucci Cruise 2023 collection, first presented in May 2022 in Puglia, Italy," said the March 28 release.
It said there is a restored marble façade and an interior design with marble flooring.
The store is "framed with built-in displays reminiscent of walk-in closets while newly designed racks inspired by classic brass designs gracefully accommodate diverse product categories."
Founded in Florence, Italy, in 1921, Gucci says it is one of the world's leading luxury brands. 
"Following the House's centenary, Gucci forges ahead continuing to redefine luxury while celebrating creativity, Italian craftsmanship, and innovation."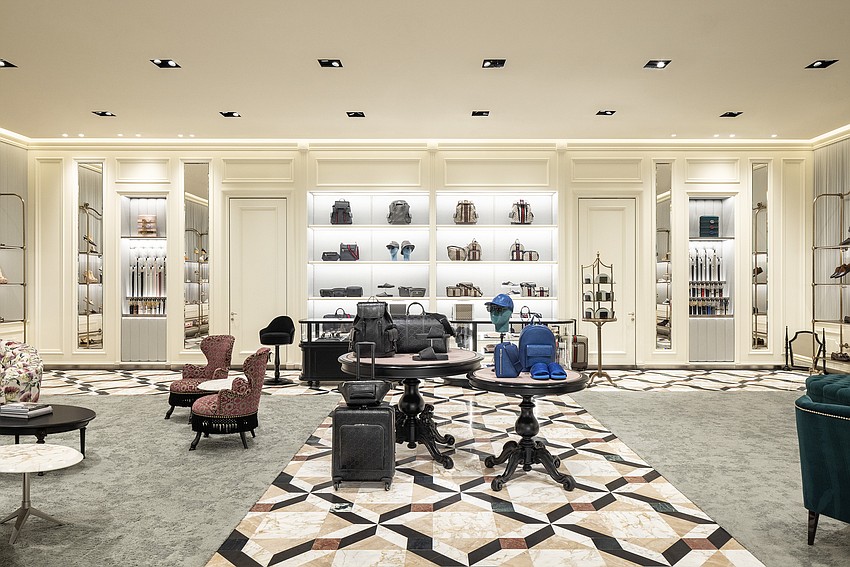 Gucci is part of the global luxury group Kering, which manages houses in fashion, leather goods, jewelry and eyewear. 
Gucci America Inc. is based in New York. Guccio Gucci S.p.A. is based in Italy.
Gucci.com describes its merchandise.
"Gucci products represent the pinnacle of Italian craftsmanship and are unsurpassed for their quality and attention to detail."
Research finds 100 Gucci stores in the United States, including about 10 other stores and three outlets in Florida.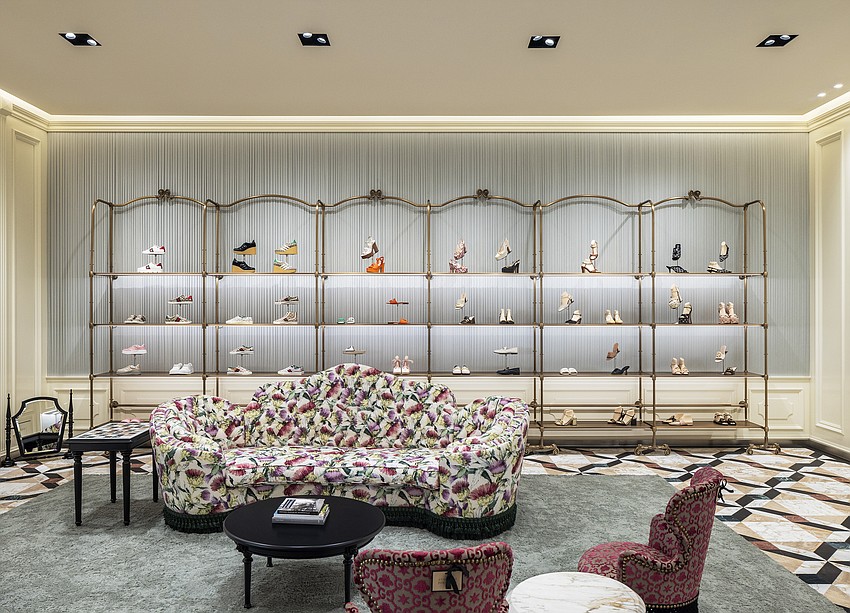 The nearest Gucci stores to Jacksonville are in The Mall at Millenia and an outlet in Orlando.
The city issued a permit May 18 to combine four existing spaces, including Lush, into a larger space for one tenant at that corner. 
The St. Johns Town Center store is in the southern part of the shopping center where Nordstrom, Tommy Bahama, Tiffany, Coach, Louis Vuitton, Swarovski, L'Occitane, RH, Tory Burch, Apple and other higher-end retailers operate.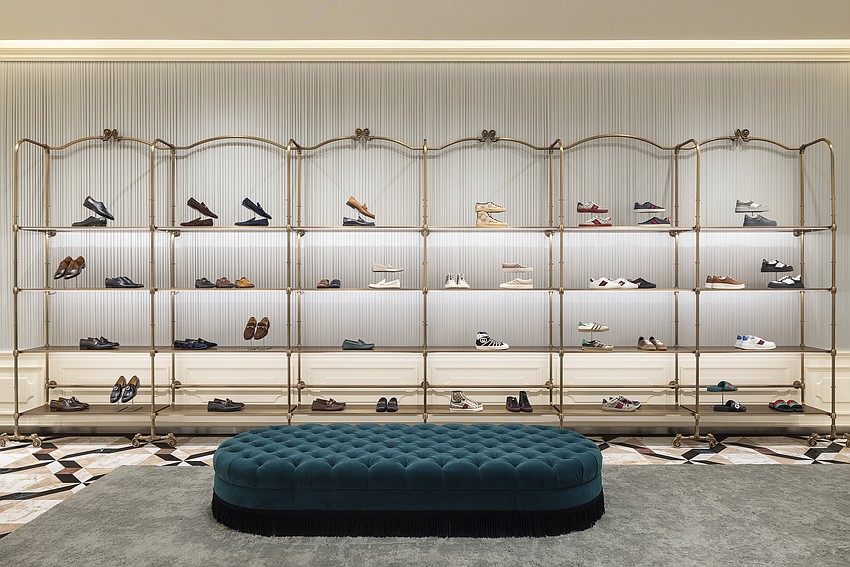 Plans indicated sales space for handbags, watches, jewelry, luggage, sunglasses, men's and women's shoes and belts, beauty products and other items at the store.
Lush relocated nearby.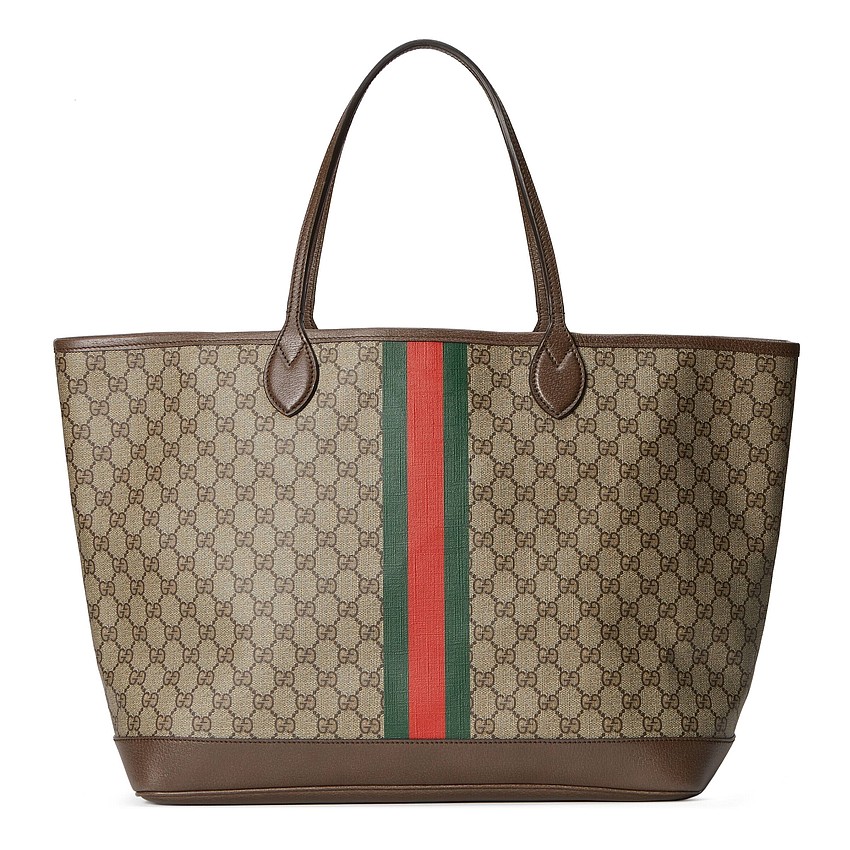 Gucci America of New York City is the owner of the St. Johns Town Center store. Atmosphere Design Group of Valhalla, New York, is the architect. Fantetti Workshop of Italy is the design consultant.
Simon Property Group of Indianapolis is the landlord.
Gucci opens as Michael Kors closed its designer clothing and accessories store March 10.